The Takrut Hua Jai Khun Phaen of Luang Phu Sawad, is now in the year of writing (2563 B.E.), an amulet immense rarity to see from what we love to call the Golden Age of modern Thai Buddhist Amulets (2535-2555 BE was an especially special time with an immense fervor for the magic of Thai Buddhist sorcerer monks, which is now seeing a new generation of devotees and collectors from the millennial era entering this wonderful niche, who will not remember this era, where monks like Luang Phu Sawad were among the top internationally known and preferred names, and a time when there were much less amulet makers than we see today, with the explosion of interest in Thai Occultism, Sak Yant Thai Temple Tattoos and Thai Amulets.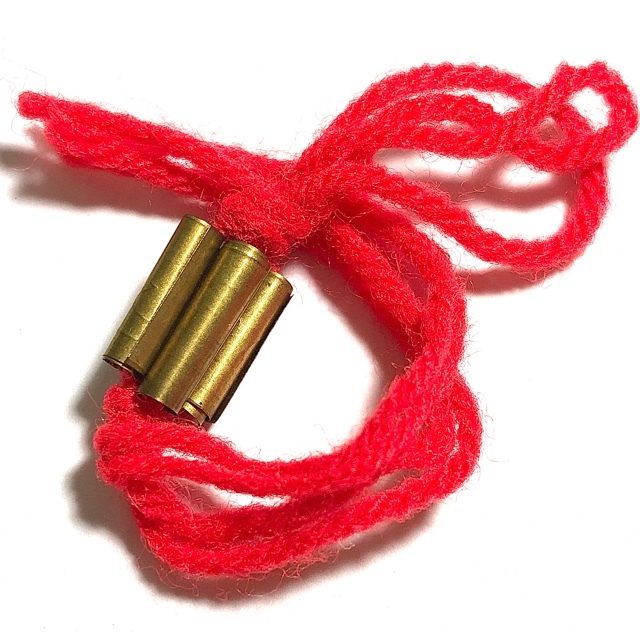 The Takrut Hua Jai Khun Phaen is a Wicha, which belongs to High Sorcery (Wizardry), which Luang Phu Sawad received from one of his various Ruesi Kroo Ba Ajarn Mentors in Magic. The spell came from a Laoatian Ruesi Hermit, whose Wicha has become that of the Higher Adept Grade.
The Takrut Hua Jai Khun Phaen of Luang Phu Sawad grew very popular back in 2552 after its release, with many ladies and gay persons believing strongly in their successes coming from the help of this amulet. It is very small and easy to conceal, but also looks very pretty when worn as an accessory too. Since then, time has told its tale, and the Takrut Hua Jai Khun Phaen has successfully entered the annals of history as an all time classic and powerful amulet that has been time-tried-and-tested for well over a decade.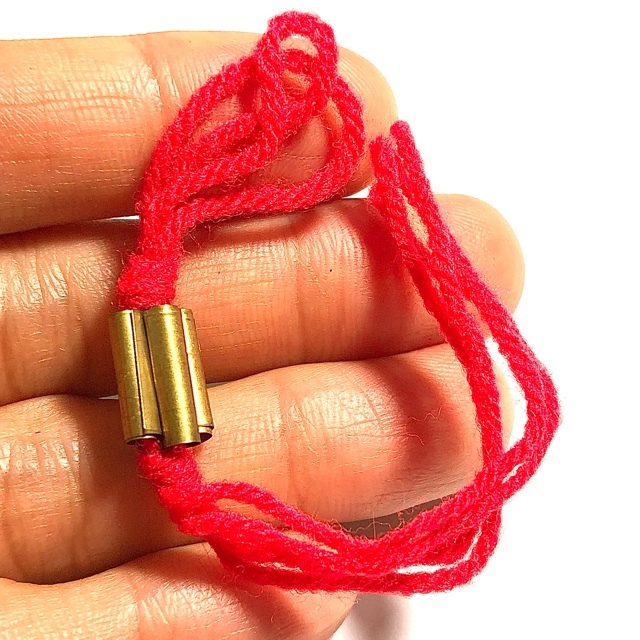 This sometimes can also be the cause of interest and the approach of a stranger, with questions about your amulet (what is that?). The Takrut uses the Lanna 'Wicha Pitsamorn' which is traditionally applied in the North, using the triple Takrut foils to imbue with three major blessings, and complete the spell according to the Dtamra Saiyasart Lanna.
Local Devotees like to call Luang Phu Sawad 'Por Phu Ruesi'. This is because before he was a Monk, he was a practicing Ruesi practicing in the depths of the forest, residing in caves in Thailand, Cambodia and Myanmmar (then Burma). He travelled all over the place, collecting Wicha from various other practitioners (both Monks and Ruesi) who he met and exchanged magical arts with them, and mastered a great number of magic spells. Luang Phu Sawad needs little preamble for many Buddhists in South East Asia, such as Singapore and Malaysia, who know this Master very well and revere his amulets since decades.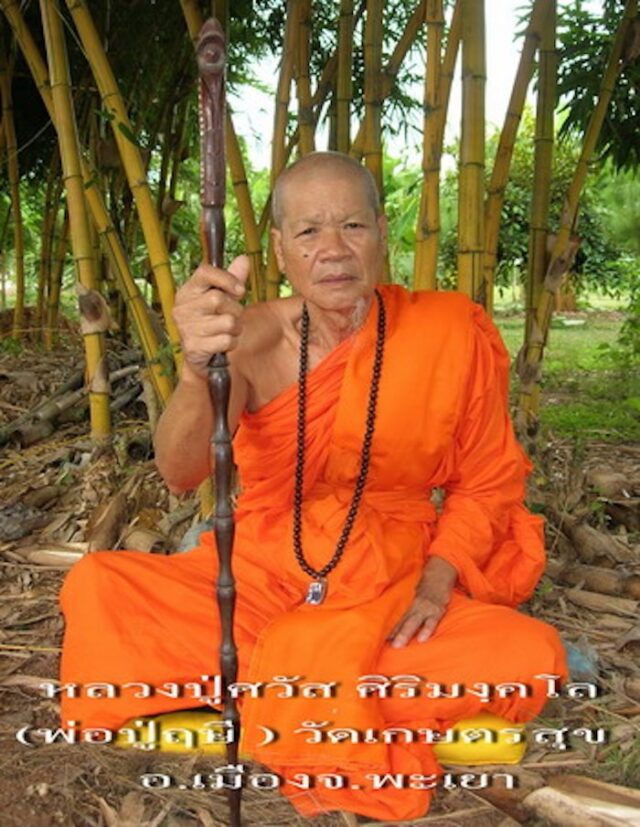 During his early years of practice, Luang Phu remained in the forest until he became adept in both Wicha Akom (magical arts) and Vipassana Kammathana practice. Amulets that are powerful do not only come from knowledge of magical arts and ritual. The practitioner must also have developed mind powers to bestow the amulet with empowerment, normally meditation ability of the Jhanic level is required to empower amulets, and it is Vipassana Kammathana method which is one of the major causes the Jhanic power to arise in a practitioner.
Then one day he found a very old monk whose Baramee and purity was sufficient to be his Kroo, and he ordained. After his ordination, he asked to be able to wander on Tudong. As he travelled, the local Folk were filled with faith in Luang Phu and they gathered money together to buy some land for Luang Phu to build a Samnak Songk (small forest Sangha temple). Luang Phu then saw that the words of his Ruesi Kroo in the forest were true, and that he was destined to become a Gaeji Ajarn. So he began to develop the place he had been given, until one day, it had become the temple of Wat Kaset Sukh that is visited by devotees from all around the Country and Foreign shores too. The visitors who come to pay respects and beseech blessings from LP Sawad are increasing in numbers almost daily, as the word spreads about the various stories of people who used his amulets and saw very quick results according to what they were wishing for.

In the parlance of the Western world, the High Sorcerer dons the mantle of a Wizard—a parallel to the esteemed title of 'Por Phu Ruesi' bestowed upon Thai hermit sorcerers who wield profound powers. These luminaries transcend the necromantic forces of 'Jom Khamang Waet,' which rely upon the might of the deceased, instead harnessing their own psychic attainments to empower their craft. Por Phu Ruesi, officially known as 'Luang Phu Sawad,' unquestionably embodies the essence of a Lanna Wizard, wielding the profound magic of ancient times.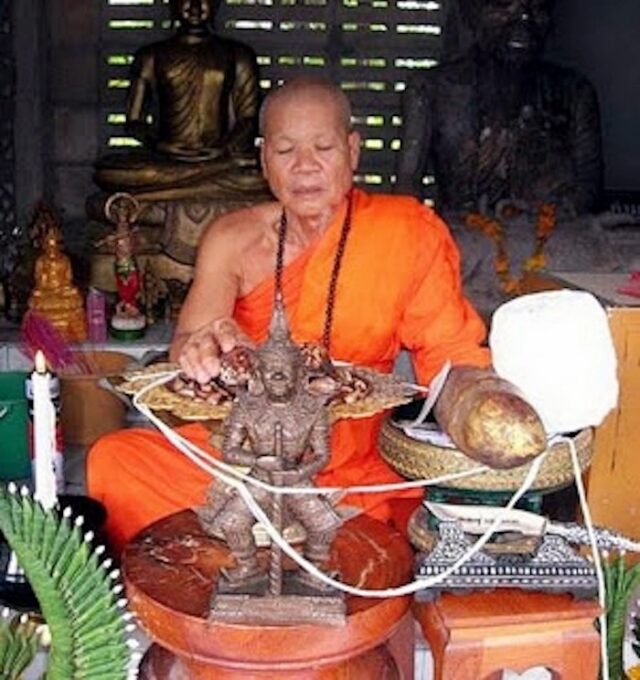 Suffice to say that LP Sawad has fulfilled both requirements to be able to be called an Adept practitioner. He stayed many years in the forest until one day his Kroo Ruesi teacher told him that he should go and ordain as a monk; 'You can ordain already, you can be an Ajarn now' he was told. So Luang Phu travelled up to the North to find an Upachaya monk who would be good enough to ordain him. LP Sawad would use his Jhanic powers to examine each monk, for he said that if the monk who ordained did not have enough Baramee (greatness and merit), then it could cause that Ajarn to become ill and have inauspicious Karma (referring to someone less realized Ordaining someone more realized).
Kata Bucha Takrut Hua Jai Khun Phaen Saen Sawat
Sunamolo Jidt-Dtang Pakinimae  Jidt-Dtang Bpuriso Na Ma Pa Ta
Chant and blow each time on the Takrut, each of the three times.
Luang Phu Sawad passed away on the 2nd Une 2014 (2557 BE), after building many improvements over the years at the temple, and extending the land by purchasing plots of land around the temple, to expand its facilities. Luang Phu was so diligent in this, that when the Looksit investigated the bank account of Luang Phu after his death, he was found to have only 50$ (1500 baht) in his personal possessio! This reflects what a selfless and non materialistic monk he was, despite having raised so many funds to develop the temple and many charitable public projects, he never used a penny of donations for even the tiniest personal benefit.
Below; Special Limited edition Look Om from the funeral ceremony of Luang Phu Sawad, released by Kroo Ba Dech