Thailand Amulets' store has some of the rarest and most exclusive lockets made and blessed by the famous laymaster Ajarn Perm Prai Dam. The various lockets have a very strong prai magic nature due to the extremely rich and potent prai ingredients used for the making of the sacred muan sarn mixture. Magic herbs, flowers, and sacred powders are also included in Ajarn Perm's lockets. Some of the lockets are immersed in powerful prai oil, and have takrut foils along with various animist charms (in koo, gecko charms, palad khik, etc.) inserted to the rear face of the locket. Furthermore, Ajarn Perm performed hand inscriptions on several kinds of lockets he made.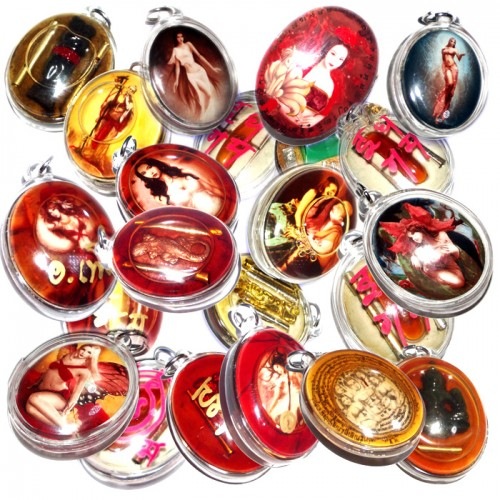 These rare and sacred items have received extensive empowerments by Ajarn Perm. He thus consecrated the lockets with metta mahaniyom, maha sanaeh, and khaa khaay powers, which make them powerful amulets for attraction, romantic seduction, and success in business. Moreover, Ajarn Perm's lockets can help to increase lucky fortunes through gambling and lottery wins. This is because most of his lockets are empowered by invoking a certain prai deva which serves to fulfill the desires of its worshipper.
Among the lockets of Ajarn Perm Prai Dam are: Mae Nang Prai Tip Suwan (Pasanee maiden in prai oil with gecko charm, hand inscription, 2 takrut, and Dork Tong powders); Paya Leungk Tong Mia Mak (with Paya Khao Kam immersed in red cockerel prai oil); Kamataep locket (Deva of Love immersed in prai oil + In Koo and two silver takrut Maha Sanaeh); Prai Nam (Water Sylph Queen in Dork Tong and Gai Daeng prai oil + two takrut and sacred powders); Khun Chang Um Nang Pasanee (Khun Phaen's competition seducing a nang prai sylph maiden with Wan Dork Tong prai oil, a lingam and four takrut); and many more…
To view the various kinds of amulets and lockets made by Ajarn Perm Prai Dam, click here.
Alternatively, you can view all lockets in our store here.