Rian Ruay Samrej (Tam Nam Montr) – Prayer Water making amulet – Nuea Tong Daeng – Pra Ajarn Ji Somjidto – Wat Nong Wa
The front face of this Magic Medallion for making prayer water features a Yantra which Ajarn Ji saw in meditation. It is a Universal Magical empowerment instrument which can be applied to whatever purposes the Devotee chooses (within the five precepts).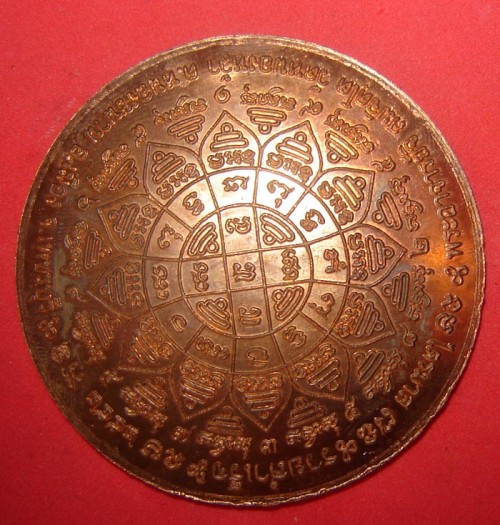 The amulet was made with Maha Yant Mongkut Pra Puttajao on the front and Maha Yant Boroma Kroo Paed Tidt using a Wicha for empowerment given to Pra Ajarn Ji from Luang Phu Tong Sukh of Wat Tanode Luang. Ajarn Ji says this is the first time he has managed to master the creation and empowerment of these two most complex and difficult Yantra to Manifest.
He says the Yant will protect from enemies even when all alone and outnumbered, and that any blows or cuts with sharp instruments will not pierce the skin (remember that for such Wicha to really work you must keep the 5 precepts always).
The Kata Gratu Jet Baeg is also hidden within the other Yant, and protects whilst travelling in any of the eight directions.
When illness comes, or meet with demons, possessed beings or ghost, and other inauspicious presences, you should take the medallion and place it in a Khan Nam Montr (prayer water bowl) or a clean water bowl. Light 16 incense sticks. Then pray as focused and as strong willed as you can for your goals (be it so expel the spirits, or any other aim you may have. Chant the Puttakun Tammakun Sangkakun Kata (3 times), and think of the Triple Gem, Mother, Father, friends, relatives, Kroo Ba Ajarn, Guardian Angel and those we may have harmed in all our lives, and all the sentient beings in all the three worlds and three times, and wish them some of your merits.
Then chant the Itipiso Mantra, and then the following Kata (9 times).
Idtipiso Wisae Sae I – I Sae Sae Putta Naa Mae I – I Mae Naa Putta Dtanso I – I So Dtang – Putta Bi Dti I
The water will then be 'Nam Montr' (prayer water). You can use the water to give to people who are with fever or sick to drink, and to bathe with. You can use the water to fend of evil and demons, and even as metta Mahaniyom power to spray on your wares in your place of business to increase sales.
As you sprinkle the water on your wares to sell,you should chant the following;
Put Ta Sang Mi Sang Si Mo Naa Tamma Sang Mi Mo Naa Sang Si Sangka sang Mi Sang Mi Si Mo Na Sang
This is useful amulet for Tudong Masters travelling in the deep forest, which sometimes has areas which are haunted and have dangeorus spirit beings running amok. In fact this is one of the resaons this amulet was made, for it is not a simple or common amulet for average layperson, rather more a worktool for the practicing Magician or Dhamma Practitioner.
If during the day in the shop there are moments when you are not speaking with people, then you should always chant thie following Kata silently in your heart;
Pra Puttang Ruam Jidt Pra Tammang Ruam Jai Pra Sangkang Hlong Hlai Ruam Jai Pra Putto Namo Puttaaya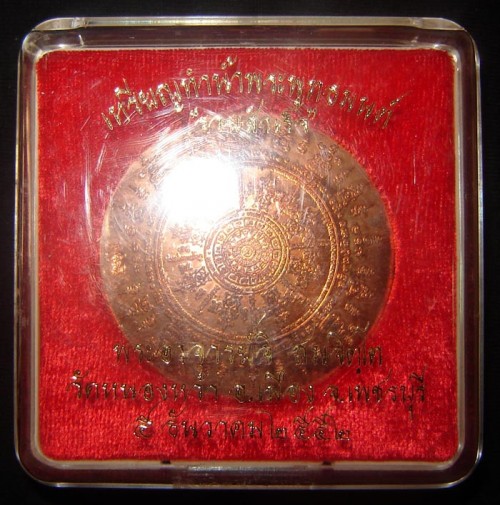 Size; 5 Centimeters Diameter – Comes with original boxed case from the temple. Can be encased in waterproof casing if wished.