Thai Amulets added to all of our affilliate stores in January 2018 are presented in this 11 minute long slideshow, which shows a selection of Thai Buddhist Amulets and Occult Charms which arrived in January. A host of new amulets were added to ancient amulet store, along with some very rare amulets being added to the Thailand Amulets store, along with a few new additions to Buddhist Amulet store.
Amongst the items added to Thailand Amulets were;
Pra Put Lek Lai Luang Por Huan Wat Putai Sawan, Giant size Lek Lai Jet See Rainbow Lek Lai Kaya Siddhi Adamantine Substance, Look Om Luang Phu Khui sacred Betel-Areca ball using the Wicha Look Om of Luang Por Tob of Wat Chang Phueak (Wat Chon Daen). Some Large Pieces of Lek Lai Kaya Siddhi Adamantine Substance, and a rare Bia Gae Cowrie Shell Animist Charm from Luang Phu Juea of Wat Klang Bang Gaew.
Also some amazing Talismanic Charms added were the famous Black Takrut Kong Grapan Chadtri Klaew Klaad and Red Takrut Metta, two immortally popular Takrut amulets of Luang Por Jamlong, of Wat Chedi Daeng. Luang Por Jamlong is a deceased Master whose Takrut became extremely popular due to the massive success by so many devotees.
Two different and extremely rare Takrut Kart Aew Magic scrolls on cord belts for Kong Grapan Chadtri Klaew Klaad were added from two great deceased masters, Luang Por Koon and Luang Phu Hongs. From Luang Por Koon came the Chueak Takrut Koo Ud Look Sakot Nuea Dtakua, composed of  Twin Yantra Scrolls with 6 Spellbound Seals. From Luang Phu Hongs came the Chueak Takrut Kart Aew 22 Dork – twenty-two Magic copper Yantra Foil Scrolls on Cord Belt, from the Early Era of Luang Phu Hongs.
A piece of amazing Lek Lai Jet See 7 coloured Rainbow Lek Lai was also added after some years of being unable to find some of this extremely rare and visually enticing Kaya Siddhi Elemental Substance
Classic Pra Somdej  – The ancient classics were not forgotten on Thailand-Amulets, with the addition of an incredibly beautiful mastrer-Class Exhibit of the Pra Somdej Thaan Singh of Luang Phu Nak (Wat Rakang Kositaram)
New Store Up and Growing Fast
In addition, because people are finding it ever more difficult to browse through the many thousands of amulets in Thailand Amulets store, we have begun to post amulets from any Masters we have not brought to you yet, in a new Thai Amulets store at Thailand-Amulet.Com, so that the amulets are easier to access.
We found that once a store reaches over 3500 amulets in store, it becomes difficult to browse, and so we decided to make it easier by splitting the amulets between each store, with each store having its own character and specialities.




Ancient Amulet Store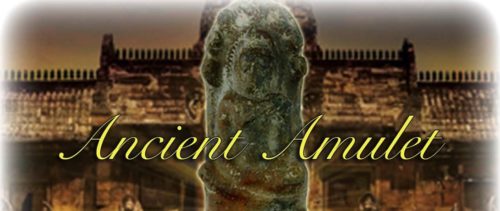 At Ancient Amulet store we can see a large number of Classic Old Amulets of Yesteryear, from a number of Great Olden Days Master Monks of Legend. One of the hot topics of the time, the Pra Khun Phaen 15 amulet of Luang Phu Tim Issarigo (Wat Laharn Rai), has now begun to grace the virtual showroom of Ancient Amulet Store, along with a large selection of other Amazing amulets from Great Temples and Masters, including the following Amulets and Master Monks;
Takrut Tone Amulets of Luang Por An of Wat Prayatigaram, and Luang Phu Doon (Wat Buraparam), Kroo Ba Nanta (Wat Tung Man Dtai), Luang Por Mui (Wat Don Rai), and Luang Por Phaew (Wat Tanode Luang), as well as some Muan Sarn Sacred Powders Nuea Krang amulets of this Master of Wat Tanode Luang.
Various exhibits of the famous Pra Pid Ta amulet were added, including the Pra Pid Ta Mai Gae carved wooden Nirodha Buddha of Luang Phu Rod, the legendary pear shaped Pra Pid Ta of Luang Phu Rian, and the famous Pung Bpong amulet of the Great Luang Phu Sukh ( Wat Pak Klong Makham Tao) were also added.
Some amazing Pha Yant cloths were added, as well as some amazing Suea Yant Sacred Yantra shirts of the 'Taharn Phii' (ghost soldiers), such as the Suea Yant Roi Mer Roi Tao of Luang Por Kong (Wat Wang Sapparos), and the Suea Yant Luang Por Phern Tidtakuno (Wat Bang Pra).
Look Om Sacred Powder Wishing Ball amulets from Luang Por Tong Sukh (Wat Tanode Luang), Luang Por Parn (Wat Bang Nom Kho), and Wishing Crystals of Luang Por Opasi (Asrom Bang Mot), Luang Por Pring (Wat Bang Bakork), and Luang Por Ruesi Ling Dam (Wat Ta Sung).
The legendary Chin Dtakua Fang Khiaw Hmaa Pha wolf tooth leaden Buddha amulets of the great and Elusive Khmer Sorceror-Monk Luang Por Dam, of Wat Kuti have also reappeared in store after three new exhibits were discovered by our scouts.
Various other amulets and occult talismanic charms were added from a host of famous names such as Luang Por Tob (Wat Chon Daen), Luang Por Sud (Wat Ka Long), Luang Phu Rian (Wat Nong Bua), Luang Por Guay (Wat Kositaram), Luang Phu Nai (Wat Ban Jaeng, Por Tan Klai (Wat Suan Khan), and the Buddhist Nun Mae Chee Bun Ruean… These are only some of the many new amazing amulets added to Ancient Amulet Store in Late January 2017 – Early February 2018
Buddhist Amulet Store
A selection of beautiful Buddhist Amulets and some Powerful Occult Charms were also added to our small store at Buddhist Amulet, which has a different character to Thailand-Amulets store, and defines itself with its own specific selection of Masters and Approved Temples. The new additions include Pra Kring, Takrut, Look Om, and Kumarn Tong amulets.
---

[ecwid widgets="productbrowser search" categories_per_row="3″ grid="10,3″ list="60″ table="60″ default_category_id="967279″ default_product_id="0″ category_view="list" search_view="grid" minicart_layout="MiniAttachToProductBrowser"]