Pra Luang Por Sothorn 3555 BE 5 +9 x 9 Blessings Merit Making and Royal Birthday Edition Thai Buddhist 'Heirloom' Amulet. With Custom Luxury Solid Gold Casing (Waterproof Bubble).

This edition is notable for the two sided Luang Por Sotorn Coin with differing Interpretations of different Eras. Each side has a slightly different Periodic Interpretation of the Luang Por Sotorn Buddha. Luang Por Sotorn is a Very Sacred Buddha Image of National Repute, of the 'Koo Ban Koo Mueang' Variety (Part and Parcel of Thai Buddhist Culture). Thai people flock to pay reverence to this Buddha from all around the Country, for it is believed that to worship this Buddha brings great Prosperity and Powerful Protection from Danger.
The Amulet is encased in waterproof bubble and custom made Solid Gold Casing
This edition is marked by the Numerological and Astrological Alignments of 5 x 9 Blessings, a most Powerful and Auspicous Conjugation of Astrological and Numerological Causes, that is a Powerful Cause of Prosperity, Happiness, and Success.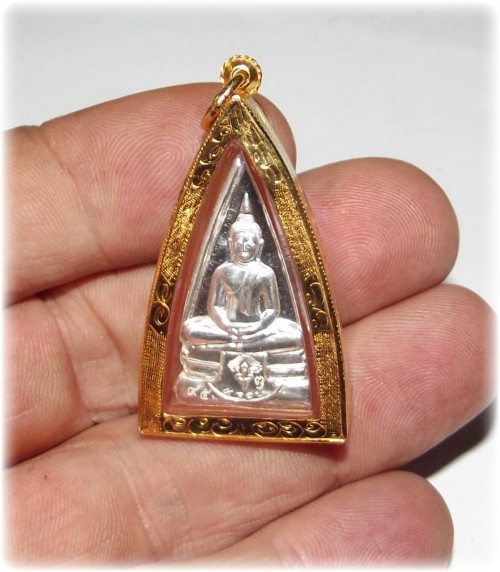 Silver versions have special code series stamp embossed
The Funds from this Edition of Highly Sacred Luang Por Sotorn Buddha Images goes to the Project to Cure Breast Cancer, by purchasing a Mobile Mammography Unit. If these people would have to pay for this medical check, they would have to pay around 50$ US per check. This is of course impossible for Thai Country Folk to pay.
View this amulet in the store here; Pra Luang Por Sotorn Buddha Amulet, Solid Silver with Solid Gold Casing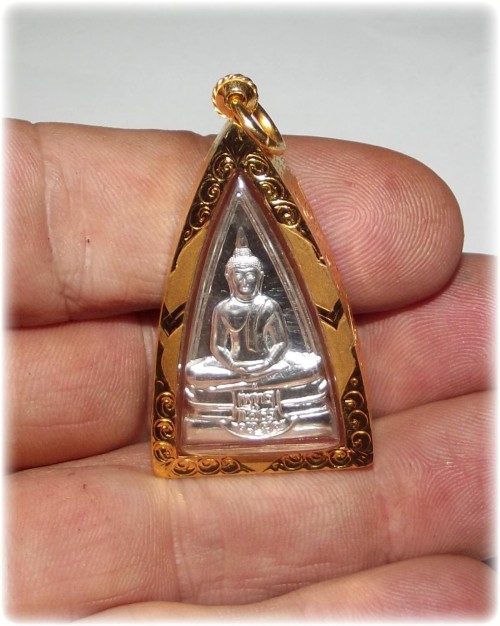 The Unit will travel into the Provinces and help to make regular checks to forewarn early enough and prevent Malignant breast Cancer from setting in with Poor People who can not afford the Regular testing. The Unit will cater for up to 250 thousand people. The Meritorious Project is to Pay respects and Honor the 50th Birthday of the Royal Prince Regent on the 28th of July 2555 BE.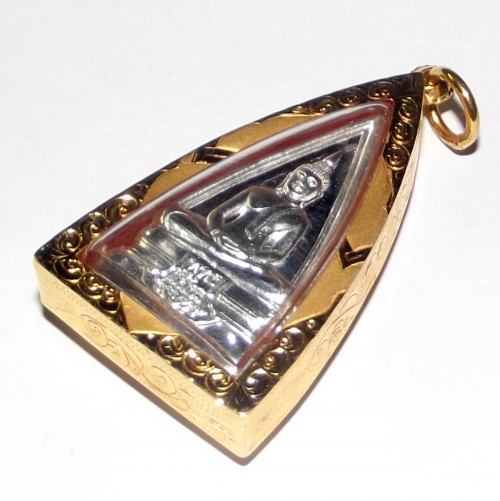 Size; 3 Centimeters High x 1.5 Centimeters Wide (4 x 2.4 Cm with Frame)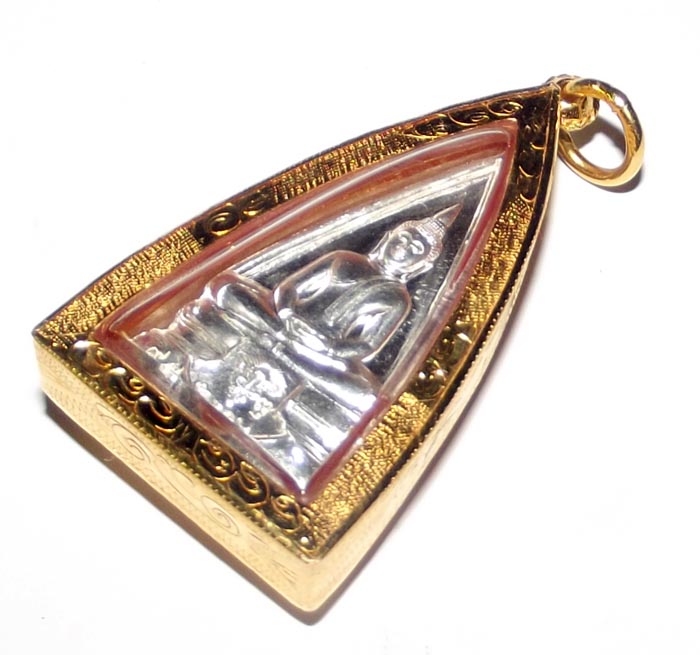 The casting and empowerment of the Luang Por Sotorn Amulets was made according to the Traditional Method that has been practiced throughout all Generations of Pra Luang Por Sotorn Amulets and Buddha Images.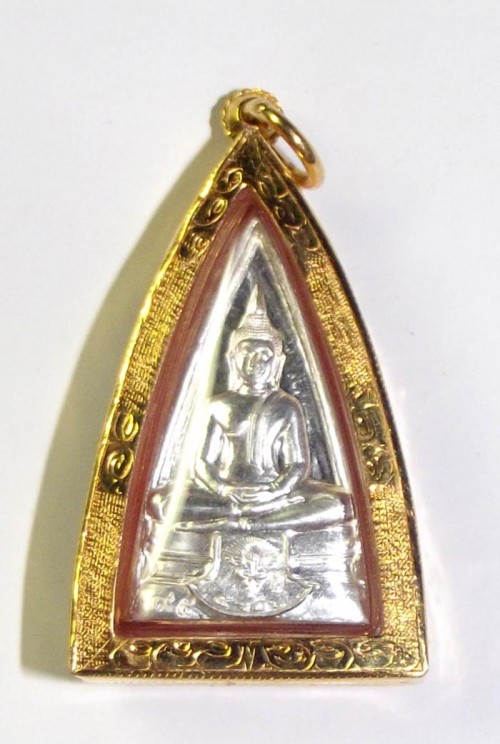 The Solid Gold Casing was Custom Made by Thailand's Most Famous Gold and Jewellery Firm, the Yaowarat Gold Company. We have decided to begin providing some of the most Classic and Sacred Amulets in Gold Casing for Esteemed Customers. This is thus one of the first (but not the last) amulets that we present with Luxury Solid Gold Casing. We hope that this option is to Your Liking. We also provide this amulet without Gold Casing for those who can not afford this option. Please note, this is not Gold Micron or Gold Plated Case, it is Solid Gold Custom Casing.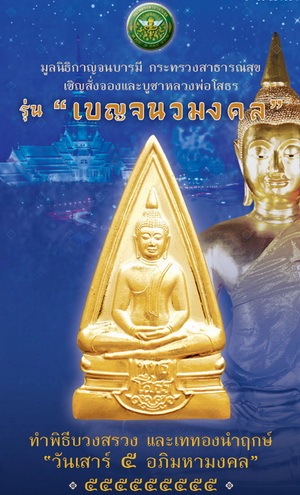 The Chanuan Muan Sarn used for the Casting of the amulets was made from a selection of Sacred  Alchemical metal Ingots from a Host of Guru Masters from around the Country. Over Eight Thousand types of Sacred Items and Alchemical metals were gathered from all directions of the compass.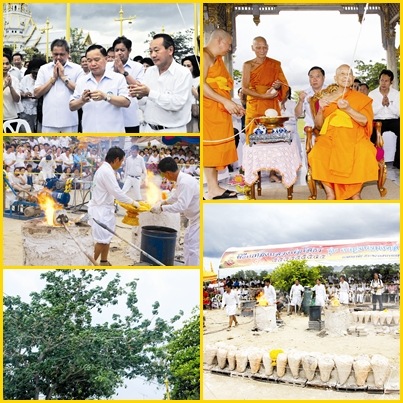 This was then supplemented with a large donation of Ancient Metallic Artifacts, dating from as far back as the Khmer Empire, reaching through the Dvaravadee. Chiang Saen, U-Tong, Sukhothai, Ayuttaya, and Radtanakosin Dynasty Eras. All of these Sacred Muan Sarn Ingredients were cast into Metal Ingots in different formulas (for the various Sacred Metals used in this series), and inscribed once more with Yantra and Empowered before the final Casting.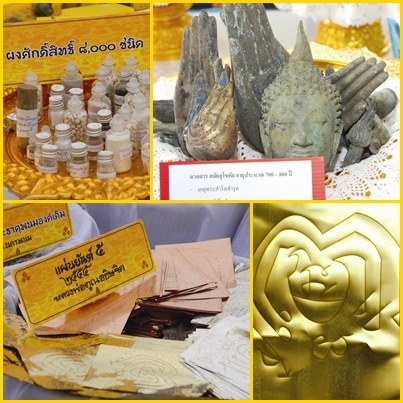 Before the Ingots were cast into amulets, they were passed on to Luang Por Koon Purisutto of Wat Ban Rai, to give his Blessings and Empowerment. He donated 5 Gold Yantra Foils with his Special Inscription, and other Muan Sarn including his Hairs, Civara Robes, and Sacred Powders.
There was also some Extremely rare and Sacred 'Pong Jidtralada' powders added which was left over from the making of the Pra Chinsiih Royal Comission Buddha Image cast in 2548 BE. This Muan Sarn Pong Jidtralada is a Royal Sacred Substance that makes this edition of amulets doubly Valuable, and Rare.
Above; The Sacred Metals are poured using the Traditional Casting Methods.
This edition featured a number of different models, including Sacred Powder Pra Somdej Luang Por Sotorn, Rian Sema Coins in Plain Sacred Metals, or Solid Gold, Solid Silver with Colored Ya Rachawadee Enamels. Also This range of LP Sotorn Coins, some Loi Ongk LP Sotorn Statuettes, and Bucha statues in 5 Inch wide Base, made from 'Nava Loha' (Nine Sacred Metals) as special item of the Range.
See All Amulets in this Edition here;
Luang Por Sotorn Benja Nava Mongkol Edition 2555 BE