Rian Choo Chok Joong Nang Nuea Dtakua Jarn Mer Sacred Leaden Alchemical Alloy Amulet featuring Jujaka the Fortuitous Beggar, leading a Maiden by the hand, with hand inscribed Sacred Yant and Khom Agkhara spells inscriptions engraved into the rear face. Released by the fifth Master of the Magical Linage Wicha of Wat Klang Bang Gaew, Luang Por Kong (Sanya). The coin comes with Original Temple Box and the gift of a small ball of Look Pong Ya Wasana Jinda Maneem sacred powders of Luang Phu Bun, of Luang Por Kong, Wat Klang Bang Gaew.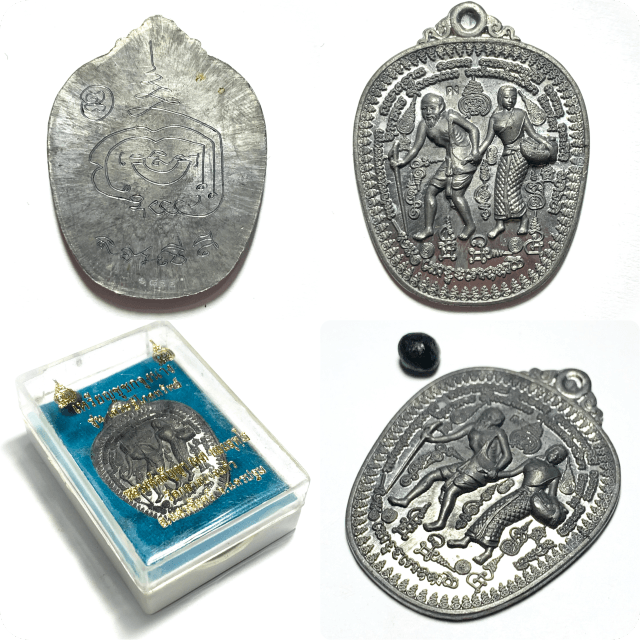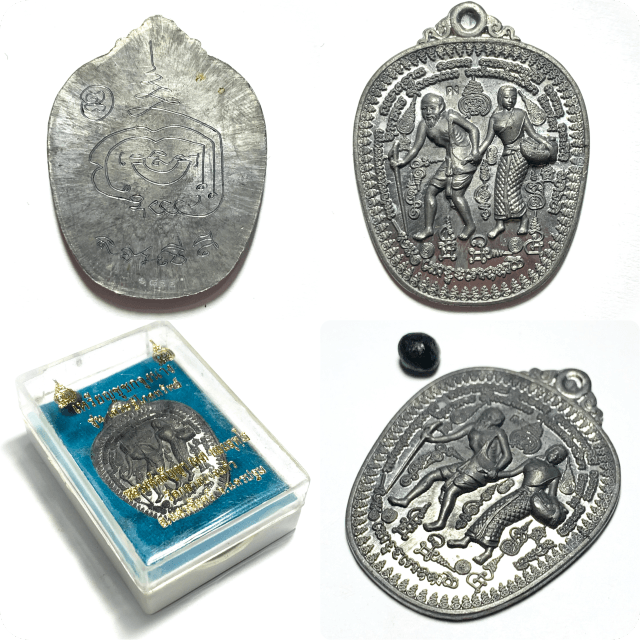 This is yet another important edition in the Dtamra Legend and Historical Magical Linage, of Wat Klang Bang Gaew Classic Thai Buddhist Amulets, which are enjoying the Immortal success of four Generations of Abbots (with Non-Abbot Master Monk Ajarn Bai making a total of five Masters), who have continued and Maintained the various Wicha for which Wat Klang Bang Gaew is noted for, namely the Wicha Bia Gae, the Jao Sua, The Ya Wasana Jinda Manee Sacred Powder and Wicha Jinda Manee Montr
Empowered with the Invocations of Maha Lap of Choo Chok (Jujaka), and the Blessings of a host of Sacred Yant around the imagery of the front face of the amulet, bring a multitude of Magical Aspects, which, being made from Alchemical leaden Sacred Alloy is especially susceptive to absorbing the powers imbued by the master. The rear face is hand inscribed with the Yant Putsoorn and sacred Khom Agkhara.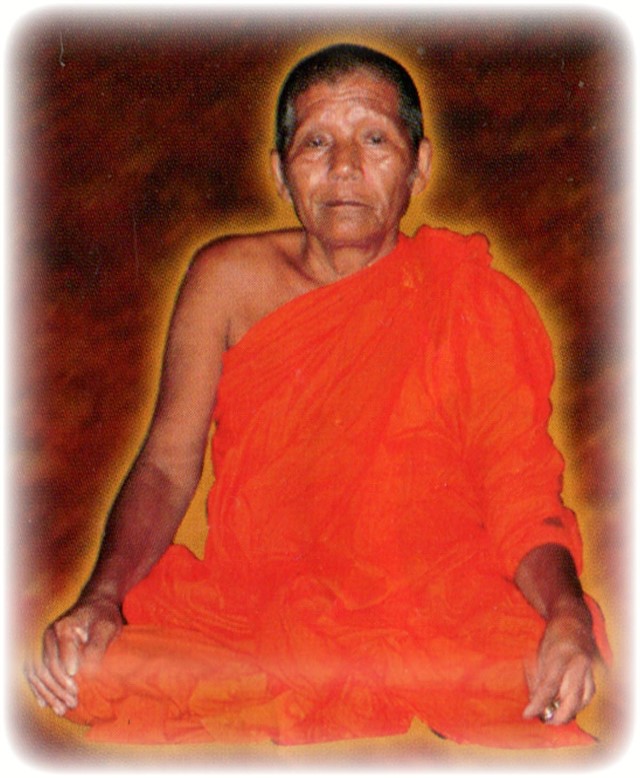 The amulet is further empowered with the Traditional Wicha Maha Jinda Manee Montr, made famous by the great Luang Phu Bun, of Wat Klang Bang Gaew, which is undoubtedly the most famous of all Temples for the Wicha Jinda Manee Montr and is also famous for the Yant Maha Pokasap for increased Wealth and treasured Possessions. This particular series of amuilets possesses the ubiquitous powers of Protection (Klaew Klaad) to Evade Dangers, 'Gae Jon' (prevent Poverty and cashflow still-stands), 'Maha Mongkol' (Great Blessings of good Fortunes, Health and Wealth), and Maha Lap Maha Pokasap Wealthy and Lucky Blessings.
---