Paeng Jerm Maha Sanaeh Na Pralaks Hnaa Tong – Sacred Charm Face Powder for Mercy, Success, Popularity and Fame – Luang Phu Sawad (Por Phu Ruesi) – Wat Kaset Sukh 2555 BE
Paeng Jerm Maha Sanaeh Pralaks Hnaa Tong (Golden Face Lakshman charm face powder) – Uses Wicha Norah/Lige for attraction charm and popularity. Good for sales or performing artists (fame increaser) – Luang Phu Sawad Sirimangkalo – Wat Kaset Sukh (Payao)
Pure Maha Sanaeh magic using the Wicha Pra Laks Hnaa Tong (Golden Face Lakshman) and the Wicha Manorah, a powerful ancient Sorcery used by the Performing Artists of Thai travelling Thjeatre since centuries. Maha Metta, Maha Niyom, Sangaa Raasii (wonderful horoscope), Serm Duang Serm Wasana (improve your luck and fortune). Wish fulfiller magic. Perform the Kata and wipe the Pra Laks powder on your forehead, and both cheeks before going out to meet with Business Colleagues. It will increase your chances of charming your customers and Business colleagues into having our way, choosing you for the job, increasing your wages instilling compassion and mercy in the hearts of your superiors, customers, colleagues and Peers.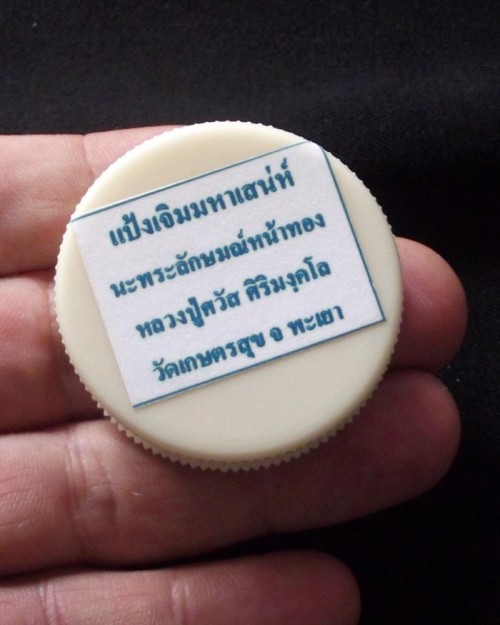 Use the face powder to pat on your forehead and around your face, to increase popularity and attraction, inducing Metta in the hearts of those who approach. Use before approaching to ask for a raise in wages, promotion, apply for jobs, door to door or market selling. You can use before going to a party or to a social or business meeting, or before stepping out on stage to perform. Use before giving speeches to improve the reception of your speech and receive favorable reactions. Performance artists should use it before going on stage to perform.
Kata Bucha Paeng Jerm Maha Sanaeh Na Pra Laks Hnaa Tong
Om Pra Pakdtr Pra Laks Hnaa Tong
Suwann Phud Phong Hnaa Tong Pra Pakdtr
Chaay Haen Chaay Rak Saaw Haen Saaw Rak
Phuu Hyai Haen Gor Rak Paa Gan Somanas
Krai Haen Krai Gor Rak Ruu Jag Guu Tua Hnaa Mai Waa Krai
Na Jab Jidt Mo Jab Jai Put Yoeng Yai
Taa Hlong Hlai Ya Rorng Hai Ma Haa Guu
Bpa Sa Sam Bpadti Thaani
Om Pra Laeng Bpen Saeng Pra Laks
Pra Rasii Jab Bpaag Gaa Pra Laks Jab Hnaa
Jab Dtaa Swaa Ha
Na Haen Hnaa Guu Yuu Mai Dai
Mo Rorng Hai Kruan Kraang
Put Gord Wai Mi Krai Ja Waang
Taa Kruan Kraang Sa-Eun Hai
Ya Hlong Hlai Nai Jidt
Hying Dai Chaay Dai Peng Pis Haen Hnaa Guu
Gor Yorm Yuu Mi Da Rorng Hai Ma Haa Guu
Om Sitti Gae Guu Swaaha Aehi Chayya
Aehi Sappae Chanaa Pahuu Chanaa Aehi
Read Biography of Luang Phu Sawad
3 different Free mp3 Sound Tutorials for proper Pronunciation of this Kata are downloadable after you have purchased the amulet. Simply log in to your account with us and go to the files tab to download MP3 Tutorials (fast and slow versions) for this Kata.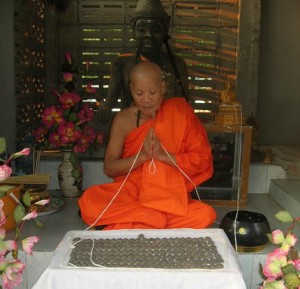 Luang Phu Sawad is one of the surviving older master Guru Monks of the Old Generation Lineages of Northern Lanna Tradition, and an Internationally recognized Master Gaeji Ajarn whose Powerful Amulets are famous around the World. He is lovingly known by Local Devotees as 'Por Phu Ruesi' (Old Ruesi hermit), because before he was a Monk, he was a practicing Ruesi whose powers were legendary.