Takrut Maha Ruud Serm Banya – 'Run Ruay Ruay Ruay' edition 2548 BE Multi-Use waist cord Takrut for Intelligence, Memory, Protection and Lucky Riches – slide to change powers – Luang Por Sawai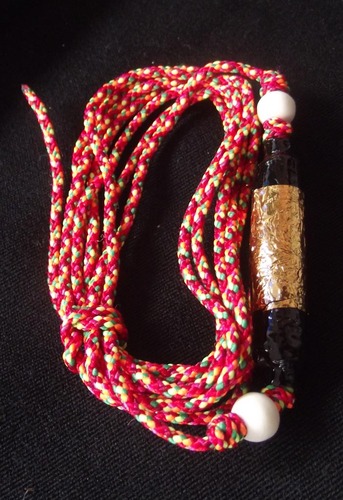 Fast Thinker Takrut for increased memory, fast reaction and increased Intelligence from Luang Por sawai of Wat Prasat Panom Rung temple in Buriram, North East Thailand. Released in the Famously Celebrated 'Ruay Ruay Ruay' edition of amulets in 2548 BE (2005).
The Takrut with Yantra Insciption is wrapped in black lacquer and blessed with gold leaf blessing to finish. Empowered in a large Puttapisek in this Famous Blessing Ceremony of 2548 which received both National and International News coverage.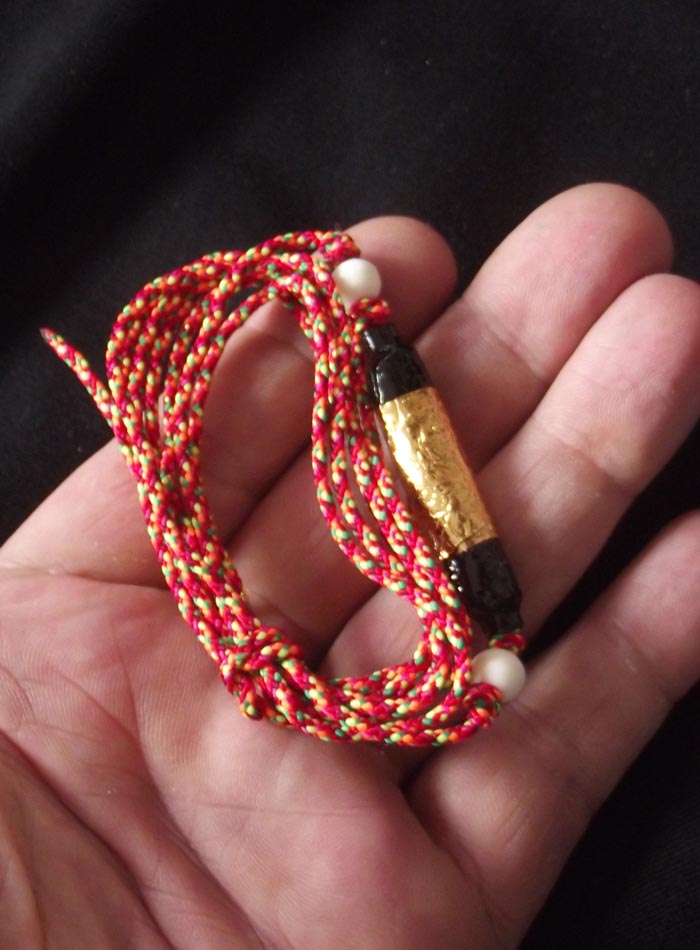 only 999 of these Takrut were made in total
Apart from using to improve Mental reaction memory and Intelligence, the Takrut is a 'Maha Ruud' type Takrut, which can be used to slide around the waistline from side to side or back to front. Depending on which side the Takrut faces, it can bring different effects;
Wear it facing forwards, Sarapat Nerk, Klaew Klaad Kong Grapan, Gan Sadtru – will allow you to Fulfil your Wishes, and also Protect from Danger and Enemies
Wear it facing backwards, Klaew Klaad, Gae Aathan/Pongan Phii – Will Protect from Back Stabbers and chase away Demons and Enemies
Slide it to sit on your right flank – Maha Sanaeh; Ladies will fall for You, Customers will Flock to You and Purchase Your Wares.
Slide it to sit on your left flank, Mahaniyom Kaa Khaay (Good money and business sales, more customers)
Kata Bucha Takrut Maha Ruud
Na Mo Put Taa Ya Ja Pa Ga Sa Sa Ga Pa Ja Idti Bpi So Pa Ka Waa Dti
Puttang Saranang Kajchaami
Tammang Saranang Kajchaami
Sangkang Saranang Kajchaami
A Sang Wi Su Lo Bu Sa Pu Pa I Sa Waa Su Su Sa Waa I Mae Dtan Ja Sap Pa Lo Gas Sa Ming A Si Sadt Dti Ta Nuu Jae Wa Sap Pae Dtae Aa Wu Taa Ni Ja Pak Ka Pak Kaa Wi Jun Naa Ni Lo Mang Maa Mae Na Phus San Dti
Free Sound Tutorial for proper Pronunciation of this Kata is downloadable after you have purchased the amulet. Simply log in to your account with us and go to the files tab to download MP3 Tutorials (fast and slow versions) for this Kata.
Magical Properties; Banya Wai (Increase Memory, Reaction, Intelligence), Puttakun (Auspicious Blessings), Klaew Klaad (Safety), Kong Grapan (Invincible), Choke Lap (Lucky Fortunes)