Pra Pid Ta Pokasap Ruay Choke Rap Sap 4 x 4 Cm Jumbo Special Sacred Powder Amulet – 'Chana Marn' edition 2555 BE – Por Tan Kloi – 999 made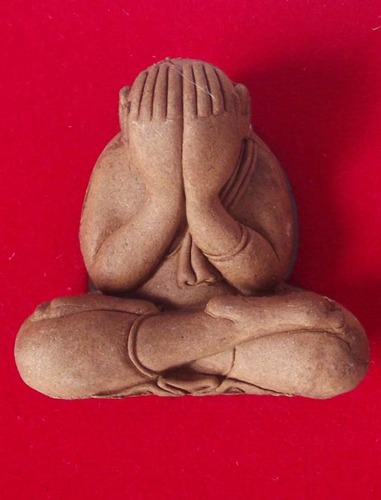 Pra Pid Ta Pokasap – Nuea Wan (Sacred Herbal Powders) 'Run Chana Marn 2555 BE' Por Tan Kloi – Wat Pu Khao Tong (Pattalung) – 999 amulets made – LP Kloi's hair inserted into the base, chinese symbol and series code number. Made from the Finest Quality sacred powders of Extreme Rarity and Powerful Magical Properties. The amulet comes with red velvet box enclosure, as is fitting for a Masterpiece Amulet if this Calibre. The richness of the Muan Sarn (Sacred Powders) is noticeable at an eyeglance. The Pim is Classic, and made with the same love and care, and Purity of Sacred Powders, as can usually only be found in Ancient Masterpiece Amulets.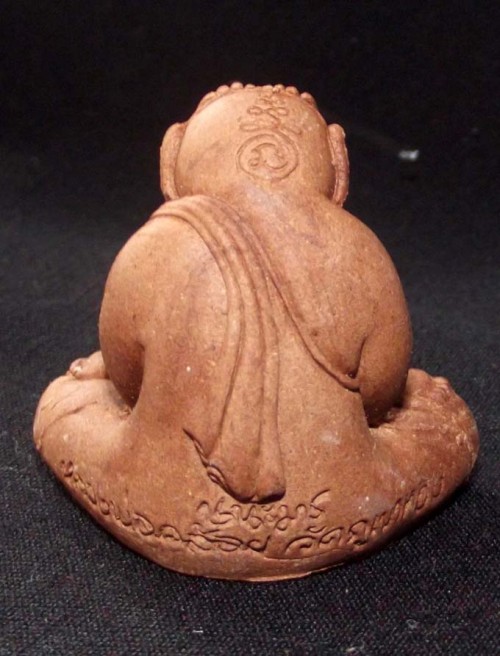 Read Documentation on the Complete Edition – Chana Marn 2555 BE – Por Tan Kloi
The Pid Ta Pokasap was released along with the 'Taep Pra Rahu' amulets, which fronted the series with a large catalog of Pra Rahu Amulets in a variation of Sacred Metals. Some Pra Kring, Chaiyawat, Hun Payont and Por Tan Kloi coins were also made for this Edition, which has been regarded as a Historic Event in the continuing Legend of the Southern Thai 'Khao Or' Magical Tradition.
The Pid Ta is made in Classic Nakorn Sri Tammarat style with a slight Sri Vichai influence, and has two large hands ('Rap Sap' – large hands to receive large gifts). Maha Lap (Lucky Fortune) and Maha Pokasap (Treasures and Possessions). The Pid Ta possesses Inherent Powers of Kong Grapan and Klaew Klaad, but in the case of this particular Exhibit, can be said to take the rear seat as far as prime objectives are concerned, to lend more focus to Pokasap and Maha Lap magic, for increasing Wealth and Prosperity, Material Possessions..
Chinese Code symbol and series code number are stamped on the base, which has hair from Luang Por Kloi inserted within it.
Origins of the Pra Pid Ta Amulet
How to Worship + Kata Chanting for Pra Pid Ta
Putta Pisek/Taewa Pisek (Blessing Ceremony)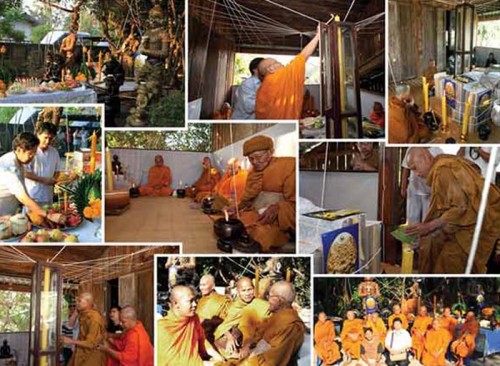 The amulets were given two very Important Blessing and Empowerment Ceremonies (Puttapisek/Taewapisek), one in the North Eastern Region of the Isan Country, and the second Empowerment at the Temple of Wat Phu Khao Tong in Pattalung.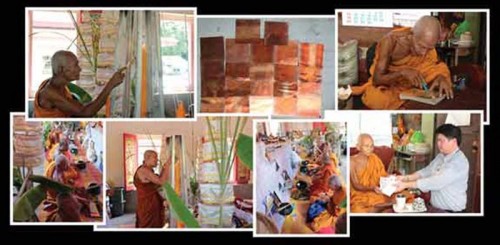 A host of Important Adept Masters of the Southern Khao Or Lineage of Sorcerors were present to empower the amulets, and a great deal of Adept Wicha was applied to the Preliminaries and the making of the amulets as far as Ancient Khao or Sorcery requires, using the thousand year old methods.
Some of Thailands Finest Adepts assisted in the proper Southern Method of Empowering Pra Pid Ta to attend and bless the other amulets. As to the Hun Payont Ghost Soldier Amulets, we need look no further than Por Tan Kloi himself as the current Master of Hun Payont making with his Khao Or Cave Magic.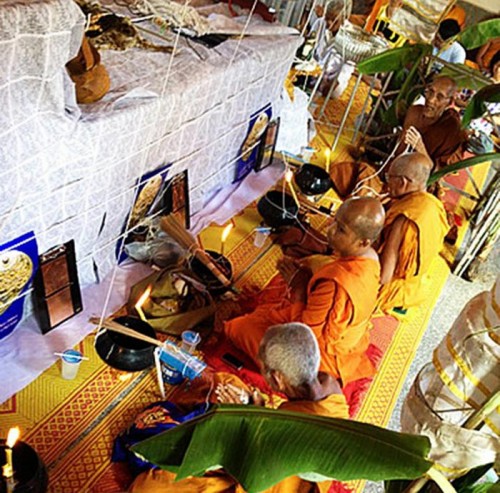 The Empowerment of the other amulets goes without saying that, being Southern type Khao Or Wicha amulets in Nature, the Khao Or masters empowering them are simply the best choice of empowering this type of amulet. The Pra Pid ta sacred powder amulets are especially interesting for their quality and strong empowerment, and their long future as a classic amulet of ever increasing spiritual (and monetary) value.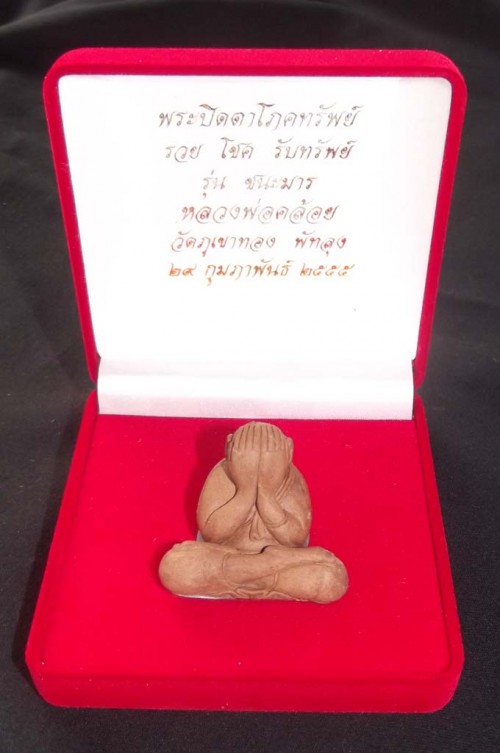 Comes with Original Temple Box – Can be Encased if Wished
A Truly Luxurious Classic Buddhist Pid Ta, using Sacred Muan Sarn of the Highest Quality, with the Blessings and Empowerment of Great Khao Or Masters – An amulet that will last for centuries (if properly cared for) and will be a Sacred Heirloom for your children and Grandchildren to inherit and continue to revere and receive wealthy blessings.