Nam Man Prai Paya Suea Krong Maha Amnaj – King Tiger Prai Oil – Kroo Ba Dech Gidtiyano – Wat Mai Ratanakosin (Lampang) 2552 BE
It is a known truth that the Tiger is a Fear and Respect Instilling figure, and that there is not a person alive who does not fear the Tiger. All animals on this planet, including us, respect the Tigers Power and Glory. In terms of Occultist Beliefs, the Tiger possesses Inherent Magical Powers such as Metta, Amnaj, and Kong Grapan. Some Tigers who have especially strong Minds, will raise their level to become a 'Paya Suea' (Regal Tiger). The Paya Suea has such Mind Power, that whenever it stares into the eyes of its victim, the victim becomes stunned and unable to resist, and allows the Paya Suea to attack without resistance.
When Kroo Ba Dech recieved the Nam Man Prai Huea Chuea Suea Kroeng donated from one of his Kroo Ba Ajarn (Guru Teachers), of the Karen Tribe, he took it and used it as the main ingredient for this Prai Tiger Oil, boiling the oils whilst chanting the Incantations of the Prai Paya Suea Tiger spirit, and stirring the whole time with an enchanted wooden paddle with Sacred Inscriptions on it.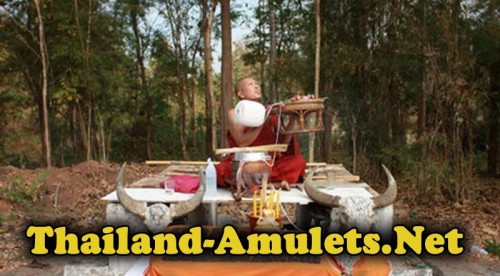 He then added the donated fur and skin from the Paya Suea Kroeng into the Prai Oil, and inserted a Takrut with the Heart Mantra of the Suea Kroeng Tiger in it. A most powerful pheromonic occult Prai Oil for powerful Puttakun Power; Kong Grapan, Klaew Klaad, Gan Khun Sai, Metta Mahaniyom, Maha Amnaj. The Suea Koreng is a powerful protection against black magic that is very strong defense against almost all kinds of Dark Sorcery and Evil Curses.
Smear a tiny bit of oil on your forehead before leaving the house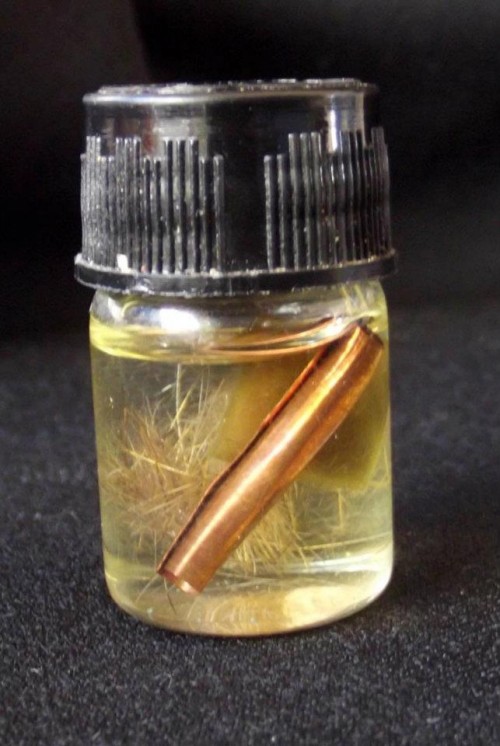 Kata Bucha Nam Man Prai Paya Suea Kroeng
Chant the Maha Namasakara first 3 times (Namo Tassa)
You can add the Kata Aaratanaa Pra Krueang too for making wishes if you like, it can only increase the power of your requests.
Om Suea Kroeng Dtua Luang Om Suea Hlueang Dtua Sord Siaw Saen Dtaa Siang Guu Dang Dang Jarng Gu Nii raeng Dang Jarng Prai Khloeng Guu Awg Jaag Baan Guu Gin Saen Rueang Guu Awg Jaag Mueang Guu Gin Saen Khloeng Siang Guu Dang Krakrern Bpen Toranii Siang Guu Mii Amnaj Khao Serk Khard Jai Dtaay Om Swaa Tek
This is quite a difficult Kata to pronounce, so you may ask us for mp3 Kata Tutorial if you purchase this item, and we will send it per email.
You can use various other Kata with the oil for specific purposes such as Metta or Maha Sanaeh
You can use  the Kata for Maha Sanaeh and Metta here; Kata for Metta Mahaniyom and Maha Sanaeh Amulets, Charms and Oil