Nang Jing Jork Gao Hang 9 Tailed Fox Tail Lady Ghost Locket with Super Concentrated Prai Powders and double Prai Oil flasks with gemstones in rear face – Takrut spell insert – Kroo Ba Beng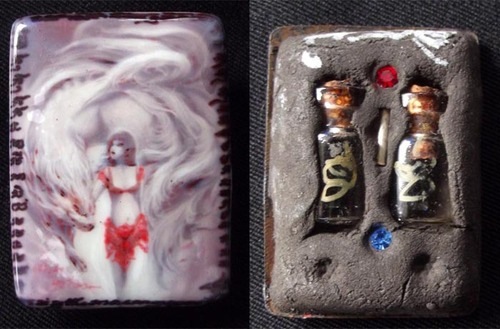 Nine Fox Tails Prai Lady Deva Invoked within the Sacred Prai Maha Sanaeh Laluay Powders, and formed into an Enchantment Locket. Additionally Charged and Empowered with a double set of Prai Oils in small flasks inserted into the extremely rich and potent Prai, and Maha Sanaeh Laluay powders.
One phial of Prai Oil is 'Nam Man Wan Dork Tong' (a rare magical herb with one golden flower which blooms once a year), and the other phial is filled with 'Nam Man Chang Dtok Man' (Elephant in Heat on the Rampage Oil), mixed with See Pheung Maha Sanaeh Balm. One Red and One Blue Semi-Precious Gem are inserted, and one Takrut Sariga Maha Sanaeh
Size; 4.3 Cm x 3.4 Cm
Made by Kroo Ba Beng in the same edition as his Sacred Ajarn Forn and Por Phu Yee Gor Hong Lockets, with the image of the Legendary Laymaster with no Nose 'Ajarn Forn Dee Sawang'. This edition of Lockets are all made using sacred powders and additionally empowered with the Methods of the Famous Wicha of Ajarn Forn, along with the Magical Empowerments, Incantations and Buddhist Blessings of Kroo Ba Beng.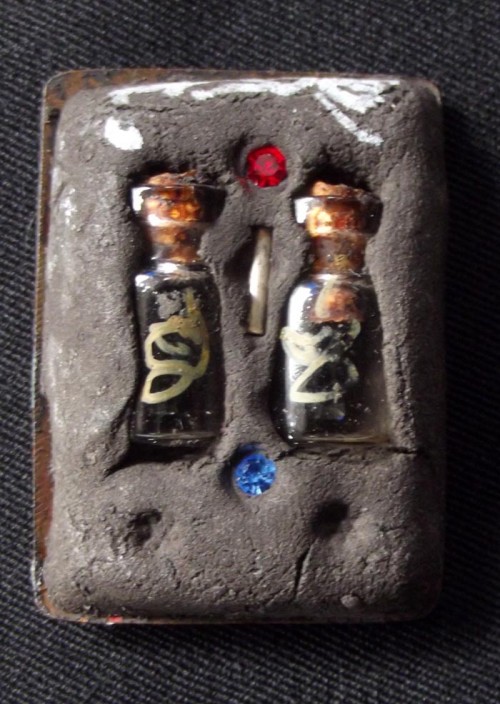 Kroo ba Beng performed many Incantations of the Maha Laluay Mantra and Montr Maha Sanaeh, Montr Maha Ramperng. The incantations were performed until a Nimitta appeared in the image of a Man and Woman entwined.
Use as an Attraction Charm to Increase Intereest and Popularity, Admirers and Lovers, gain favor…
To use properly you should take time before bringing the amulet into the House, using the same methods used for bringing Kumarn Tong and other Prai Spirit amulets (such as the Hun Payont, Mae Hong Prai) into the House.
Light 12 Incense sticks, and inform the Local Devas and Spirits that you are bringing another Prai Spirit into the House.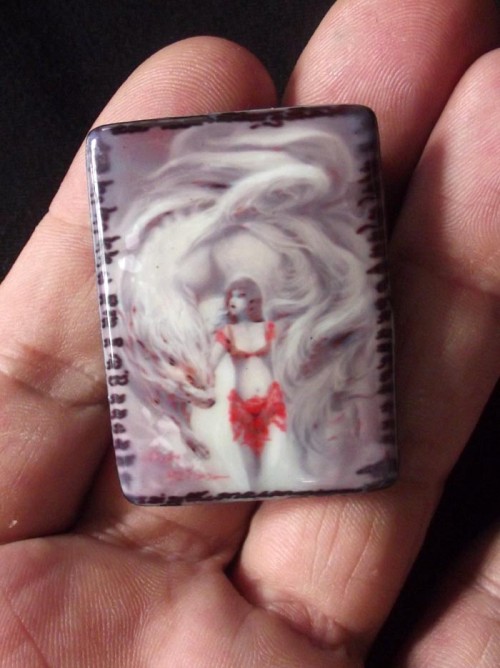 Before using the potion, you should perform 'Rap Khwan' for the Prai Spirit by offering nine red or white (or mixed) flowers, incense sticks (light them) one glass of water.
The amulet works without much need of Bucha except for weekly offerings, but of course if you Chant to Increase the Power, it is always a benefit. However, the Prai Magic nature of this amulet is intended to work without the wearer needing to pay too much attention to Ritual Ceremony. You can use Kata Sariga for the Takrut spell within the amulet for example, and any metta or Maha Sanaeh Kata you please, to empower and ask for blessings and wishes to be fulfilled.
Perform the Maha Namasakara (Namo Tassa) 3 times before any other Chanting to Amulets;
We recommend using the Kata Aaratanaa Pra Krueang as a prelude to asking for wishes to be fufilled.
List of Kata Chants – Metta Maha Niyom/Maha Sanaeh