Ling Jab Hlak (Hanuman Monkey grabbing a Pillar) – Nuea Mai Aathan (Hand Carved Sacred Wood) – Lueang Por Foo Wat Bang Samak 2554 BE
Ling Jab Hlak means 'Monkey Grabbing a Pillar' – This is the Traditional Name for the Amulet, which depicts a Vanora (Monkey) holding on to a War Club, or Vertical Pillar. Blessed and Empowered over 7 Saturdays and 9 Sundays, with a final grand Empowerment (Putta Pisek/Tewa Pisek) after the Wai Kroo of 2554 BE.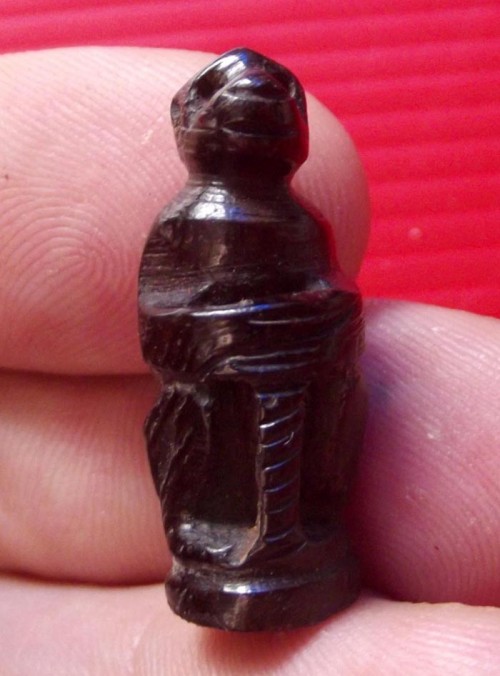 The Wicha Ling Jab Hlak was passed down to Luang Por Foo from Luang Por Ding of Wat Bang Wua. This is the reason why Luang Por Foos Hanuman and Ling Jab Hlak amulets have been amongst the most sought after Vanora (Monkey) amulets in the last decade in Thailand.
The Puttakun Power of Luang Por Foo's Ling Jab Hlak is not an Iota less than that of Luang Por Ding's at all, and this has become common knowledge, making Luang Por Foo the current leader in Popularity for amulets of this type. His amulets are documented and catalogued, which is always a true sign of them becoming future show standard amulets (normally the amulet societies only accept editions which have been well documented).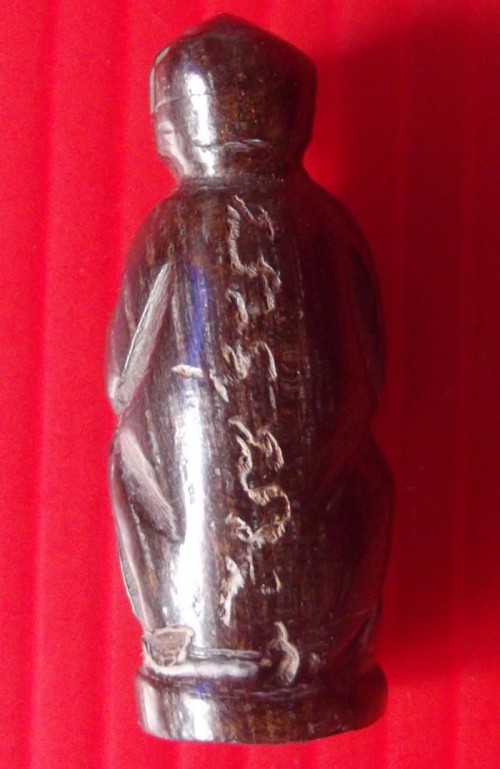 The rear face of the statuette has Sacred Khom (Khmer) Agkhara Spell Inscription, from the hand of Luang Por Foo.
The amulet is made from hand carved sacred tree wood, and has sacred powders and pastes stuffed into the base of the amulet.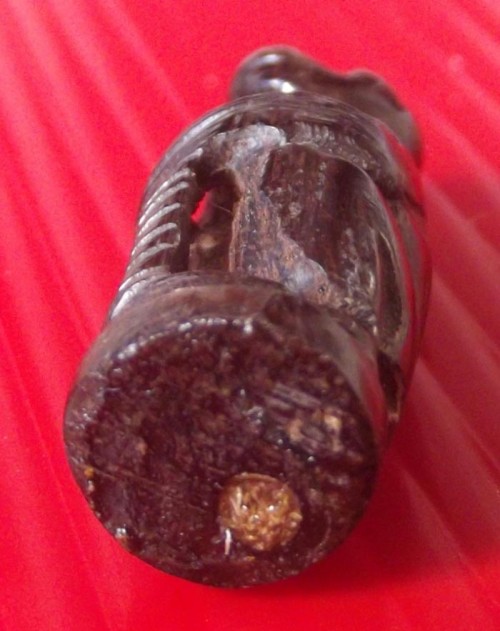 Apart from the Ling Jab Hlak amulet, Luang Por Foo has also made some excellent Palad Khik amulets with this edition also made from carved sacred wiid. He made them using the Wicha of Luang Por Iam of Wat Ta Ee, which he recieved from one of LP Iams Prime Looksit, Luang Phu Rerm. Although Luang Phu rerm never made or was famous for making Palad Khik himself, he did possess the true Wicha from Luang Por Iam, and passed it on to Luang Por Foo. Luang Por Foo also received a different Wicha for Palad Khik from the lineage of Luang Phu Hluea of WatSaw Changoke, which he was donated in an grimoire from a Lay master who was a devotee of both Masters.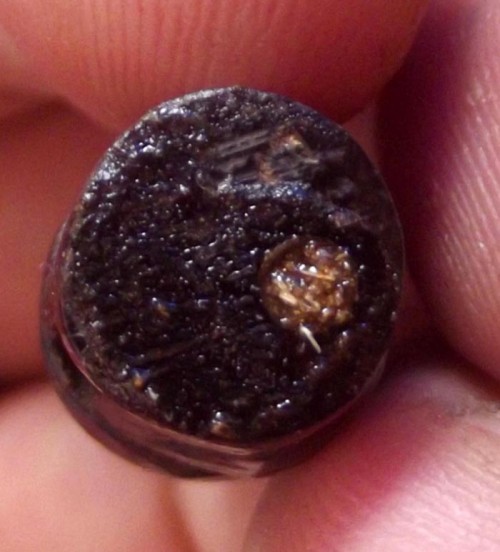 Luang Por Foo used both Wicha together to produce the Palad Khik released in the same edition as this Ling Jab Hlak Vanora amulet.
Both LP Hluea and LP Iam used these Wicha in the Indochina Wars to help people, and now Luang Por Foo has developed the Wicha of both these Masters to make one single Wicha which is second to neither of their originating Lineages. Luang Por Foo has already attained fame for both his Hanuman and Palad Khik amulets and is considered to be of the few Masters who have equalled or surpassed the Adept Abilities of their predecessors of the previous Generation. He is believed by some to be amongst the few true Powerful masters of Buddhakhun Magic (Auspicious Buddhist Magic) of the Present Era.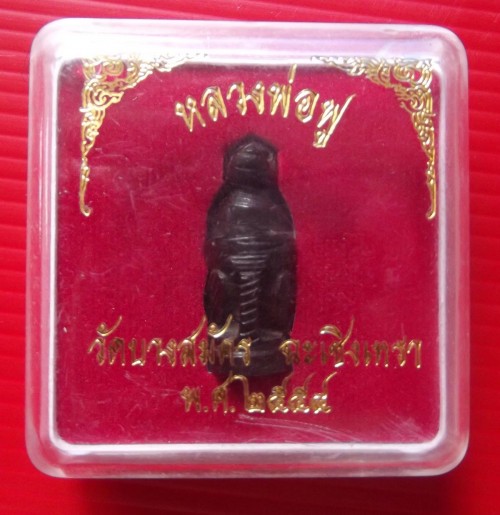 Comes in Original Temple Box – Can be Encased if Desired
Luang Por Foo, apart from being direct Looksit of the Great Luang Por Ding, is also a Looksit of the Lineage of Luang Por Kong of Wat Wang Sapparot, and Luang Phu Rerm of Wat Juk Kacher (Chonburi). The amuletsa of Luang Por Foo are said to have strong leanings towards Kong Grapan Chadtri and Metta Mahaniyom Power as their main force.