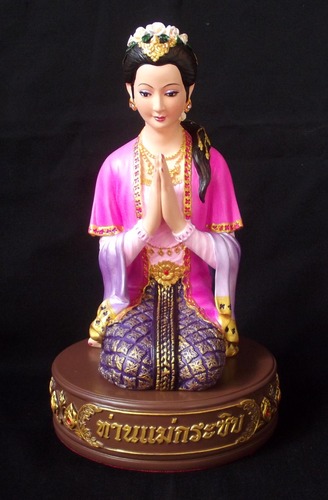 Mae Prai Grasip (Ghost Whisperer Deva) – Bucha Statue with Lucky Coin and Hand made Yantra Inscription by Kroo Ba Aryachat on the cloth of the Base of the Statue – Empowered with the Prai Deva Mind of the Mae Prai Grasip, and instructed to perform Worldly Miracles for calling Riches and do great Business (Green Version) – Kroo Ba Ariyachat – Wat Saeng Gaew Potiyan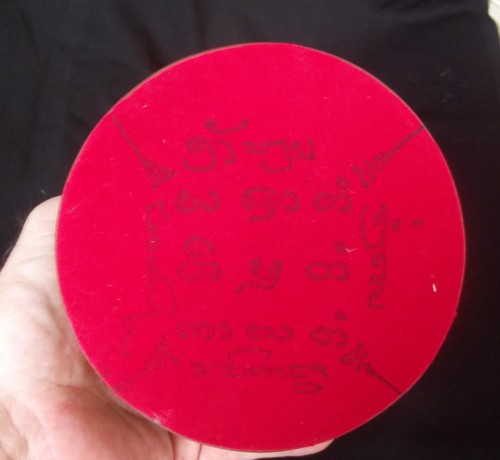 Mae Grasip is a wish fulfilling Prai Deva, full of Metta and Maha Sanaeh Attraction Power. She is used and Revered by people in the same way that the Lady Nang Kwak (waving lady) is Revered. You can make offerings of flowers, drinks, and sweetmeats, and burn incense.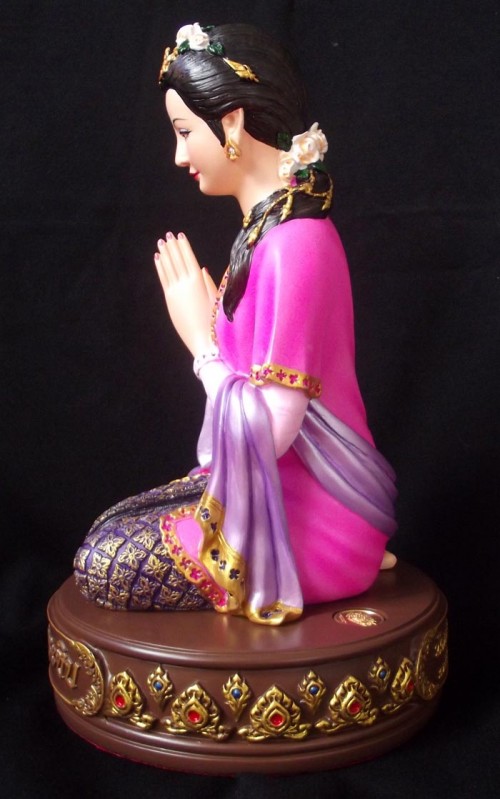 The Bucha Statue is perfect for those involved in sales professions or for shopkeepers to keep on an altar in their shop, to attract customers and constantly increase the monthly income. The high level of detail and exquisite design features are as Excellent as we have come to know and expect from Kroo Ba Ariyachat. Kroo ba Aryachat is one of Thailands Top 5 Gaeji Ajarns when speaking in the area of preserving, and developing the trajectory of Traditional Classic Thai Buddhist Artforms. Kroo Ba Ariyachat is responsible for the creation and construction of some of the most Beautiful and Religiously Inspiring Religious Edifices, Monuments, Statues and Amulets as well as Ritual Items such as Meed Mor spirit doctor knife and the Dab Sri Ganchai Victory War Sword.
Size; 5 Inches Wide x 8 Inches High
The base of the Statue has a Coin Amulet for Maha Lap (Lucky Fortunes and Riches), with the Peacock Yantra for which Kroo Ba Ariyachat is so Famous for. the edges of the base of the statue have fine Lai Thai decorative design, and the name of the temple of Wat Saeng Gaew Potiyan embossed.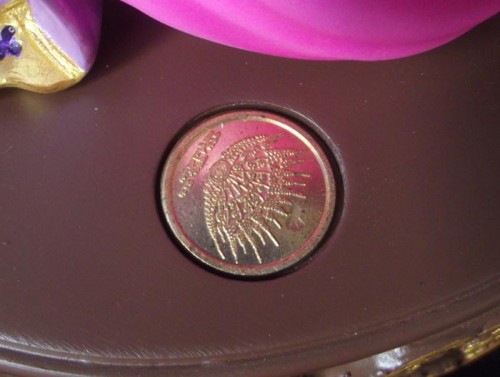 Bucha Method (How to Worship)
Light Incense and speak to the Mae Grasip, telling her you are offering the incense and offerings in her honor, and tell he what your wishes are. Light 9 or 16 sticks of incense.
Make Bucha offerings once a Week, do not miss the weekly offerings. Offer Milk, Puffed Rice, Flowers, Coconut (or other fruits if not available). Incense and Prayer should be made every day without fail, but the major offerings only once a Week.
f you place on an altar, make sure that the altar is lower than any altar with the Buddha on it. The Mae Grasip must be facing outwards towards the exterior of the Shop or House, to face the people outside.
Once you have lit the incense, it is time when you can begin to pray for your wishes to come true. If you chant the Kata Bucha Mae Grasip as well as making offerings and ask for blessings, the wish-fulfilling power will be at its utmost.
Kata Mae Grasip
Ugaasa Ugaasa Khaa Dtae Tan Mae Grasip Nimidt-Dtang Nimidt Tang Hlaay Mahaa Pokang Poka Tang Hlaay Mahaa Laapang Laapa Tang Hlaay, Mahaa Tanang Sap Sin Tang Hlaay Chayya Chayyang Jong Bangerd Mii Idti Andai Peung Samrej Maa U Aagaasa Nachaa Liidti Na Ma Pa Ta Raso haranang Rasang Haradti
Short Version
Tana Pokang Mahaa Laapang Raso Haranang Rasang Haradti Aehi Maa Maa