Prai Tong Yord Taharn – Nuea Chanuan Samrit Daeng – Ud Pong Prai Luan – Ajarn Tong Teng – Samnak Taewa Prahm (Early Era Rediscovered)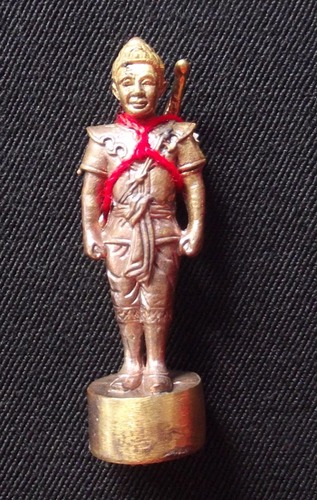 Prai Tong Yord Taharn is an extremely rare Wicha that only a handful of Masters have inherited, and is rarely seen these days. The Legend of its Power however, has not faded. It is a Joy to see the reappearance of this Deva Level Prai Spirit, which is in principle similar to a Kumarn Tong, but is an Adult Spirit Soldier. It fulfills both the Functions of a Kumarn Tong, as well as that of the Hun Payont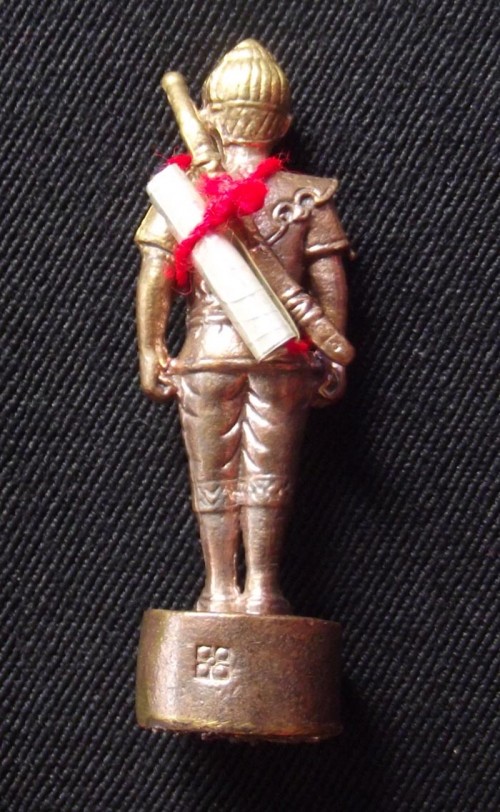 The Soldier is armed with a mighty sword, and has the additional Magic of a Takrut Spell and 'Daay Daeng Akom', a red magical Cord used in Sorcery. The Authenticity symbol id stamped into the rear side of the base of the amulet, which is stuffed full of Sacred Prai Powders with the Invocation of the Prai Tong Deva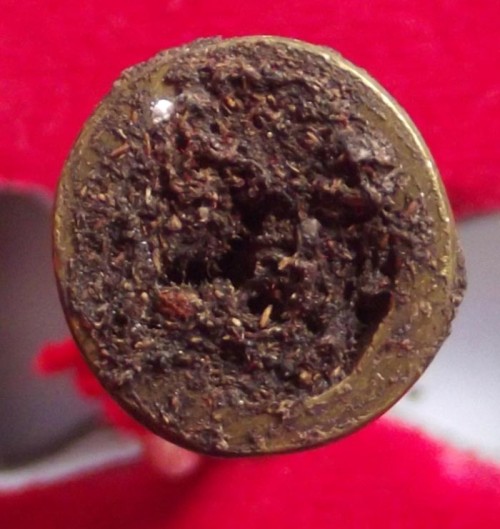 Prai Tong is not a simple Human Prai Ghost, but a deva of a Higher Celestial Realm than this who is accumulating Merits by spending time helping Humans to alleviate their sufferings, be bringing riches and treasures and protecting from evil and dangers.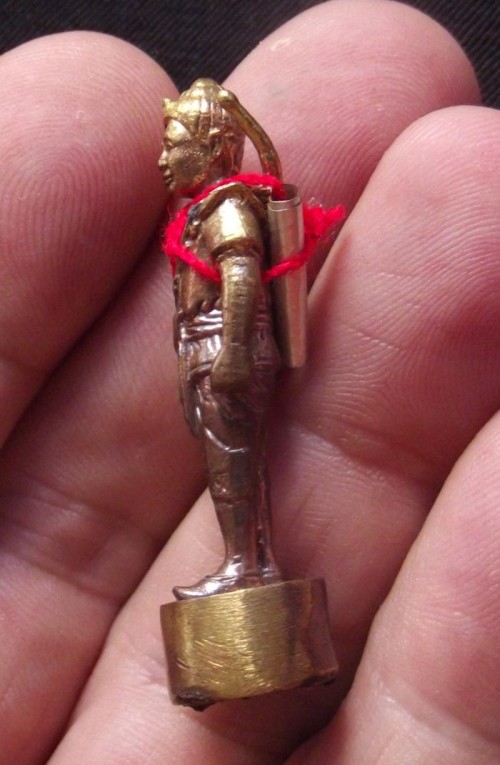 The Prai Tong is considered much easier to maintain than a Kumarn Tong, because a Kumarn Tong is still a Child and prone to be naughty and sometimes unfaithful or to escape the house and go out to play. If a robber, or Magical Curse such as a Kwai Tanu enters the house, it may not see the Kumarn Tong or not, depending on whether the Kumarn is at home or not. But with the Adult Prai Tong Deva one is treated with pure Loyalty and the Prai Tong will always be there to watch over the Household, and never become Unruly as is the case with Kumarn Tong, Children being Children.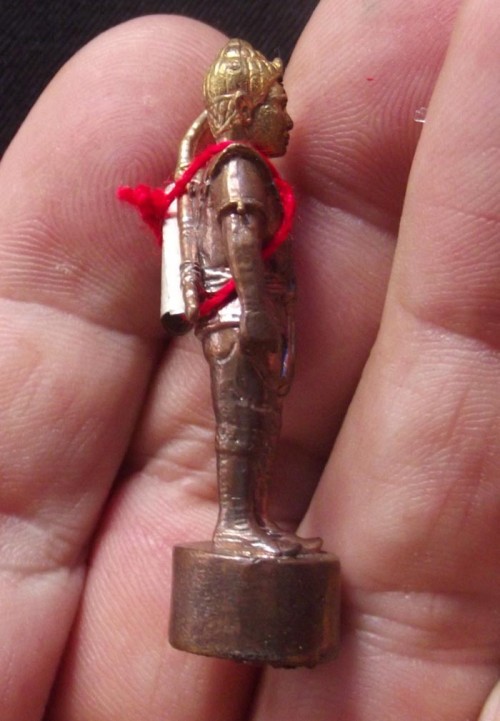 Size; 4.7 Cm High x 1.5 Cm Wide
In Truth, Ajarn Tong Teng did not directly create these images, but recieved them from another Ajarn whom he says had already empowered them very well indeed, but that he did not decide to empower further, and release them to the Devotees for some years since he has had them. There were around 150 of these amulets in total, and date back to the early Years of Ajarn Tong Tengs Magical Trajectory. They can be expected to become both Classics, and Essential Rarities.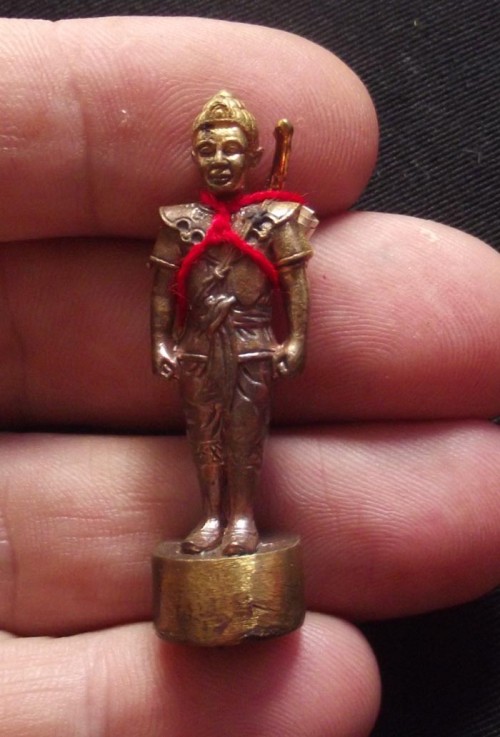 The Prai Power and ease of use of the Prai Tong Yord Taharn is the perfect accomplice in life, complimented by its originality, quality of creation and aesthetic design, Sacred Ingredients and Authentic Magical Empowerment using a true Ancient Khmer Sorcery Spell.
Comes with Original Temple Box – can be Encased if Desired.
How to Bucha the Kumarn Tong – what to chant and offer
Apart from wearing the Prai Tong as an amulet or keeping it standing on the altar as a Bucha statuette, there is an alternative way of making Bucha to the Prai Tong which is even more powerful when Prayers are performed.
Place the Prai Tong immersed in 'Nam Man Jantr' (a perfumed flower oil used in amulet making and in Sacred Offerings, and Anointment Ceremonies). You could also simply smear some Nam Man Jantr on the statuette when Praying to it on the Altar, or before and after wearing it as an amulet*.
* In Truth, you can use this Oil Anointment/Immersion method with many Thai Buddhist Amulets.
This Edition was only released after a Devotee who distributes Ajarn Tong Teng's amulets to Local devotees in his District saw them underneath some other amulets inside the container they were hidden in. The Devotee the begged for Ajarn Tong Teng to release them. Ajarn Tong Teng had been convinced of these amulets since the day he was given them, but did not know exactly how to release them without revealing the name of the other Ajarn, whose name remains a Mystery, but whom Ajarn Tong Teng seems to feel  very convinced about his Magic Power, and Honors him by using them to Empower further and release to his Looksit with Confidence. We are lucky to have unearthed a few examples of this unknown early edition, only just released in 2555 BE after their Discovery.
Kata Pluk Prai Tong (Use every time to call to your aid)
Dtanor Dtanor Sabruk (3 Times)
Kata For Protection (Use to tell the Prai Tong to defend and Protect);
A Pa Ya Ka
For Maha Sanaeh use (To help to attract the opposite sex, preferential treatment and wealth);
Jid-dti Jidt-dtang Jidt Khong Prai Tong Khor Hai Maa Bpen Sanaeh Nai Dtua Bpiyang Ma Ma