Presenting a centuries old Anti Black Magick Prai Oil of Legendary proportion, Nam Man Saming Prai Oil with Tiger Fur, from Lanna Sorceror Monk Kroo Ba Sri. The Nam Man Saming Prai Were Tiger Oil Potion is a very ancient Animist Sorcery Wicha which has been used to subdue evil curses, demons and black magic, and to instill obedience, and invoke commanding power in the devotee who possesses this Wicha.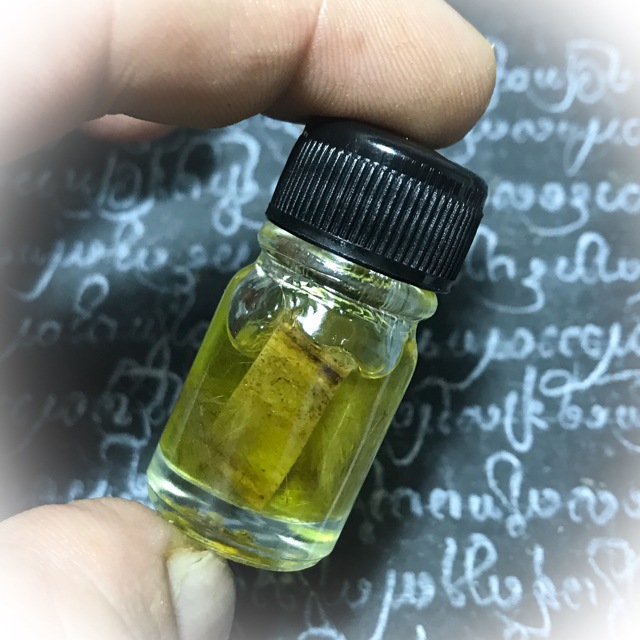 Nam Man Prai Suea Saming has been used by Warriors, Sorcerors, Gangsters and Policement and Business Millionaires for centuries, as a method of remaining on top, and in control, and defence against Black Magick of all kinds. If a person is afflicted with a spirit, possessed or cursed, or ill from Black Magick, then Luang Phu Kroo Ba Sri says that to smear some of the oil will banish the Afflictive Magick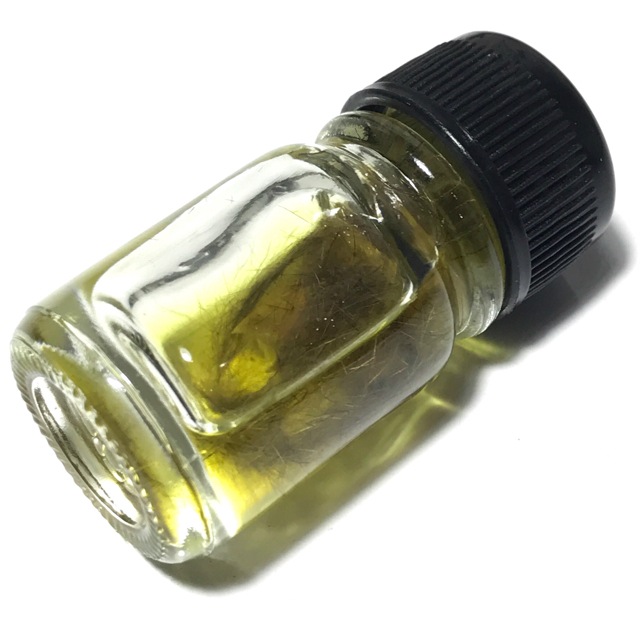 ---
Two natural effects which spring from such invincible commanding power, is status and promotion, wealth and prosperity and public status. Kroo Ba Sri has created this potion to help his devotees in these times of economic crisis, to help increase professional success, bring advancements and status, protect from all Evil, improve business sales, and even invoke mercy charm to attract the favour of customers, obtain obedient helpful friends and admirers, to bring prosperity and advancement in life.
Highly Recommended for those who are in positions of command or administration, and those who need to exude power and influence, and for those who risk their lives in conflicts. Those who need to get noticed more, or need to get more respect from others are highly recommended for this kind of Wicha. In addition, hose who wear Tiger Sak Yant Tattoos are especially recommended to use this kind of oil, as well as Martial Artists and Muay Thai Warriors, and those in Positions of Command, and to use Kata Suea and Kata for Sak Yant to empower their own Command, and Achieve Victory in all Endeavours.
Blessed and empowered by Kroo Ba Sri at Wat Ban Pha in Traimas 3 month (Trimester) of nightly meditative empowerments, with final Deva Abhiseka Blessing Ceremony at the end of the rainy retreat. Place in your place of Office, wear in your pocket, or smear on yourself for Maha Amnaj Gae Aathan Commanding Power and Anti Black Magick, effect. Use to protect the wearer from all worldly and unworldly dangers. Those who are in positions of command or office, or who need to increase their status and influence over others, will be well served.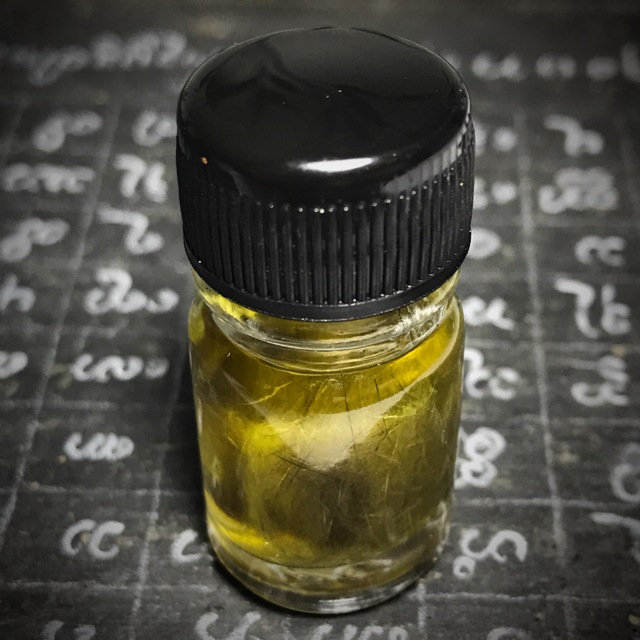 The oil is also usable for increasing good business or Bucha in the home, or smear on your person or wares, for Business Sales Increase, Convincing and Charming Speech in Commerce and Romance, and Lucky Fortunes abounding (Gambling Wins).
Kroo Ba Sri is a Master of Thai Lanna Sorcery, and abbot of Wat Ban Pha in Lampang. His Wicha Kala Ta Diaw One Eyed Coconut shell amulets is legendary with the Lanna Folk, as is his mastery of making Nam Man Prai Necromantic Oils. His many forms of Wicha include the Wicha Kumarn Taep Lanna, Wicha Look Krok Maew, Takrut, and many kinds of Lanna Animist Charms. His dominion of Wicha Maha Amnaj Kong Grapan Chadtri Maha Ud Klaew Klaad is demonstrated by his Nam Man Prai Paya Suea Kroeng Tiger Oil, which is extremely favoured by men of dangerous living and promiscuity, those in positions of office or command over others, military and police forces (and gangsters).
His Wicha Nam Man Prai has become immensely popular with gangsters, army generals and commanders, those in office or high administrative positions, gamblers, those whose profession leads them into physical danger, market traders, and shop owners, as well as those who use their seductive wiles to attain their goals. The Nam Man Prai Suea Saming uses a Centuries Old Formula of Animist Necromantic Sorcery, to Invoke the Spirit of the Were Tiger within the Oil.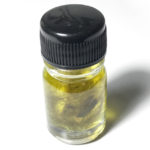 The fur was poured in with the Nam Man Prai oil, and boiled in a cauldron with incantations, and some sacred herbal woods added. The full formula of Invocations for the Kata Akarn Sam Sip Sorng were performed for reanimation of the spirit within the Nam Man Prai. This is an essential part of Necromantic Empowerment with all Humanoid and Animal form amulets which are imbued with a resident spirit. The Invocation Summoning, Awakening and Turning of the Four Elements was performed to Reanimate Living Magic within the Sacred Oil Potion, according to the Ancient Grimoires and Magical Formulas of the Wicha.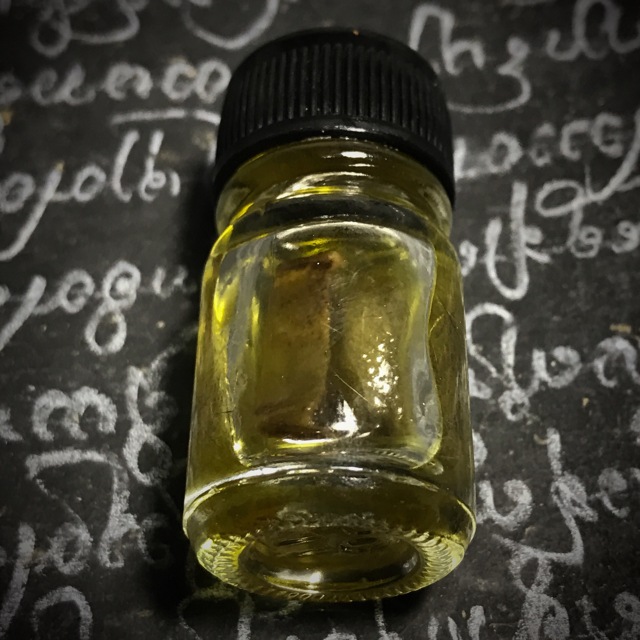 To Perform Bucha give offerings of rice, water, or a saucer of milk, and some roasted or fried fish, and light 5 sticks of Incense
Kata Bucha Nam Man Suea Saming Prai
ŌM PAYAK RĀCHĀ ISĀ NA SU SING HA KA KA