See Phueng Khun Phaen Metta Mahaniyom Kaa Kaai (Balm of Khun Phaen of kindness, generosity and popularity with success in business and trade).
See Pheung magical enchantment potion, and mercy charm, from Kroo Ba Krissana Intawano, of Samnak Songk Weluwan, in Buriram. Blessed with the Golden face gold leaf 'Hnaa Tong' empowerment.
The See Phueng Khun Phaen Metta Mahaniyom Kaa Kaai balm is a balm created by the with the effects of instilling popularity and generosity onto the owner as well as luck in business and trades. The circular casing is white in color with an image of the infamous Khun Paen on the lids face invoking his popularity and Metta Mahaniyom capabilities. Inside is a generous amount of Metta balm peach in color and is further charged with pure gold leaf.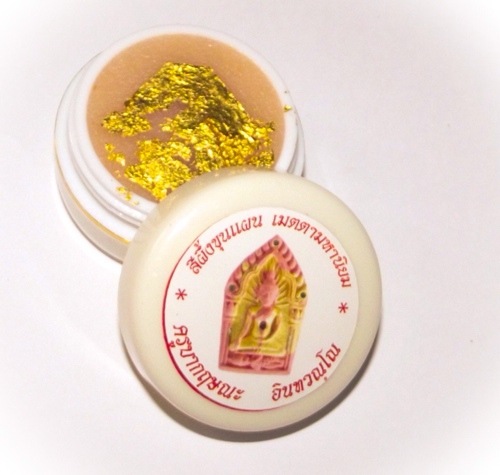 One can use the See Pheung balm to dap on oneself for great charm, attraction and popularity as well as advancing in business propositions and trade.
Use the forefinger to smear with almost all Metta and Maha Sanaeh Oils and Balm Potions, for General Metta Blessing, use the ring finger for Selling and Gambling, use the middle finger to smear the oil if you wish to be attracting the opposite, or even the same sex.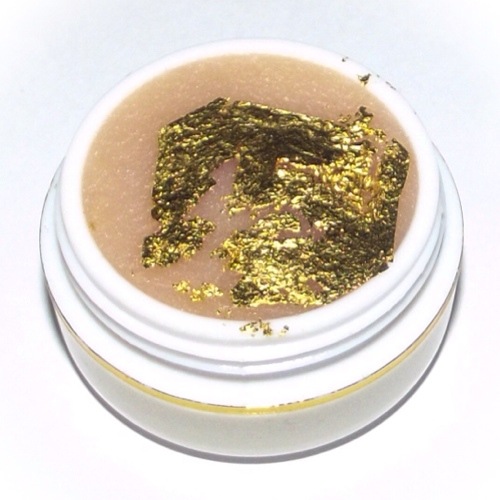 Once again from the adept master Kruba Krissana himself comes a well acclaimed and very easily recognizable superb edition of holy amulets in the year 2556 BE.
The objectives of Kruba Krissana Intawanoh's 2556 BE edition include using the funds received to donate to the commemoration of religious holy places and temples in and around Buriram and to produce interest and build practice in the Buddha Dhamma.
The sacred Muan Sarn Earthen powders, oils and other ingredients used in the making of the various amulets released in this edition, were amassed together for the great Puttapisek ceremony, and under masterful eyes to ensure that the ritual followed exactly as prescribed by ancient Wicha knowledge.
Apart from his most famous king butterfly hand painted sacred powder amulets, this time, Kroo Ba Krissana Intawano has released some very special Pra Khun Phaen amulets in slightly pinkish white sacred powders and this special See Pheung. In addition another See Pheung with the wicha Taep Jamlaeng Butterfly King embedded within it was also released in this very same edition.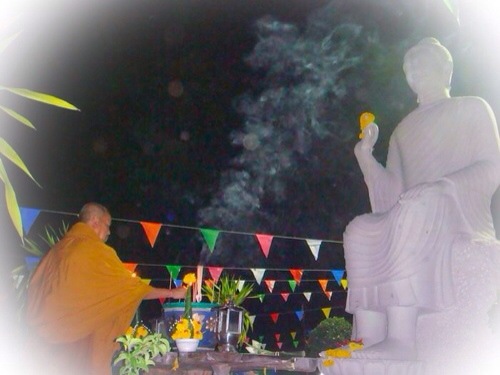 The amulets of this great internationally famous guru master, go unrivaled, as far as their beauty and fine quality of handmade artisanry is concerned. After their room mans compassionate and continuous flow of Metta Mahaniyom, Maha Lap, and Maha Pokasap magic, his amulets are also said to go unrivalled with any other in the present era.