Taep Jamlaeng Butterfly King Amulet – made from a highly concentrated Muan Sarn Sacred Powder admixture, and 16 'Ploi Sek Maha Pokasap' Gems (3 in the front face, and 13 in the rear face). this is the small ' Pim Lek' model, and is an excellent choice for ladies, children and also for Gays.
Made in 2553 BE for the 'Lai Sen' edition (now a more famous and highly preferred edition), by Kroo Ba Krissana Intawano. Fancy stainless casing is included with this item. The casing has special decorative frame, with engraved patterns gracing the edges.
The front face of the amulet features the Taep Jamlaeng Butterfly King, with red, black, yellow, green and white finely painted details. The Amulet is a most delicately painted miniature Objet D'art. Four Ploi Sek Maha Pokasap Gemstones are inserted.
Size; 2.8 x 2 Cm
The rear face of the amulet has 13 Ploi Sek of differing kinds, inserted into the Muan Sarn Sacred Powders.
Kroo Ba Krissana Intawano, is along with his accomplice Kroo Ba Beng, of Wat Tanode Luang, one of the only two surviving holders of the secret Wicha of their Kroo Ba Ajarn Guru Master. Namely that of the special method of successfully making Taep Jamlaeng Butterfly King Amulets, whose power is derived from both the psychic and Deity assisted empowerment, as well as from the secret aromatic admixture of Muan Sarn Sacred Powders, Maha Pokasap Gems (ploi sek), and Takrut spells, that are seen to be used with their amulets.
Below; Taep Jamlaeng Butterfly King Amulet held in the hand for visual size comparison.
This edition of amulets was actually blessed also in duo, with Kroo Ba Beng. This is also not the first novel was it the last time that such a thing has happened, for indeed, they have both the same artisan preparing the designs, for their most beautiful and exquisitely finely crafted amulets. It is Hence, that you will see very similar amulets, at least as far as the front face is concerned, from this edition coming from both of these Guru masters.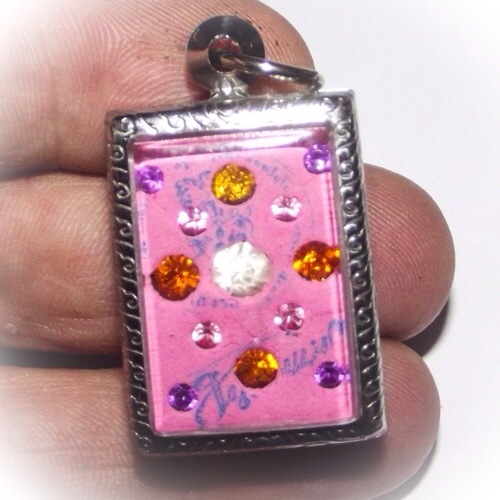 Those which will have a locket of Kroo Ba Krissana Intawano are obviously from that master. Those which possess a nine tailed Fox locket, or Nam Man Prai inserted in the rear face, will almost always be coming from Kroo Ba Beng. In Thailand of masters are actually seem to be equally powerful, but on international shores, Kroo Ba Krissana Intawano is more well known. There is actually little difference in the power and quality of these amulets, especially considering that both masters have lent their empowerments to both editions from both temples.
Above; Kroo Ba Krissana Intawano performing the blessing of amulets in a sacred Cave.
It is just a matter of preference as to which devotees prefer which master, but that there is not seem to be any kind of comparison made, or any kind of higher and lower status given to either of these masters
In addition to this, his amulets are also miniatures works of art in their own right. Each amulet is completely unique, and unlike any of its brothers and sisters. This is due to the hand painting, and individual treatment given to each amulet, which will have different coloured gemstones, and different sacred items inserted with each amulet, hence, differing slightly from the one next to it.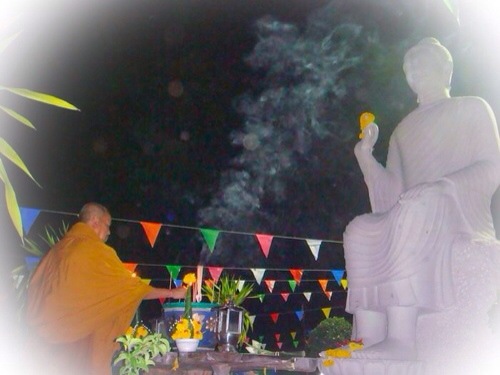 This particular model is a 'Pim Lek' (medium sized) Ongk Kroo Masterpiece Version. It is extremely fortunate now to find what still available some years after the release of the edition. This is because, his amulets are nearly always completely sold out in every edition, before the year is over.
This shows the great popularity and collectability and speculating value of his amulets and how sacred they are to so many people. We may consider, that we can still find amulets of great historic masters so many tens of years and even hundreds of years after that passing, but with the amulets of Kroo Ba Krissana Intawano, only one year is needed for an edition of his amulets, to appear to be completely depleted. Each series and edition depletes and disappears shortly after their appearance. This is what we call a true phenomenon.
Of course the great beauty of his amulets and their artistic value, also counts much towards the reason why they receive so much popularity.
But if it were not for the fact that they are truly sacred, and have a noticeable effect with their magic, then sheer artistic beauty, would not be enough reason, to make them as popular as they are to this day.
These Butterfly King amulets, were released back in 2553 BE, in a series along with some special coin metallic Amulets. These smaller size models, in pink sacred powder, are extremely recommended for ladies, children, and also of course the gay community.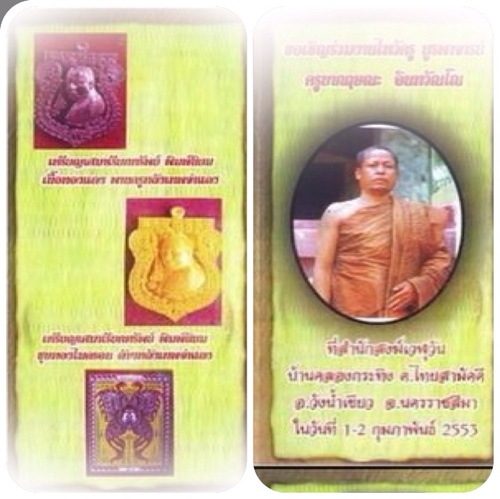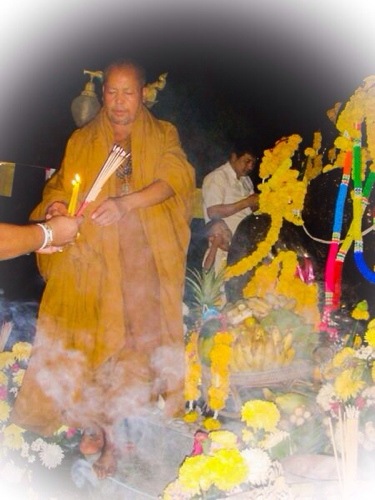 View this amulet in the store; Taep Jamlaeng Butterfly King Amulet Pim Lek Pink Powders 16 Gems