Montr Paetch Payatorn 2556 BE edition sacred locket Amulets from the Master of Maha Sanaeh, Luang Phu In (Wat Nong Meg).
In Koo Chak Muang Chai-Rak-Hying Male-Female Yab-Yum Prai Deva of Love) for heterosexual men and women. Ongk Kroo Masterpiece Version locket with Ploi Sek, Pearl, Takrut Ngu Hlueam, and Takrut Ngern Maha Sanaeh Maha Lap, from Luang Phu In (Wat Nong Meg, Surin).
This In Koo locket, or, as otherwise popularly called in south-east Asia, 'Yintong' Prai Deva symbiotic Yab-Yum hermaphrodite Deva locket, is an amulet that is of the highest regard or its immensely powerful Maha Sanaeh attraction and charm.
This locket, comes in two versions, this yellow one, being the heterosexual version for males or females to use to attract the opposite sex. There was also a purple version featuring two gay males embracing on the front face of the locket, instead of a male and a female as is the case in yellow version.
The in koo (Also known as the 'Yintong', is an extremely ancient form of Thai Lanna northern sorcery (Wicha). It is a well-known magical spell of the Lanna People of Northern Thailand, and Laos, and also of the ancient Khmer necromantic magical sorcery traditions.
in Koo Prai Deva Locket Chai-Rak-Chai gay male Ongk Kroo Masterpiece Version
The In Koo, is 1000-year-old magical sorcery spell, that has been used by the people of northern Thailand and the country of Laos, and the ancient Khmer Brahman people, from the Pre-Buddhist era. Both the invocations for this supernatural ghostly spirit, with immense psychic powers, and the use of magical herbs, powders, and sacred oils, to empower these amulets, has been a practice for hundreds,if not thousands of years in buddhist and pre-Buddhist Thailand.
Various Takrut spells are inserted, made from pure silver foil, and-snake skin. For purple gemstones are inserted into the corners of the rear face of the sacred powder filling of the locket, for Maha Pokasap amd Maha Lap Lucky wealthy fortunes.
The Wicha dates back to pre-Brahmin times even where the animist belief system was rife throughout not only Southeast Asia but the whole world.
Above; Ancient Lanna grimoire, with magical sorcery texts in Khmer Sanskrit (Thai Khom, of the Lanna Calligraphic method).
Viewing the locket held in the hand reveals its actual size real life.
Whatever religions have arisen throughout the centuries and the aeons, animist beliefs have survived and maintained themselves contained within almost all great and lesser religions of the world right up to the present day.
We believe there must be a reason for this that is more than just superstition, and that the power of animist charms is of a magical nature, that calls upon the oldest and most primitive and ancient of our ingrained natural abilities and beliefs, which are programmed into us from our forefathers, and through our DNA.
The rear face of the Muan Sarn Sacred Powders of the amulet is stuffed full of 'Ploi Sek' gems, and pearl, with solid Silver Takrut Magic spells inserted as well as-snake skin Takrut. All of these different types of magical spells and empowering agents are intended to amplify the aura of magic from the amulet, for Metta Mahaniyom Maha Sanaeh, & Maha Lap, Maha Pokasap magic. Silver foil called stamp is embossed upon the rear face of each locket which are in this case Ongk Kroo Masterpiece Versions.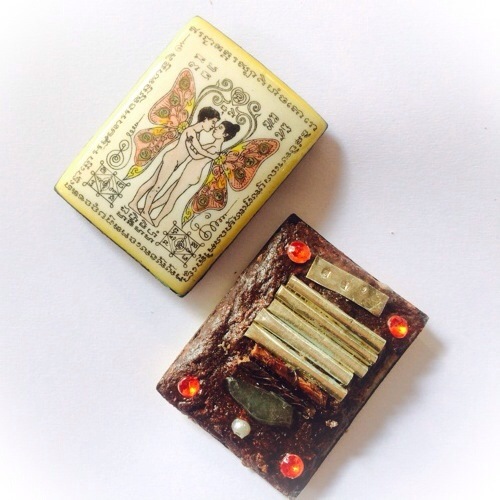 This amulet is intended to not only attract and enchanted, but two inside the Kama Sutra power of sexual desire, within the hearts of home on intends to approach and indeed approaches and speaks to all those who approach through the power of the Maha Sanaeh Muan Sarn Sacred Powders.
Front face of the locket shows two naked males holding hands, and gazing into each others eyes in loving embrace. Sacred Khom Agkhara Lettering is embossed in The form of Sacred Yant, and magic spells. These spells are written in ancient Pali Sanskrit, and sometimes, Devanaghiri, using the ancient Thai- Khmer script, which has been used for inscription of Buddhist texts and magical spells for thousands of years. This practice has been going on since before Buddhism even arrived in south-east Asia.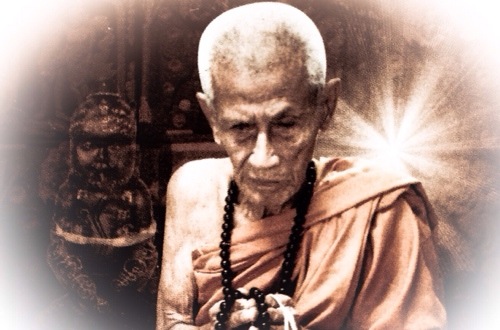 Above; Luang Phu In (Wat Nong Meg)
People are called to approach, by the silent whisper of the calling of the Prai Devas dwelling within the amulet which are bounds by spells and imbued within the amulet through invocations.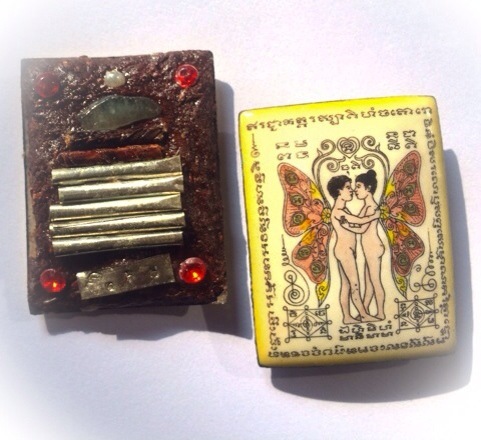 Rear face of the amulet is stuffed full of rich herbal powders and James with magic spells in certain for increasing riches and mercy charm and romantic attraction power
The amulets are given a life of their own, through the reanimation spells of the Kata Akarn 32, & the Kata Riak, Pluk, Hnun Taat See, which are the three sets of invocation (Riak Taat See/calling), turning (HnunTaat See), and reanimation (Pluk Taat See); spells for the four elements to be called a welcome and turned within the inanimate object used to give the spirit as a dwelling place.

The Magical Properties and attributes of the In Koo;
Maha Laluay – powerful charm and attraction magic causes those nearby to applaud, admire and feel friendliness towards the wearer of the In Ko
Maha Sanaeh – powerful enchantment magic causes those who are targeted to fall helplessly in love with the wearer of the In Koo.
Kong Grapan – protective magic prevents ballistic weapons and sharp objects from piercing or penetrating the skin.
Gan Khun Sai – protects against black magic and evil spirits, defends against Hun Payont, magic spells and the like.
Metta Mahaniyom – Discussions, Debates and Business talks or Diplomacy matters will be discussed easily and you will be able to get your point across and be convincing.
Kata In Koo (Perm Sap/Increase Wealth)
Om Raachaa Taewaa Swaahome Om Taewee Maama Jidt-Dtang Arahang Swaahome

Kata for the In Koo of Kroo Ba Nandta for gays or heterosexuals (customizable)
Om Laluay Maha Laluay Nguay Ngong Jong Jai Rak Goo Hmuean Dang Chang Rak Ngaa Hmuean Pla Rak Nam Hmuean Khaw Orn Hai Hmuean Fai Orn Maw – then say; "Ai" + Name of person you wish to charm ('Ai' is used to call another Man, whereas, with Lesbian or straight amulets, the sound 'Ee' is used instead for a man or woman to call another woman) – Rak Goo Yaa La Om Sitti Swaaha Swaahome – Na Ma Pa Ta
Chant the above Kata 3, 5, 7 or 9 times, and then blow on the In Koo amulet
Kata for using with In Ma, In Koo, and In Rak
Na Rampeung Mo Kid Terng Put Norn Midtem Dtaa Taa Rong Hai Turon Turay Ya Hai Ma Haa Goo Putto Laluay Tammo Laluay Sangko Laluay Jid-ti Nimid-ti Aehi Jidtang Biyang Ma Ma

Additional Info
If the In Koo is kept in the House, then all the family and people in the household will love each other and be happy together. If it is worn as a love charm or carried on ones person, then it will cause everyone the wearer meets to feel friendly and compassionate towards them, and even make others fall in love with the wearer if Bucha is made to the In Koo, and this request is asked for in exchange for Bucha.
Above; Luang Phu In (Wat Nong Meg)