Exquisitely beautiful design on silk featuring the Hemaracha Himapant animal with magical effects of Metta mahaniyom kaa khaay for prosperous business and improved social popularity, as well as mercy charm.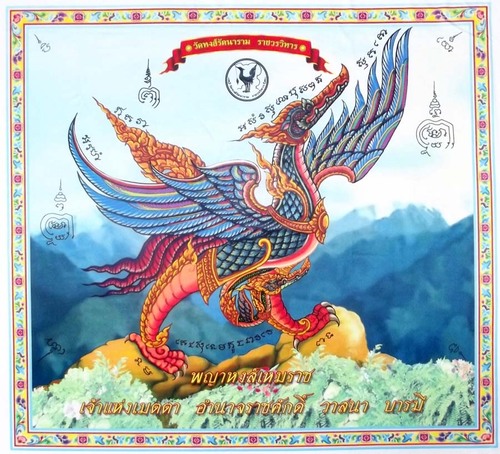 This item has free shipping included, no cost for weight will be added for this item, even with multiple orders.
The yantra cloth is blessed at Wat Hongsa Radtanaram in a very auspicious ceremony with a large array of great guru masters of international repute present to empower and bless the amulets. Some of the great masters present included:
Luang Por Foo (Wat Bang Samak), Luang Por Pian (Wat Grern Gathin), Luang Por Perm (Wat Bom Gaew), Luang Por Somchay, Luang Por Poon (Wat Ban Paen), Luang Por Sin (Wat Laharn Yai), Luang Por Ruay (Wat Tago), Luang Por Sawat (Wat Ao Moo), and many other masters.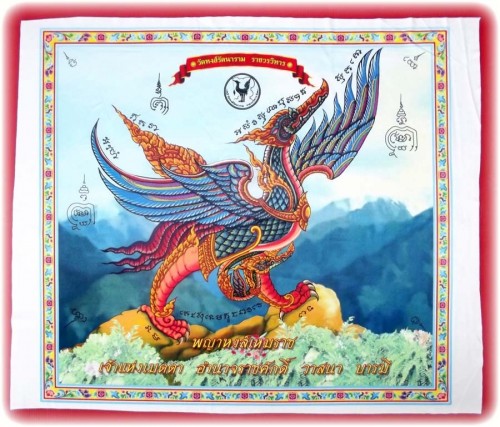 Size: 47.3 x 51.9 centimeters
From the Wat Hongsa Radtaram 2555 BE 'Somdej Prajao Taksin Maharach' edition amulets, we chose the pha yant Hemaracha Himapant animal yantra cloth from Wat Hongsa Radtanaram for its great beauty and the fact that it is a very rare image to come across in such a high quality format. The sacred blessing ceremony was also very impressive with a large number of important masters present to bless the amulets.
Released in the 2555 BE 'Somdej Pra Jao Taksin Maharaj Run Mee Chay 1' edition
This edition featured a series of 'Somdej Pra Jao Taksin Maharaj' coins and powder amulets in various versions, and this pha yant. The funds of this edition went for the building of a four storey school building for monks to study Dhamma in, which costs sixty million baht (about two million dollars). nineteen gaeji ajarn guru monks joined hands to bless this edition and help raise these funds.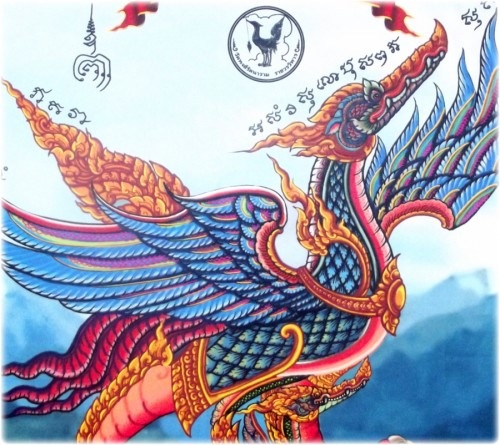 The level of detail is incredible when we take a close up look at some of the smaller details contained within the grand plan of the design, such as the miniature hongsa head that protrudes from, and decorates the belly of the Hemaracha. The number of tones and color shades is well above that which has ever been seen before in yantra cloth printing.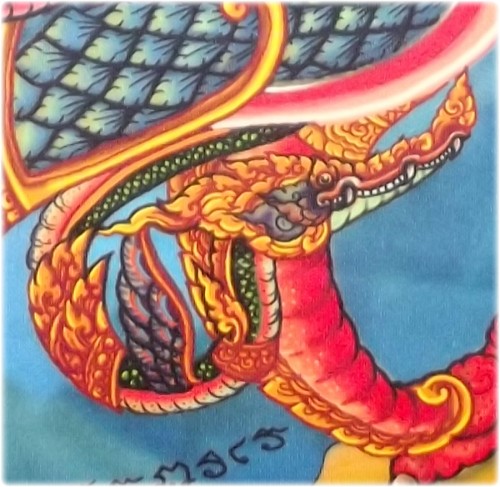 Maker: Wat Hongsa Radtanaram
Magical Effects: Metta mahaniyom, kaa khaay, maha sanaeh, serm duang, choke lap, maha pokasap
Material: Silk cloth
Recommended Uses: Good commerce, promotion, social and professional success, mercy charm, lottery
Number of Amulets Made: 999
Edition: Somdej Pra Jao Taksin Maharaj Run Mee Chay 1 Edition