Taw Waes Suwan Gae Pi Chong 2555 BE edition loi ongk statuette amulets by Luang Por Foo Adtipatto of Wat Bang Samak. Comes with special decorative casing included.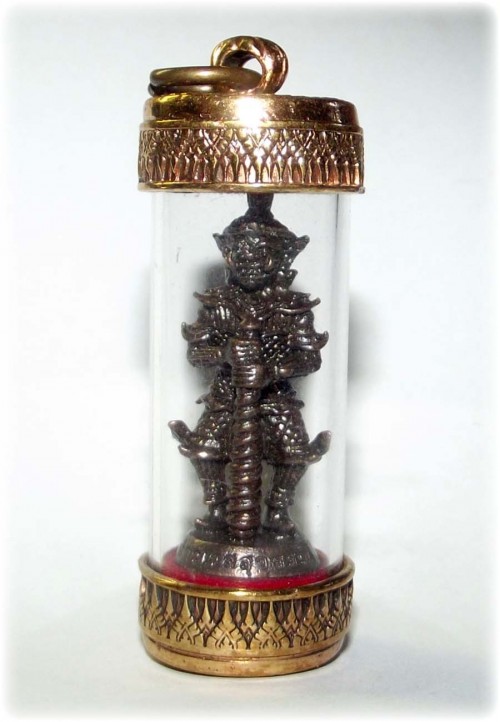 Released in a series of  Taw Waes Suwan amulets made in various sacred and precious metals, blessed and empowered by the great Luang Por Foo. Luang Por Foo is one of Thailand's Top 5 living masters for the empowerment of Taw Waes Suwan.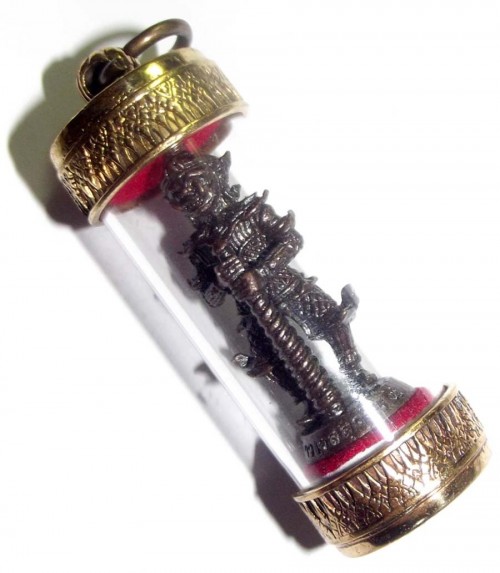 This edition arose because of a good deed of Luang Por Foo; one day some people brought a small boy who was behaving very insanely as if possessed by a demon or ghost, and presented him to Luang Por Foo. Luang Por then placed a Taw Waes Suwan amulet on a chain around the boy's neck. The family then went home, and it appears that the boy was instantly and completely healed. He could sit and talk normally as before. Because of this, the local devotees heard of the story, and flocked to the temple to beg Luang Por for a new edition.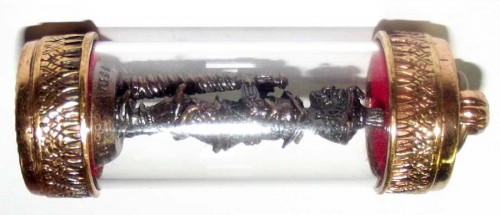 The edition was thus made from public demand. Funds from this edition go to the various projects for the preservation and spreading of Buddhism, and to maintain Buddhist temples in need of restoration. Each different type of model in different metals has an official numbered code stamp and a recorded number of amulets made in official documentation, rendering this as yet another reference standard edition from Luang Por Foo to add to his documented catalog of amulets. The edition also celebrated Luang Por Foo's 90th year of life.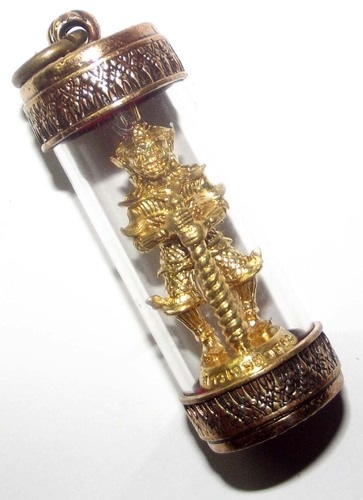 'Gae pi chong', the name of this edition, means to rectify the karmic and lucky influences of the yearly horoscope for those who have pi chong. Pi chong is the year when one's starsign falls  into inauspicious influences and bad luck sets in, obstacles arise, and money becomes scarce.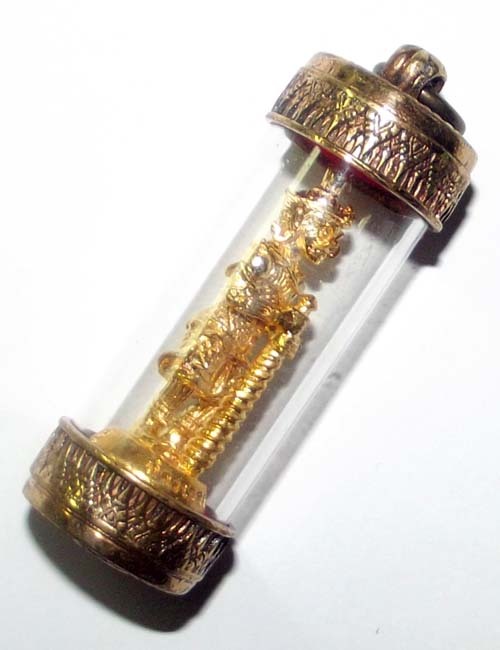 The amulets were made in the following materials:
Nuea tong rakang boran nai nam rerk masterpiece version – ud pong fang takrut tong kam 2 dork (sacred ancient temple bell brass alloy with high gold content, from the 'Nam Rerk' first casting ceremony, with sacred powders and two solid 24 karat gold takrut in base) – 99 amulets made.
Nuea nava loha ud pong fang takrut ngern 1 dork (nine sacred metals with powders and one silver takrut in base) – 999 amulets made.
Nuea galai tong ud pong (gold plated sacred bronze with magical powders in base) – 1999 amulets made.
Nuea galai ngern ud pong (sacred silver alloy with magical powders in base) – 1999 amulets made.
Nuea tong rakang ud pong fang takrut ngern 1 dork  (sacred brass alloy with sacred powders and one silver takrut spell inserted) – 3999 amulets made.
Nuea samrit ud pong fang takrut ngern 1 dork (sacred bronze alloy with sacred powders and one silver takrut in base) – 3999 amulets made.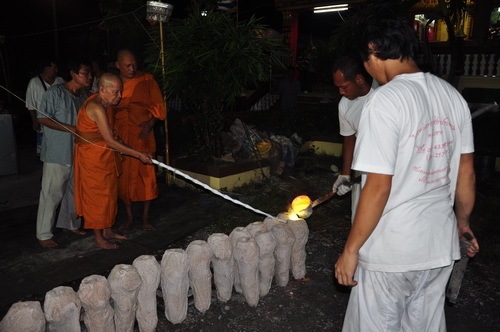 Luang Por Foo performed the pouring of the sacred metals in the official casting ceremony ('Piti Tae Tong Nam Rerk') and performed his incantations and special blessings during the ceremony, which consisted of nine chor trees of amulets, with 900+ amulets on them, for the special blessing of the 'Nam Rerk' ongk kroo special masterpiece versions. He then stuffed muan sarn powders into them during the ceremony (the other models were done before the ceremony). Luang Por then inserted a solid gold takrut spell into the muan sarn powders within the ongk kroo versions.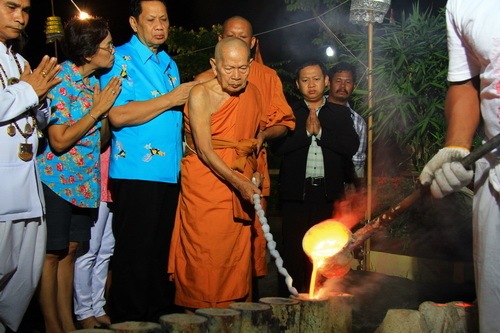 Pra Ajarn Hnong performed the inspection and counting of the amulets after their final insertion of takrut. Not many amulets were possible to fill with powders, because the powders were a special sacred powder kept from the 2538 BE ceremony (17 years before the release of this edition). So there were less amulets in final release as originally intended.
These amulets also enjoy the addition of special powders from the great Luang Por Ding, and very sacred metal alloys cast from a mass of important sacred amulets of past editions and masters, real solid silver and solid gold takrut, and a highly sacred Putta Pisek / Taewa Pisek empowerment ceremony. These varied elements provide this edition with a highly respectable status, top quality design and casting, and powerful Buddha magic within them.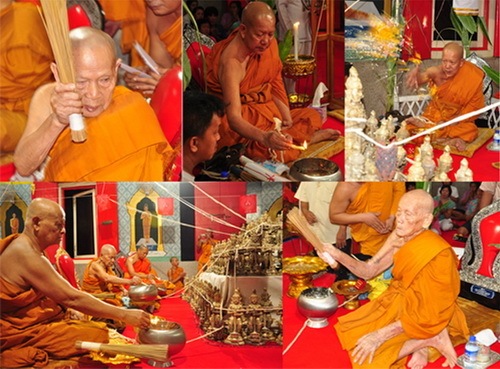 The Putta Pisek / Taewa Pisek blessing was held on the 14th of October 2555 BE. Luang Por Foo performed the lighting of the tian chai victory candle, and the pouring of the first casting. In addition to the amulets, a 15 inch high bucha statue was also released in this edition.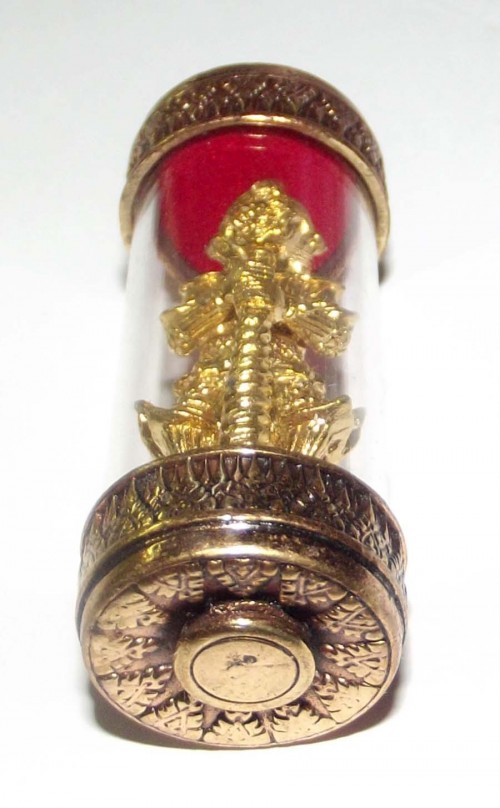 Luang Por said afterwards, that it has been many years since he has attained such a powerful and accomplished invocation and insertion of the heart mantra and mind of the Taw Waes Suwan asura deva into the amulets. He says it is the first time he has managed to make all the powerful lineage aspects of the ritual empowerments be performed to their fullest, be it the use of muan sarn powders of his lineage masters, the yantra within the takrut, the casting and blessing ceremony, and the necessary requirements for the making of the sacred metals. All facets of the wicha were performed according how the ancient wicha dictates.
The amulets come encased with special decorative casing, ready for wear and bucha.
Luang Por Foo's mastery of the wicha 'Suun Phii Lai Phii', and his adept control of the kata 'Pra Jao Sip Hok Pra Ongk' (16 Buddhas invocation) is legendary. He is the most prominent disciple of the great Luang Por Ding of Wat Bang Wua. He has mastered the methods of empowerment and invocation to imbue amulets with the mental powers and qualities of the asura deva king Lord Waes Suwan.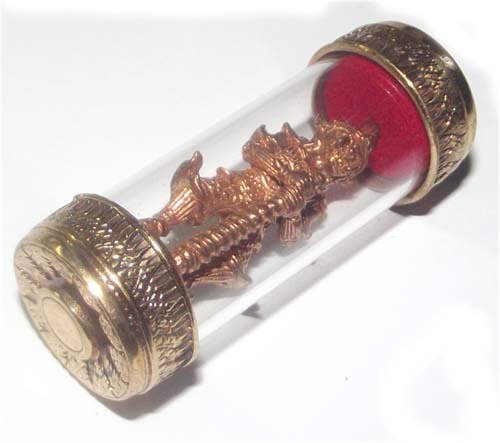 His importance and connection with this kind of Buddha magic is so great, that he was begged to preside over last year's great classic edition of Taw Waes Suwan statues in the 'Tri Plab Pela' (three legged Taw Waes Suwan) series. These statues are considered to be the next greatly admired edition by future generations, comparable to the most famous of all; the Wat Sutat Taw Waes Suwan amulet of Jao Khun Sonti.
Taw Waes Suwan is the lord and master of all monsters (asura and yaksa), demons and ghosts. The wealthy king is a millionaire of great status, the wealths of all the four asura kings of the 'Jadtu Maha Rachiga' celestial heaven. He commands and forbids the demons to stay away from his devotees, and those who are devotees of the Lord Buddha. He is the lord who brought the yaksa minions to hear the Dhamma sermons of Lord Buddha, and who converted the yaksa (or at least most of them) into devotees and followers of the Buddha.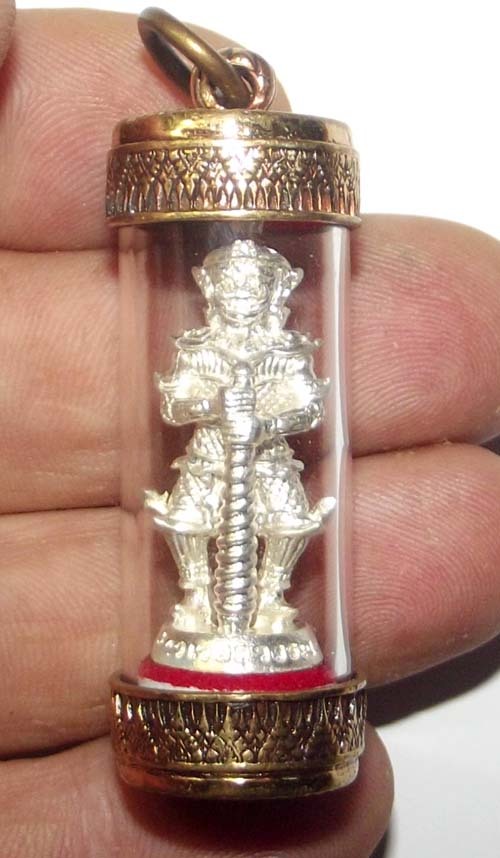 Taw Waes Suwan also donated the magical incantation of the Aadtaanaadtiya Paritta to the bhikkhus (monks) in the forest, to protect them from demons and maras. The incantation of the kata forbids any demons or ghosts or malevolent presences from entering and bothering, and commands them to take their leave.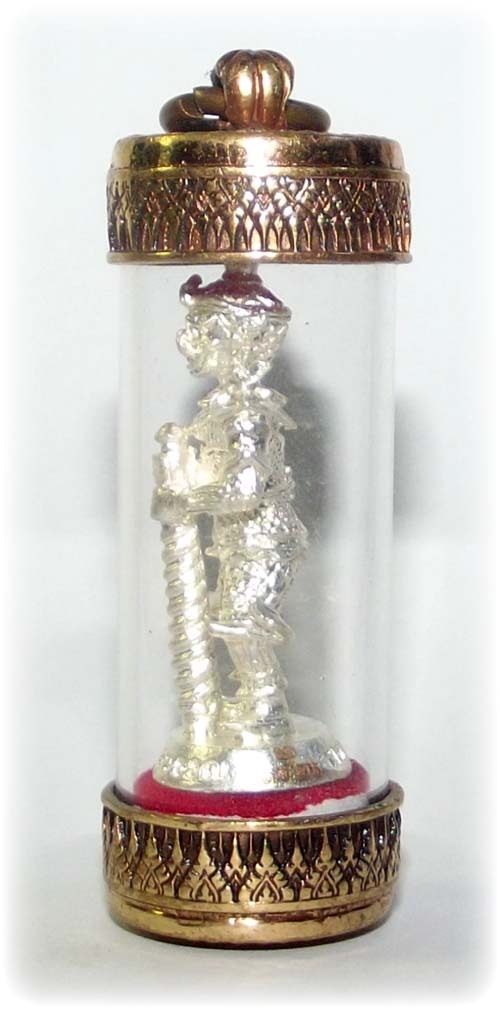 Luang Por Foo has released various editions of Taw Waes Suwan amulets over the years, along with his other famous wicha of the 'Ling Jab Hlak' / Hanuman amulet. His amulets have received constant interest and documentation by the collectors and expert amulet community, and are now published in their own books as documentations of his trajectory and amulet editions.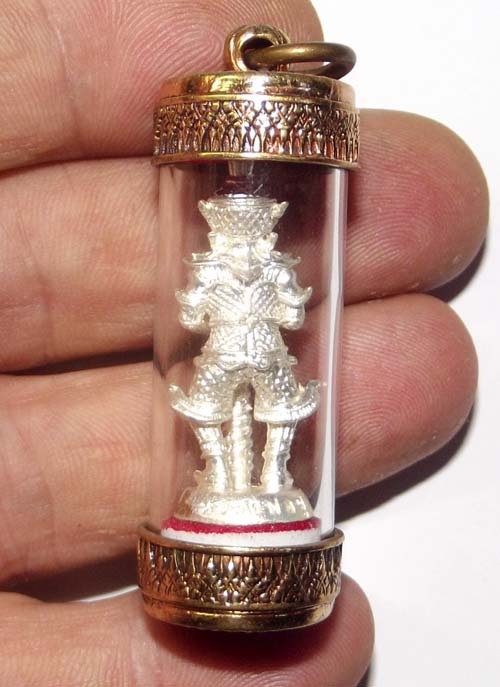 This is always a sign that a monk's amulets are to become eternal collectible classics of high repute. This is because, apart from miracles occurring, the one other thing that makes an edition famous and collectible (and sometimes expensive), is whether the amulet has easy to find information about the making and various models, and identification marks, or not.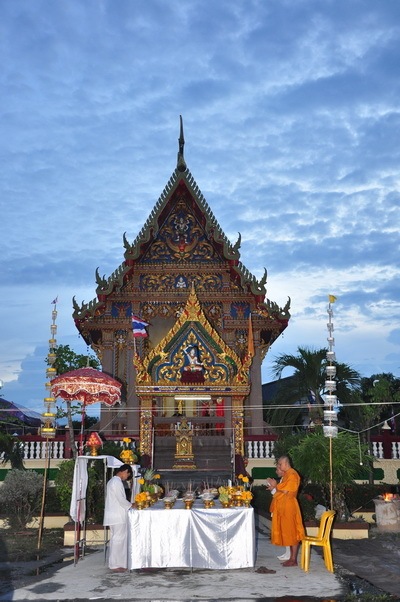 Above: the prequel ritual to invite the devas ('piti anchern taewada') performed by a Brahman with Luang Por Foo in attendance.
Kata bucha Taw Waes Suwan 
Idtipiso Pakawaa Yommaraachaano Taw Waes Suwanno
Maranang Sugkhang Ahang Sugadto Na Mo Puttaaya
Taw Waes Suwanno Jadtu Mahaa Raachigaa Yagkhapandtaa Pat Puradto
Waesa Pusa Puttang Arahang Putto Taw Waes Suwanno Na Mo Puttaaya.
Short kata:
Wae Sa Pu Sa.
Kata chants and biography of Taw Waes Suwan (Chai Sing Hia, Guberan)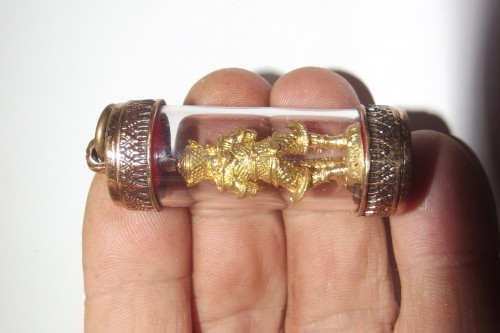 Maker: Luang Por Foo, Wat Bang Samak
Magical Effects: Maha lap, gae aathan, pong gan phuudt pisaj, klaew klaad, maha pokasap, serm yot baramee
Material: Nuea nava loha (9 sacred alchemical metals), nuea tong rakang (sacred brass alloy), nuea samrit (sacred bronze alloy), nuea galai tong (sacred brass alloy with gold plating), nuea galai ngern (sacred silver alloy), sacred powders, 1 silver takrut
Recommended Uses: Improve lucky fortunes, protection against thieves and black magic, professional status, wealth attraction, accumulate collateral
Number of Amulets Made: 99 (ongk kroo); 999 (nuea nava loha); 1999 (nuea galai tong); 1999 (nuea galai ngern); 3999 (nuea tong rakang); and 3999 (nuea samrit)
Edition: Gae Pi Chong 2555 BE edition
View Taw Waes Suwan Gae Pi Chong Loi Ongk Statuette in 9 Sacred Metals with Powders & 1 Silver Takrut in Base here
View Taw Waes Suwan Gae Pi Chong Loi Ongk Statuette in Sacred Brass with Powders & 1 Silver Takrut in Base here
View Taw Waes Suwan Gae Pi Chong Loi Ongk Statuette in Sacred Bronze with Powders & 1 Silver Takrut in Base here
View Taw Waes Suwan Gae Pi Chong Loi Ongk Statuette in Gold Plated Sacred Brass with Powders in Base here
View Taw Waes Suwan Gae Pi Chong Loi Ongk Statuette in Sacred Silver with Powders in Base here