The See Pheung Yoni Maha Sanaeh is a prai spirit yoni magic (female vulva attraction potion), which was mixed using thick see pheung hnaa prai (the richer top substance from the cauldron, which floats to the top – the 'cream of the milk' so to speak). The famous nam man cherng tagon was also added then to make the thick see pheung become more fluid, and to charge the potion with the wild hian power that nam man tagon is known and highy sought after for. As popular with ladies as with men, it is a unisex potion and can be used by hetero or gay persons of either sex.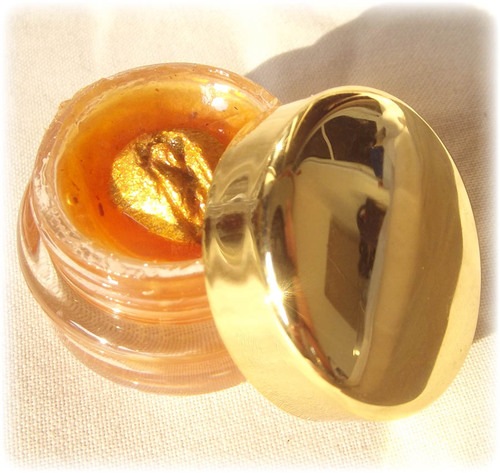 In fact, just the nam man cherng tagon would be enough already to succeed in manifesting ones wishes, for its immensely powerful psychic influence on the ruling spirits of the entertainment halls and the realms of the underworld. This was however not enough for Pra Ajarn Somchart, whose necromancy and amulets are becoming ever more known for its intensity and for the diligence of seeking the rarest and most powerful muan sarn ingredients for their making.
The yoni vulva inserted in the potion was made by the hand of Ptra Ajarn Smchart, using prai powders mixed with prai oils.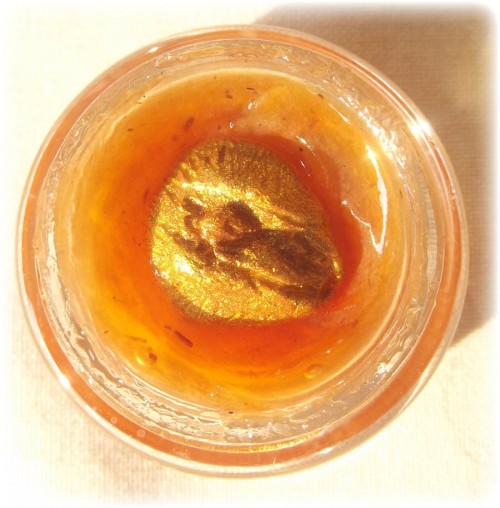 Ajarn Somchart contined by adding some 'hnang hnaa tong' (belly fat) of nine phii dtaay prai tang glom (ghosts of Kumarn Tong mothers). He then added various prai oils, nam man wan gai daeng (red cockerel oil), and the potent Khmer necromantic oil, 'nam man sanaeh ya faed' to bind the hearts of your customers, lovers, friends and  soften those of your persecutors.
He took these oils and boiled them in a sacred cauldron, stirring with a holy paddle made from sacred wood, with Khom Agkhara spells, and yantra inscriptions on both the cauldron and the paddle. He performed  many hundreds of incantations whilst adding the rest of the muan sarn ingredients of the potion.
The potion was then empowered with incantations of the wicha Akom Paya Salika Lin Tong Gamnerd Yoni. This wicha is to bring you success when speaking to increase metta and the power to convince with your speech, charming, hard to resist. It is also a stun spell to leave people winded whilst you get your chance to have your word.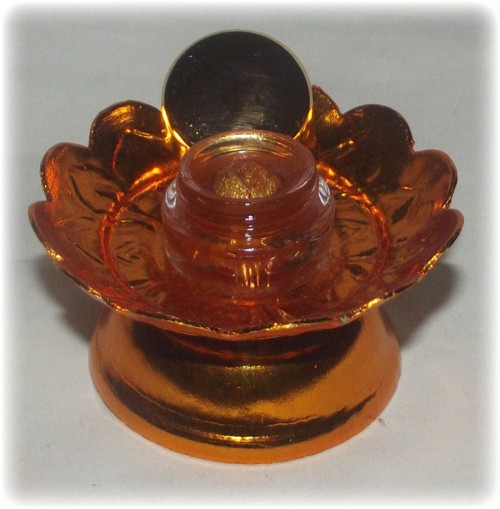 The Montr Hua Jai Khun Phaen Song Grajok (Khun Phaen looking in the mirror) was also performed, and the Hua Jai Glom nang Glom Jid enchantment spell was added as a final empowerment.
When you bring the see pheung yoni to the home the first time, light one stick of incense, and lay out offerings on the place of worship which will be used, and place the see pheung yoni there (on a 'pan kroo' tray is fitting but not absolutely necessary, altar or shrine should be covered with white cloth if not placed on a pan kroo).
Offerings
Sweets and savories, fragrant flowers and sweet drink, one stick of incense.
Then chant the Kata
Om Namo Pakawia Gone Weuy Kun Bpria Sri Bpathamang Logii Sawaa Home Dtid
The yoni is an immensely potent sensual charm and romantic attractor, and is the passive feminine energy of the cosmos which entwines with the active phallic energy of the Shiva lingam. Yoni is of course symbolically the Parvati/Kali/Pra Uma/ Mae Yua Mueang deity in its primordial essence. The yoni functions in the same way and purposes as the Mae Yua Mueang, but has a stronger inclination to sexual aphrodisiac and romantic attraction to the famous Yab Yum deity of the Mae Yua Mueang which is so famed for it success with small, medium and large sized business owners.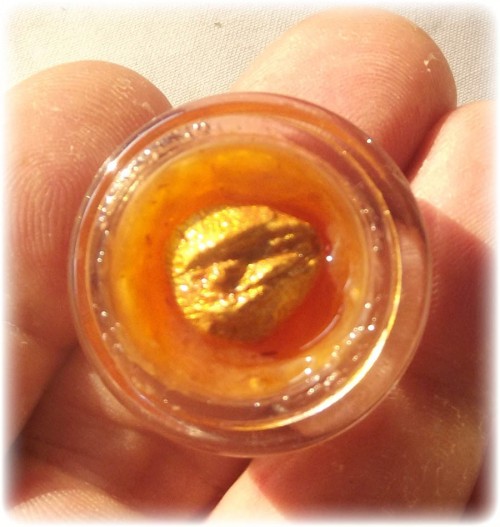 To use:
Dab a bit on your eyebrows for maha sanaeh attraction
Dab a bit on your forehead for seeking employment or attending talks and interviews, court cases etc.
Smear a bit on the person you desire (a tiny bit on the tips of their hair). The herbal potion will then remember that person and begin calling their mind to become obsessed and have to come to you and yield to your approaches automatically.
Kata Pluk Yoni
Om Pawa Dtanhaanupaawaena Om Gaama Dtanhaanupaawaena Raaka Tosa Moha Gaama Gilaeso Gaama Lo Po Sotaaya Putta Sang Mi
Chant 7 times – You can use it for sanaeh and metta to attain your wishes and desires.
If you use the see pheung as a bucha item on the altar instead of to dab and smear, you will need to use the following kata:
Kata Liang Yoni (for feeding the yoni)
Sa A Ni So Sa A Ni Sang Jidt Dti Jidt Dtang
(Thai) "Jidt Prai Jao Euy Jong Ma Rap Ao Krueang Sen Sangweuy" ("Mind of the prai revered deva within the see pheung, you should come and recieve these offerings" – if you prefer you can use this meaning in your language instead of the Thai part of the kata for more understanding and communication when speaking with the prai spirit within the yoni spell).
You can carry the potion in your pocket instead of using it up dabbbing and smearing, or you can refill it with other sacred or perfumed oils if you wish to continue to bucha the yoni after you have used all the potion up. It can be refilled with oils or other porions, or immersed in a different container after use for bucha, and embaled with sacred prai oils when performing bucha, or complete immersion for using the oil, forever.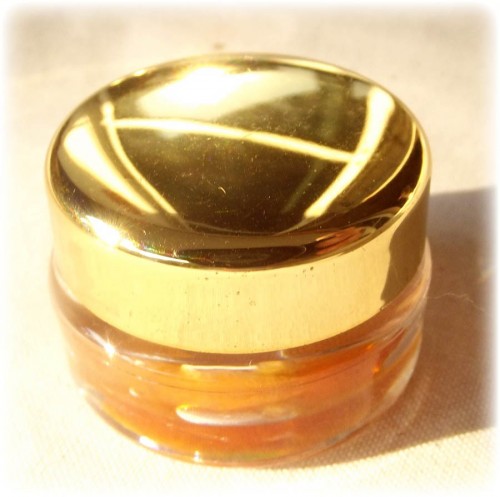 Once-yearly respect and reverence to the Ambubachi Mela is recommendable with bucha to this oil or any yoni type amulets.
Above pic: example of how to decorate the pan kroo if you choose to bucha the see pheung as an altar worship.
This item is free for any order over 300$ while it is in stock. Free version comes with pan kroo tray included.
To get this for free, add it to your shopping cart basket, and then add a minimum of 300$ of other items to make a minimum total of 345$ (300 $ Order + the 45 $ attributed to this product).
Then use this coupon code at checkout to redeem a 45$ reduction in the final price, rendering this amulet free.
Coupon Code to Enter – 02195YONIPOTION
You must purchase 300+45.00 (this amulet's cost) to get the 45$ automated refund. Reach 300$ purchase, and then add this amulet to your basket, and use the coupon code at checkout.
Maker: Pra Ajarn Somchart
Magical Effects: Maha sanaeh, metta mahaniyom, kaa khaay, siang choke, choke lap
Material: Prai oils, fats and waxes, herbs, sacred powders
Recommended Uses: Love, luck and attraction, charm, induce mercy, fascination and Kama Sutra type desires
Number of Amulets Made: 999
Edition: Bucha Kroo edition 2555 BE
View See Pheung Yoni Maha Sanaeh Erotic Aphrodisiac Potion with Yoni Charm here