Second edition of Ajarn Apichai's now famously successful and auspicious takrut for prosperity and auspicious karma. For historical documentation purposes, Ajarn Apichai has thoughtfully used a different colored magical thread to differentiate the second editon from the first, for collectors and journalists to easily catalog and document. The second edition takrut is also encased in transparent tubing to prevent corrosion and protect against moisture.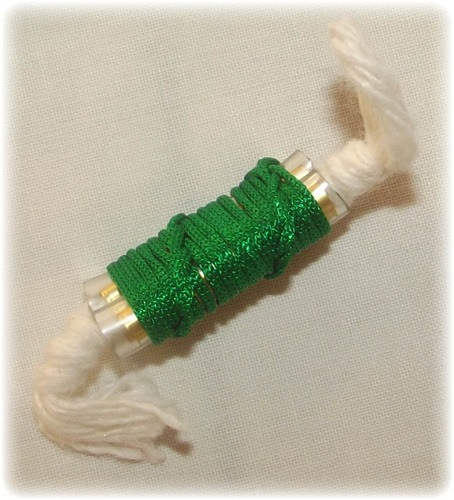 The Yant Pra Kun Por Pra Kun Mae is a Northern Lanna wicha in reverence and respect to one's parents. The Lanna people of old would tattoo the yant on each shoulder, in honor of their father and mother. This takrut has the same puttakun power, that watches over you like a father and mother, and takes care of all angles, just as a good parent would. Protects from accidents, natural disasters, poisonous animal bites and stings, forbids demons and ghosts. Warns away ill wishers, extinguishing black magic, curses and sorcery.
The takrut provides plentiful sustenance and resources, with pokasap and maha lap magic to endow the devotee with wealth, treasures, and sufficient provisions for its children. It emanates great metta mahaniyom like the mother for her child, increasing your good public relations, popularity in social and professional areas.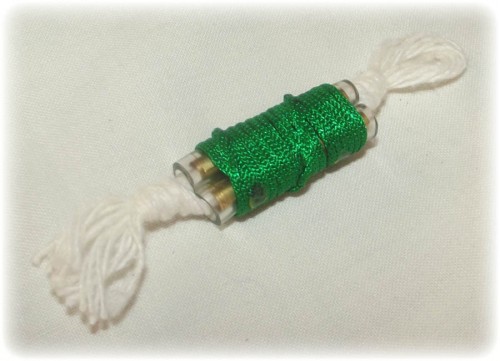 Size; 6 Centimeters Long x 0.7 Centimeters Wide
When performing bucha to use the amulet, focus on the Buddha, Dhamma and Sangha, and your mother and father, teachers and gurus, and call upon their purity and power to protect you from dangers, bring success in your undertakings and ventures, and to fulfill your dreams and wishes.
You are not allowed to make wishes that harm other beings or cause suffering to others, or things that are against the 5 Buddhist precepts.
Kata Bucha Kun Por Kun Mae (Reverence to Parents Kata)
Putta Kun-Nang Tamma Kun-Nang Sangka Kun-Nang Ubp-Bpa Chaa Ya Kun-Nang Aajaariya Kun-Nang Maadtaa Kun-Nang Bpidtaa Kun-Nang Ahang Wantaami Sappataa
("I raise my hands in reverence to the Buddha, Dhamma, Sangha, Ubpachaya mentor, Kroo ba Ajarn, Mother, and Father"). Chant 3 times.

Always chant the Maha Namasakara (Namo Tassa) 3 times, before chanting specific kata for any amulets.
How to Chant Namo Tassa (Maha Namasakara) and the Triple Refuge (Trai Saranakom)
Then use the kata Aaraatanaa Pra Krueang to beseech blessings from the takrut and to empower further it throughout your life, each time that you chant.
Kata Aaraatana Pra Krueang is a specialized kata for chanting when putting on amulets, taking them off, or when leaving the house or travelling. The kata asks for protection and blessings to go with you.
Before chanting to any amulets, you should always chant Namo Dtassa, and/or the kata to ask for refuge (Kata Dtrai Saranakom) the Triple Gem first.
Kata for chanting to amulets (Kata Aaratanaa Pra Krueang)
Puttang Aaraatanaanang Tammang Aaraatanaanang Sangkang Aaraatanaanang
Puttang Prasittimae Tammang Prasittimae Sangkang Prasittimae
Chant this kata 3 times whenever you are about to wear amulets, and also when you take them off.
Download Sound File Pronunciation Tutorials: Kata Aaratanaa Pra Krueang (slow); Kata Aaratanaa Pra Krueang (Fast Fluent)
Maker: Ajarn Apichai Decha
Magical Effects: Serm duang, metta mahaniyom, klaew klaad, maha lap, maha pokasap
Material: Takrut foil, enchanted cords, hand inscription
Recommended Uses: Protection, improve fate/karma, increase wealth, success, popularity, charm
Number of Amulets Made: 199
Edition: Wai Kroo 2556 BE
View Takrut Pra Kun Por Pra Kun Mae Run Sorng (Goodness of Parents Yantra Blessing) here