The pha yant Look Krok Prai Perm Sap is made for increasing wealth and treasured possessions, gambling and flourishing commerce. Inscriptions were made using the very same invocations and empowerments as the look krok pra perm sap sacred powder amulets and bucha images, which took the world of kumarn tong collectors and devotees by storm in 2012.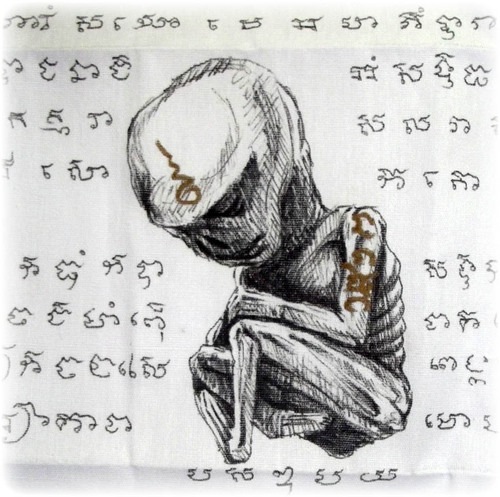 Like all prai spirit deities, to worship a look krok will bring great luck and fortune to its owner, increasing wealth, and causing income and treasures to flow in from all around. Gambling is much more of a cinch with the help of the look krok, and travelling is blessed with the safety given by the look krok's kong grapan and klaew klaad power.
The look krok will warn both of forthcoming dangers, and of coming luck. When luck is about to have a burst or a lucky streak, you will notice people showing much more attention than even usually, and a lot of friendly approaches in a short time. This is the time to lay your bet. The way of worship is similar to that for Kumarn Tong, Hun Payont, Mae Hong Prai, Mae Takian, and most other prai spirit deities as far as offerings are concerned, but the kata is personalized, as is usually the case with each different type of prai deity.
Each pha yant recieved a final individual blessing with hand inscription in gold from Pra Ajarn Somchart. The yantra cloth is covered in ancient Khmer Pali spell inscriptions using the most ancient necromantic spells from the Dtamra Saiyasart Khmer.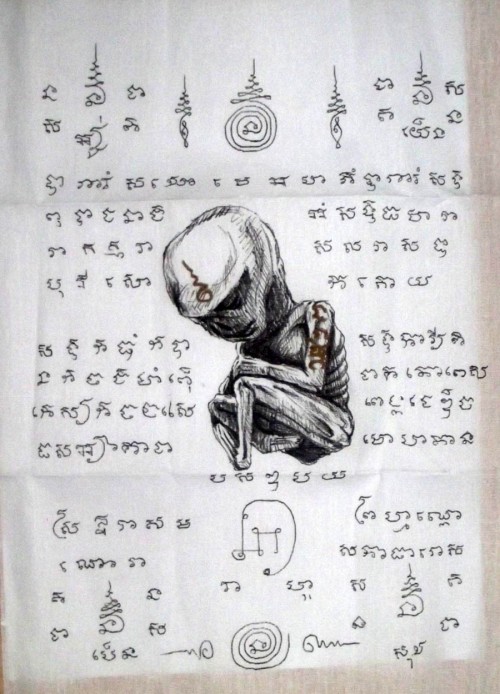 The invocation of the prai deva spirits and empowerment of this 2555 BE Wai Kroo edition was performed with Pra Ajarn Somchart presiding and performing the opening and entrance to the cemetery for the ritual incantations to be performed. He conversed with the guardian deities of the cemetery, and asked for permission from the 'Sarn Dtaa Yaay' shrine of the local ghosts.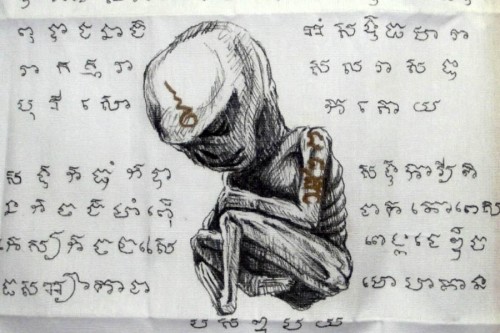 Then the 'Piti Buang Suang Plii Phaa Hor Rang Prai'; this is a ritual for the removal of wrapping and binding of corpses. The prai spirits inside prai necromantic kumarn, look krok and other effigies, are often bound using corpse cloth or cords, colored 'Daay Akom' threads, colored 'Pha Sam See/Jet See' bucha ribbons, or other simliar sorcerous binding materials, depending on the wicha.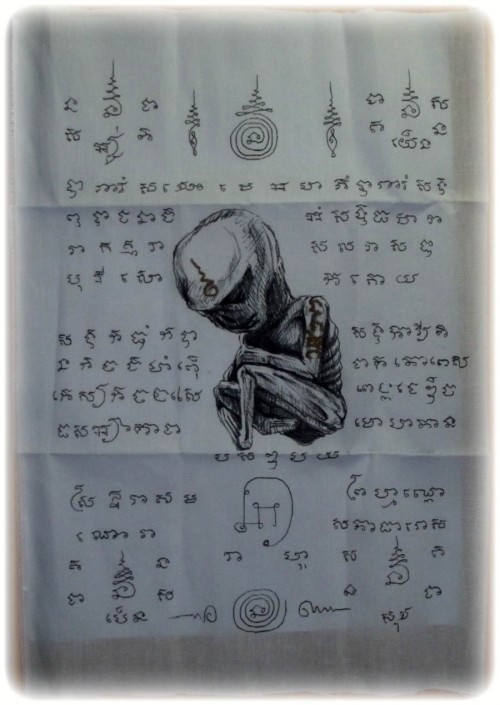 Nine corpses were unbound to use the cloths for the pha yant and empowered using the Montr Wicha Yant Dhamma Dhatu Ruu Maha Gamnerd. This empowerment was performed for one whole 'Traimas' (trimester, a three months period duering the rainy retreats where the monks stay in their temples and spend the nights practicing and empowering their amulets).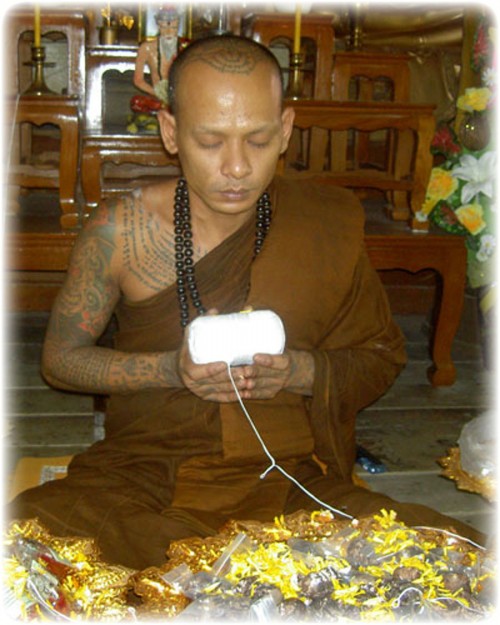 A final empowerment was given before they were released to leave the temple for distribution, by Pra Ajarn Somchart. This pha yant can be considered to already becoming somewhat of a rarity, and has received popular public acclaim from the few who were lucky enough to obtain one. His bucha statues and prai look krok powder amulets of this edition became instantly legendary, and received massive interest from foreign shores such as Malaysia, Taiwan and Singapore.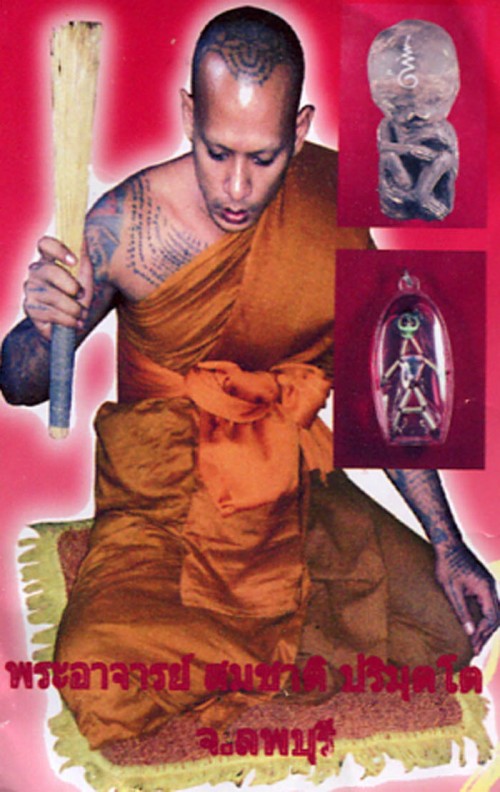 Kata Bucha Look Krok Prai Perm Sap
Ji Je Ru Ni Jidt Dtang Gae Bpa Si Bpang Ruu Bpang Ni Midt Dtang Aa Kaj Chaa Ya Aa Kaj Chaa Hi Ma Ma Maa Maa Ma Haa Luuk Grorg Praay perm Sap
Chant 7 or 9 times and make your wish
For a higher increased understanding of how to worship the kumarn and prai type amulets and bucha images, we recommend that you real all of the info contained in the below links. Correct understanding of how to bucha is the real reason for success with your amulet, and incorrect or lazy bucha, is also a reason why some people feel that their amulet is not working.
It is important to bucha properly, and correct performance of the bucha method will bring success with almost all amulets. For this reason we recommend that you read all of the below info pages (see links below), in order to inform yourself of the various methods of bucha, and increase your adepthood when performing ritual offerings
Kata Look Krok, and how to Bucha (Worship) Look Krok
How to Pray to Mae Nang Prai, Kumarn Tong Look Krok Hoeng Prai, Hun Payont,& Mae Takian amulets (how to bring into the house)
Nang Prai – Phii Prai Thai Ghosts and Spirit Devas
Kata for Metta Mahaniyom and Maha Sanaeh Amulets, Charms and Oil
Maker: Pra Ajarn Somchart Bparimudto
Magical Effects: Maha lap, maha pokasap, choke lap, siang duang, siang choke, klaew klaad, kong grapan, gae aathan
Material: Funeral corpse cloth
Recommended Uses: Increase wealth and possessions, gambling, wish making, anti black magic and backstabber, forewarnings of danger and lucky streaks, lottery
Number of Amulets Made: 99
Edition: Bucha Kroo 2555 BE