Takrut See Gler Suudt Boranajarn ('Four Comrades Yantra filled with Prai Kumarn Powders') – Four Positions, Four Uses – 70 Years Anniversary edition of Luang Por Sakorn of Wat Nong Grub 2551 BE.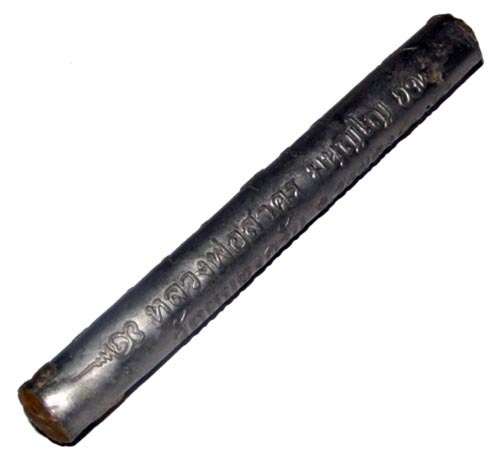 Takrut See Gler Nuea Dtagua Ud Pong Prai Kumarn, See Pheung Luang Phu Tim, Tian Chai – Nuea Dtagua – leaden yantra foil takrut filled with sacred pong prai kumarn powders, see pheung of Luang Phu Tim, and sealed with tian chai victory candle wax.
The takrut see gler means 'four comrades takrut'. It is a very old school wicha that was highly favored by the masters of olden times, as a klaew klaad pong gan pai (protect from, and evade all dangers) amulet.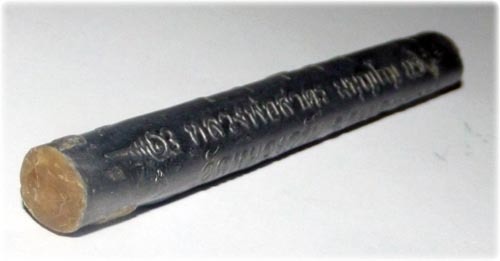 It uses four lines of kata incantations, whose syllables form a magic square written around a Buddha yantra on leaden foil, which was then filled with sacred powders of Luang Por Sakorn, those of his mentor Luang Phu Tim of Wat Laharn Rai, and a mass of sacred powders of the most rare and sought after varieties from the great masters.
If you have to challenge or defend yourself, wear it on the front, if you must flee or hide, wear it on the back. To approach high ranking officials wear it on the right side, and to charm the opposite (or same) sex, for romance and social preference, wear it on the left side.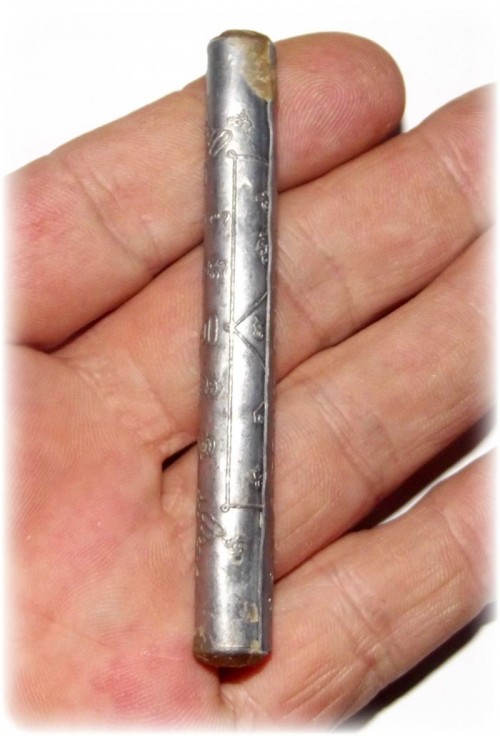 The takrut is essentially therefore, a similar wicha to that of the takrut Maha Ruud ('sliding takrut') for the ability to change the purpose or targeted goal of the magic by sliding the takrut around from front to back and side to side around a waist cord.
The takrut should be encased either in cord wrapping,with hoops, or in a stainless steel or acrylic waterproof casing, which have stainless steel rings to attach the takrut to a waist cord as a pendant.
How to chant 'Namo Tassa' and the Triple Refuge
Before wearing each day, chant the Maha Namasakara three times and then chant the kata for the takrut, holding the takrut between the palms of your hand, raised to your forehead between the brows:
Kata Bucha Takrut
Ga Ra Ma Tha Gi Ri Mi Thi Gu Ru Mu Thu Gae Rae Mae Thae.
Then chant three times, and blow on the takrut, making your wishes, and wear it according to your chosen purpose. We recommend using the kata 'Aaratanaa Pra Krueang' as a prelude to asking for wishes to be fufilled.
List of kata chants – Metta Maha Niyom/Maha Sanaeh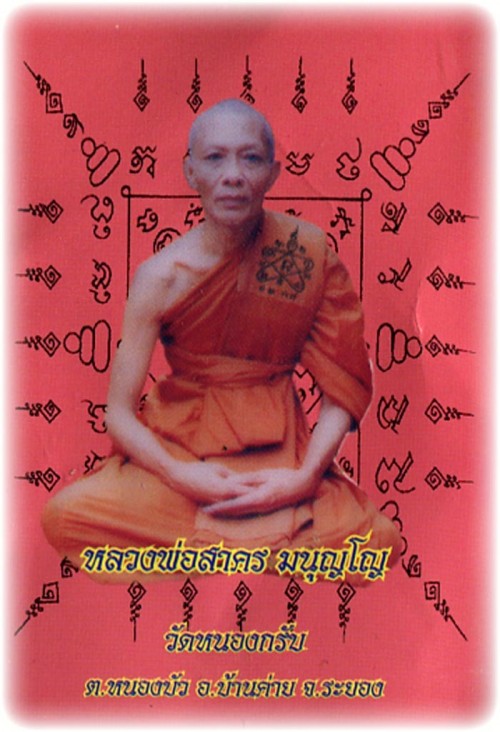 Released in 2551 BE traimas empowerment ceremony along with the 70 years anniversary edition series of amulets. The takrut measures 7.5 cm x 0.75 cm before encasement. The takrut were made in two materials, solid silver (999 made) and in sacred leaden yantra foil (14,999 made).
Luang Por Sakorn is the premier disciple and apprentice in magic to the great Luang Phu Tim Isarago of Wat Laharn Rai, and of Luang Phu Peng of Wat Laharn Yai. He is the current wicha holder, and most popular master for wicha 'Pra Khun Phaen Prai Kumarn' of the Luang Phu Tim lineage.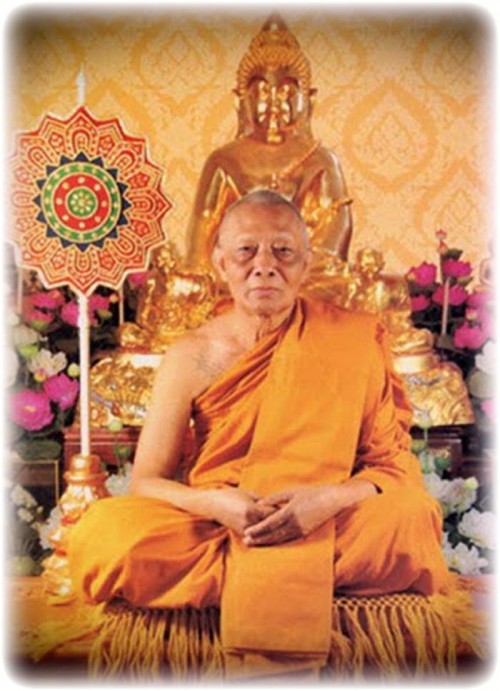 Maker: Luang Por Sakorn, Wat Nong Grub, Rayong
Magical Effects: Klaew klaad, maha ud, kong grapan chadtri, pong gan pai, maha amnaj, maha sanaeh, metta mahaniyom
Material: Leaden yantra foil filled with sacred powders and prai oil balms, 'holy victory' candle wax
Recommended Uses: Protection, Evasion, Attraction, Victory, Win Confrontations, Mercy, Charm
Number of Amulets Made: 14,999 in nuea dtakua
Edition: 70th anniversary Luang Por Sakorn 2551 BE