Kumarn tong with sorceror powers casting spells. Wicha kumarn tong pha daeng (red pants) with hand inscription of Khom Agkhara spells upon the bucha statue.
Pra Ajarn Chor Suchiwo, the master of the wicha Sariga Koo Cheewit who is so highly revered in the province of Maha Sarakam, has created these bucha with the invocation and invitation of special 'kumarn taep' (deva kumarns of higher powers) to be the ruling devas of the statues. This means they are not simply phsychically endowed ghosts and spirits, but are heavenly child devas with magical powers of great influence.
The bucha statue comes along with a phial of prai oil for bucha with anointment, and increased empowerment.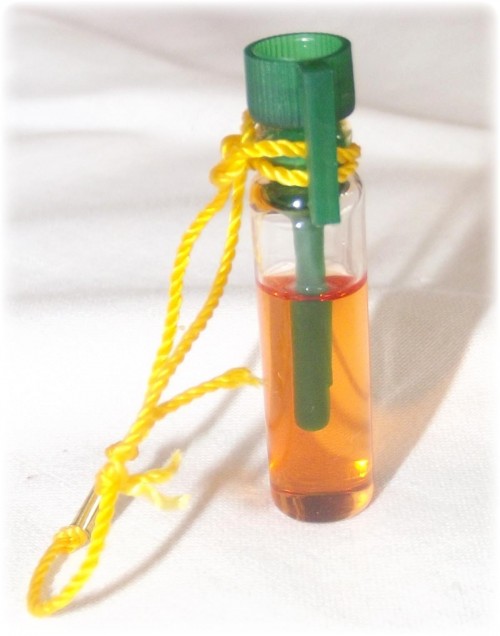 It is to be noted that the kumarn taep are devas, not ghosts who lost their life prematurely, as are prai ghosts such as the hoeng prai, and the prai kumarn.
The prai ghosts tend to show their powers more easily for any reason, whereas the kumarn taep, will only perform miracles of necessity or that will result in auspicious blessings, but never in suffering, or the breaking of the 5 precepts.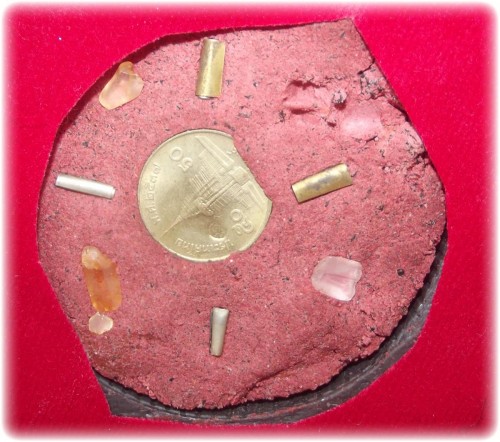 The base of the statue is filled with sacred powders and earths with four takrut and ploi sek blessed gemstones. One 50 satang coin is embedded to attract riches and treasures.
This is the first ever edition of kumarn by Pra Ajarn Chor released to the public, and is therefore a definite recommendation for collectors, for it will become an important item in the dtamra of amulets of Luang Por Chor, and is indeed a most attractive, and powerfully imbued image that is filled with sacred muan sarn and ploi sek gemstones for maha pokasap magic. Maha pokasap magic is amplified by the crystalline power of the blessed gemstones, which imbue the muan sarn prai powders stuffed within the base of the statue with a powerhouse of radiant aura with maha sanaeh and maha lap energy.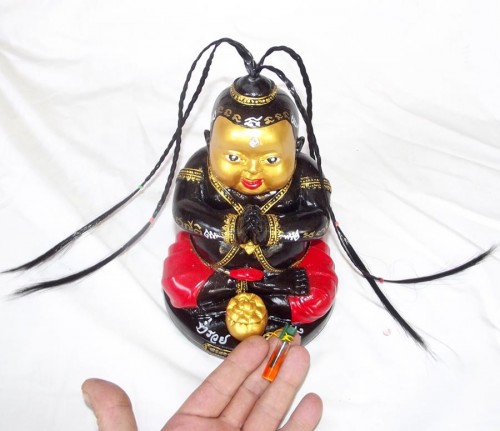 Offerings are easier than many kumarn, simply keep a fresh glass of water always ready and some red syrup drinks or other sweet drink will do, some sweets and goodies, trinkets or toys.
The first time you perform Bucha you should offer red drink, a glass of milk, a glass of water, and sweets or cakes, and a flower garland. Light nine sticks of incense, make and speak out your wishes, take the oil and smear a little on the kumarns forehead on the gemstone third eye. Chant the kata whilst doing so.
Kata Bucha
Idti Idti Gumaaro Namo Put Taa Ya Sappa Bpa Sa Na Ma Pa Ta
Chant 3 times, and make your wishes
For a higher increased understanding of how to worship the kumarn and prai type amulets and bucha images, we recommend that you real all of the info contained in the below links. Correct understanding of how to bucha is the real reason for success with your amulet, and incorrect or lazy bucha, is also a reason why some people feel that their amulet is not working.
It is important to bucha properly, and correct performance of the bucha method will bring success with almost all amulets. For this reason we recommend that you read all of the below info pages (see links below), in order to inform yourself of the various methods of bucha, and increase your adepthood when performing ritual offerings
How to Pray to Mae Nang Prai, Kumarn Tong Hoeng Prai, Hun Payont, & Mae Takian amulets (how to bring into the house)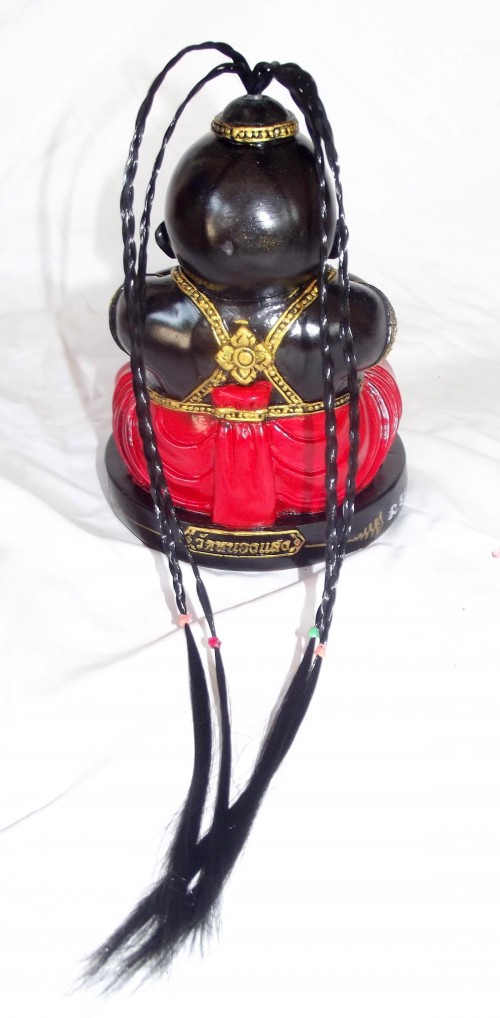 Nang Prai – Phii Prai Thai Ghosts and Spirit Devas
Kata for Metta Mahaniyom and Maha Sanaeh Amulets, Charms and Oil
The oil** remaining on your fingertip after anointing the kumarn's forehead, is of course senseless to waste, and has auspicious intent from you to the kumarn, and auspicious blessings and appreciation from the kumarn to you in it, so you should use what is left on your finger to smear on yourself, for metta maha sanaeh choke lap.
The bottle of oil itself, can be placed on a pan kroo tray for bucha (increase power). It doesnt have to be used to smear on the bucha and/or yourself only, but can also be simply carried or make bucha on its own altar or in your shop. It is however most advisale to use as Luang Por advises as anointment for the kumarn, to empower the pokasap gemstone in its third eye, to spy out the treasures that others have not seen, and pick them up as opportunity knocks.
The kumarn can also be placed upon a pan kroo tray if wished, which is always a very auspicious way to keep bucha images, small or medium.
To make wishes, focus on the thing you wish for, and chant 'Aehi Aehi Jidtang Bpiyamng Ma Ma'
For gambling: If an oil is given for gambling purposes, simply tap the see pheung, metta oil or prai oil with your finger and make a wish before leaving the house. You can rub the balm into your skin of your gambling hand then, if your finger has some balm on it after tapping. Use only a tiny amount of balm is enough.
For 'jerajaa' (business discussions, job interview, etc.): smear the balm onto your forehead and make your wish.
For maha sanaeh (attraction): smear the balm under your chin, and ear lobes, and make your wish.
For kaa khaay (selling wares) : smear a little on your wares or the table where you sell them before each day begins and chant the Kata given.
For mad jidt mad jai (enchant the heart and mind of another): smear or dab a tiny bit on the person and then perform the chanting of the incantations given for the oil, and focus on the person coming to you as your wish.
Thai Metta and Maha Sanaeh Prai Oils – How to use them properly
** We always have spare oil to replace for anointment of kumarn or other prai devas, and also pure Buddhist anointment balms, at reasonable prices if you run out, just ask us by email if you need anointment oil refills. You can also use Ajarn Spencer's python prai oil which is rich in prai kumarn ingredients (due to fanatic interest in seeing how powerful one can make a potion), as well as many powerful herbal extract for maha lap and metta. Ajarn Spencer also uses it himself to anoint his images with. In fact, this is why he made the oil, but once he found it to be effective, he decided to distribute, after testing some free samples with some looksit.  He distributes it at a much lower price than is usuallly possible, for he has no middle man between those who use his amulets, and himself. This is something Ajarn Spencer has always stuck by, to remain non commercial in his own practice and amulet making.
Maker: Luang Por Chor
Magical Effects: Maha pokasap, kaa khaay, maha lap, metta mahaniyom, maha sanaeh
Material: Prai powders, herbs, bone powder, gemstones, takrut, prai oils
Recommended Uses: Become wealthy, improve success in commerce and profession, attract customers, protect household and business premises, ask for lottery wins, family happiness
Number of Amulets Made: 99
Edition: Luang Por Chor 2555 BE Wai Kroo edition