Wua tanu fai is a truly ancient style animist spirit charm by the master of the devotees of the Thai-Burma Mon and Karen hill tribe people, Luang Por Kane 'Duang Gaew Sivali', of Wat Kho Phu. This sacred earths effigy is hand moulded, inscribed with Khom spells and empowered all individually by the hand of Luang Por Kane.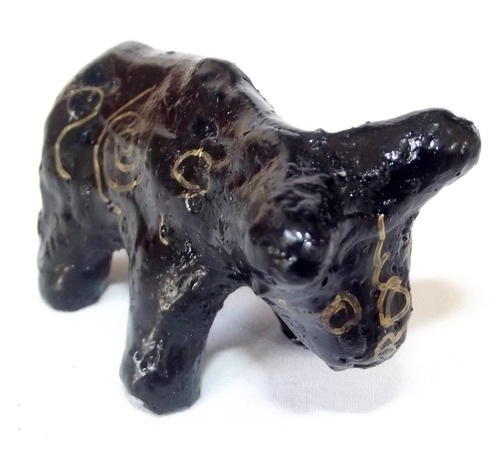 This wua tanu is empowered to burn all evil and dark magic to ashes with its spiritual fire element. Using fire kasina to imbue the wua tanu with incredible power to completely eradicate with a fiery gaze that emits a burning beam of energy as it looks around to guard the perimeter around you and your household, business and treasures.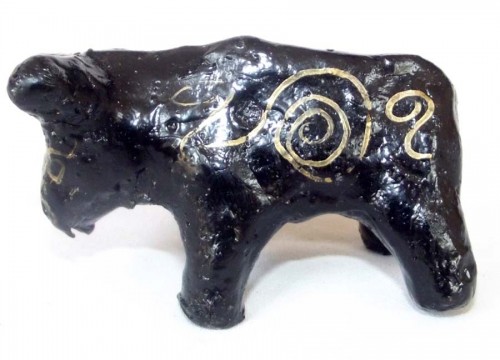 Muan Sarn
The muan sarn for the wua tanu is composed of a large array of sacred earths, including pong look krok wua tanu (powdered arrow bull stillborn), Taw Waes Suwan powders, yant 'Wua Tanu Tone Jet Gamlang Chang Sarn', giant termite nest powders of 7 nests, 7 cemetery earths, khui pu (sandballs made by crabs) from 7 beaches, 7 swamps, krang Putsa paste from 7 Putsa trees that died as a prai, takrai sema (pieces of old temple wall and sacred stone ruins), pong hnang wua fa pha (powdered bull skin that was killed by a lightning bolt), powdered bones and horns of a bull that charged and killed a human being, and earths from 7 ports. These ingredients were ground up into one powder and empowered as pong wua tanu fai. This was then further strengthened with the addition of wan Mahesworn herb, bringing power, and strength of victory.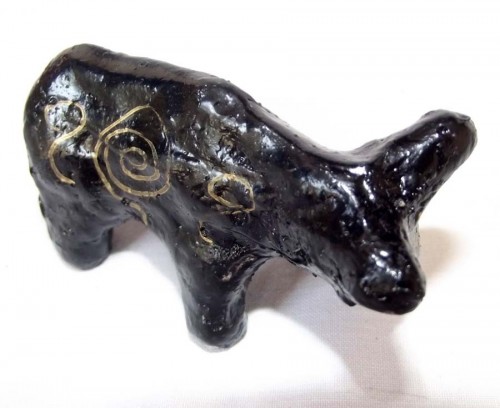 Luang Por Kane performed a mass empowerment of the wua tanu under the full moon, invoking the 4 elements and the kata 'Akarn 32' for the complete reanimation and awakening of the spirits within the wua tanu effigies. Luang Por stared kasina powers into them until he recieved the nimitta of the wua tanu.
You can either use the wua tanu on a bucha tray ('pan kroo'), or altar, to watch the house during your absence, and also worn, or carried, to take with you for protection or entering into places where much dark magic is present, such as the jungles and forests, mountainous wilderness and caves. Always make sure any Buddha images are placed higher than the wua tanu, be it on the altar or worn.
If there is black magic or curses attacking you, problems occurring  enemies or ghosts and demons are bothering, then chant the kata 'Wua Tanu Fai' 3 times and pray for assistance to the wua tanu, and the problems will be met by the wua tanu who will send them back to where they came from or burn them to cinders with its gaze.
To use on the altar, give offerings of water and seven blades/leaves of hay or grass on a Tuesdays and on Buddhist holy days.
Enemies who attack will end up suffering the same thing they tried to commit against you, as the wua tanu sends all curses and evils back to their origin, to attack their own maker.
This also then stops any bad luck that may have been blocking the lucky influences from entering by removing any black magic or other obstacles, and calling in wealth and lucky events.
The wua tanu is in Thailand an essential magical assistant for houses that are on the edge of forests or jungles, on a T-junction or a fork in the road, or where the local spirits are very powerful and not always benevolent, and easily angered. If you have a household in one of these situations then the wua tanu is an especially recommended protective spell to eliminate inauspicious influences.
Anybody who needs to protect their valuables, or to defend themselves agains black magic, will do well with Luang Por Kane's authentic sorcerous earths original ancient wicha magical 'Wua Tanu Fai'.
Luang Por Kane is recognized amongst those in the know, and by us too, as one of the truly powerful sorceror monks of this era, whose kumarn tong are not less powerful than those of the great, one and only Luang Por Dte of Wat Sam Ngam, who is now superceded by the great Luang Phu Yaem, who is also considered by most people to be Thailand's number one kumarn tong master.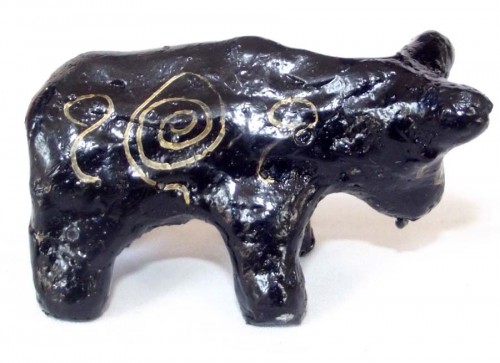 In truth, we feel that although we speak of mastery of the adept class, that Luang Por Kane's original and still item-for-item hand empowered sacred earth amulets and kumarn effigies, have the edge, and are much more reminiscent of the primitive looking kumarn and other amulets of the great Luang Por Dte, than those of Luang Por Yaem. In whatever case, or whoever you yourself find to be the more evident master, Luang Por Kane is our personal choice of kumarn tong master in the vote for the country's number one necromancer.
If we were to dither and doubt as to which other master could possible have as much power as Luang Por Kane for this type of ancient animist or necromantic amulet, we would perhaps name Luang Por Dam of Wat Pra Puttabat, whose kumarn tong are also of the finest that can be found in the present era.
Luang Por Kane's sorcery is ancient and primal, and animist magic is at its most powerful when it is allowed to emanate through its most promal fashion, not need for fancy or modern looks or decoration. We admire his adherence to the act of personal involvement with the making of the effigies and the mixing and empowerment of the muan sarn, and hand inscription, with invocations of the wua tanu fai spirit deva, and subsequent empowerment with incantations of reanimation spells.
You can ask the wua tanu to bring good business, lottery and lucky fortunes as one of its blessings too, so is not only a protective amulet, but indeed also a magical source of increased prosperity, possessing choke lap and maha pokasap ('Dood Sap') power, as an added benefit.
For perfect house protection put 4 wua tanu in the earth, one in each of the four corners of your house, or of your land. The four cardinal points also are valid to use. If four are used, they cover all four directions better and do not have to turn from side to side, leaving corners unwatched. This is the traditional method of using wua tanu to protect from outside of the house to protect the grounds of the house and keep evil forces even further away from the home.
Always chant the 'Maha Namasakara' first before chanting the kata 'Wua Tanu' if you are Buddhist. If you are Hindu then perform your usual poojahs or chalisa to your allocated deity first and then perform the kata for the wua tanu. If you are Muslim, then say your prayer to Allah first, before chanting to the wua tanu.
Kata 'Wua Tanu Fai'
Om Ko No Ko No.
โอมโคโน โคโน
Then make your request as a prayer and wish to the wua tanu.
If you wish to empower the wua tanu and charge it with more strength, then chant the kata 'Hnun Taat See' (invocation of the four elements):
Na Ma Na A – Nor Gor Na Ga – Gor Or Nor A – Na A Ga Ang (3 times).
And the long kata for wua tanu:
Om Kono Kono Wua Tanu Gao Pan Waa Saay Dtaa Gao Pan Muay Tiaw Plaay Duay Tuk Kam Chao Bpen Jao Gae Fhoong Phii Tang Hlaay Puudt Phii Lae Phii Prai Chin Hai Dtaay Ya Hai La Thoi Ju Lai Ju Sitti Puttang Sitti Tammang Sitti Sangkang Sitti Swaaha Pa Ta Na Ma.
Read How to Worship and Chant Kata for Wua Tanu Bull and Kwai Tanu Buffalo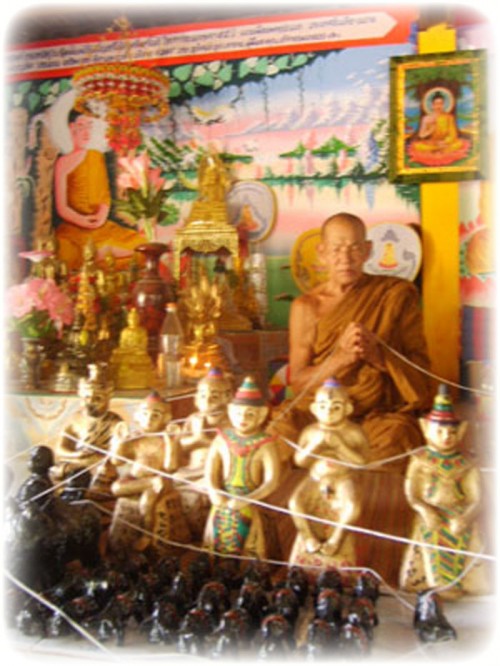 Maker: Luang Por Kane, Wat Kho Phu
Magical Effects: Laang aathan, pongan phuudt pisaj, gae khun sai, fao baan ruean, glab raay bpen dee, choke lap, maha pokasap
Material: Sacred earths, herbs, bone powders, bull skin
Recommended Uses: Anti black magic, turn bad luck into good luck, remove curses and protection against demons, protect the household from enemies, thieves and ghosts, attract wealth
Number of Amulets Made: Unknown
Edition: Traimas 2555 BE