Locket Jao Por Phu Yee Gor Hong – Painted Enamel Shell with Sacred Powder rear face, Taw Waes Suwan, Enchanted Dice & Takrut – 'Sethee Ruay Sap' Edition 2553 BE – Luang Phu Key – Wat Sri Lamyong
Locket Jao Por Phu Yee Gor Hong (Er Ger Fong) – Luang Phu Key Gidtiyano – Wat Sri Lamyong (Surin)

Locket with real shell facing enamelled Image of Por Phu Jao Yee Gor Hong, one statuette of Chinese 'Chai Sing Hia' Deity made from Nuea Loha Aathan (Sorcerous metals), one Enchanted Dice to turn the gambling Tables in your favor, and one Silver Takrut with the Ghost Whisperer Spell. 'Chai Sing Hia' is the Chinese Equivalent of the Thai 'Taw Waes Suwan'. He prevents Black Magic forces in the places where you Gamble from interfering. He is the deva of Wealthy and Upcoming Business Persons, and the Preventer of Poverty. He commands great Imposing Dominion over his Yaksa Minions. He is an Important Asura Deva King to worship for Wealth Increase.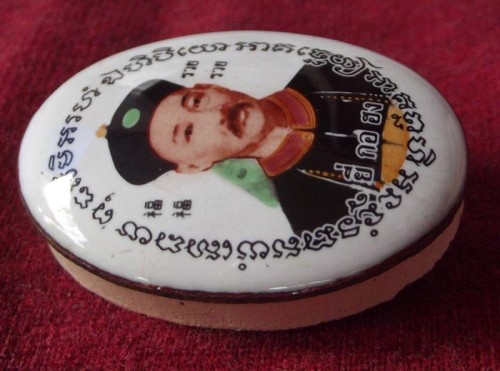 The Sacred Powders are rich in Pong Puttakun, and have some Sacred Crystals inserted for Luck and Wealth attraction. A silver Takrut with a Khom Spell to win the favor of the Ruling Deva of the Gambling Tables, is inserted into the Puttakun Powders.
Intended for those who love to play the Lottery and casino Games, and Speculative Risk Professions, such as Financial Investment Advisors and Stock Market Traders.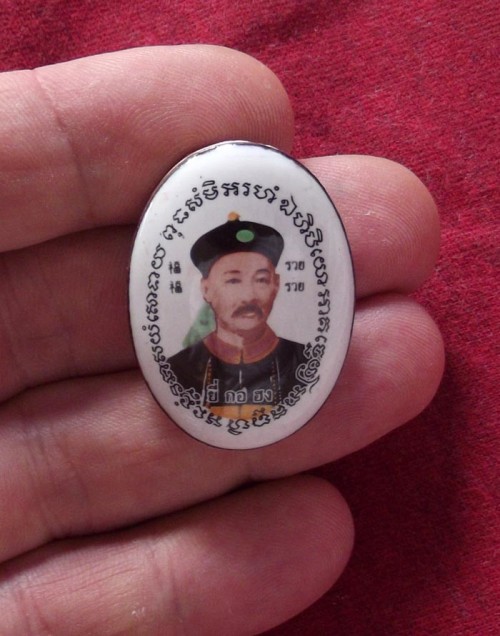 Size; 3.5 Cm High x 2.5 Cm Wide – 999 Amulets made

Kata and How to Worship Por Phu Yee Gor Hong
Released in the 2553 BE 'Sethee Ruay Sap' edition of amulets with a Major Puttapisek/Taewapisek Blessing Ceremony on 11th February 2553, at Wat Sri Lamyong, in Surin, with Luang Por Key presiding over the Empowerment. The amulet was released in 'Roop Khai' (oval shape) and 'Roop See Liam' (four sided) versions. Many other amulets were released in this Edition, with the Chai Sing Hia and Por Phu Yee Gor Hong Riches / Gambler Deities being the main focus of the edition.
Locket comes in original Temple Box. Can be encased if desired.