Thailand Amulets is proud to be able to offer some of the rare and especially sought after Gammagarn series of 'Lucky Treasure Bee' amulets, which went completely unannounced, and were secretly handed out to sponsors at the ceremony of the 'Serp Dtamnan Luang Phu Noi' edition amulets by Luang Por Jerd, of Suan Badibat Tam Po Sethee, in Nakorn Pathom.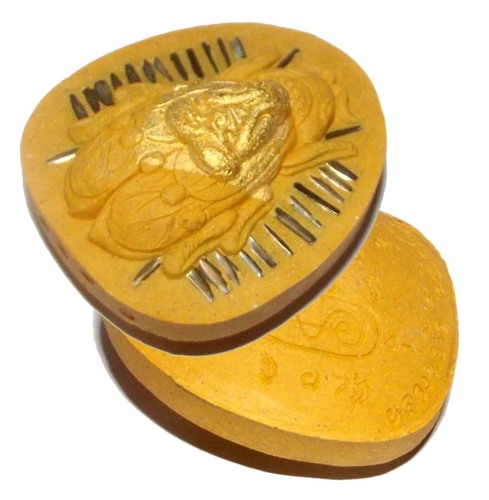 The Paya Dto Ngern Larn amulets were released in two different 'pim', namely a gold colored powder version (Nuea Wan Tong Pised – 'Pim A' with 28 takrut) and a black powder version (Pong Bai Larn – 'Pim B' with 16 takrut). Both versions feature a treasure bee on the front face, with a Pra Pidta image on its back, and a piece of gold leaf on it. The front face of the Nuea Wan Tong Pised ('Pim A') has 28 takrut 'Pra Putta Jao Sip Hok Pra Ongk' spells inserted, whereas the Pong Bai Larn ('Pim B') has 16 foil takrut spells with the 16 syllables of the yant 'Pra Putta Jao 16 Pra Ongk' (16 Buddhas Yant).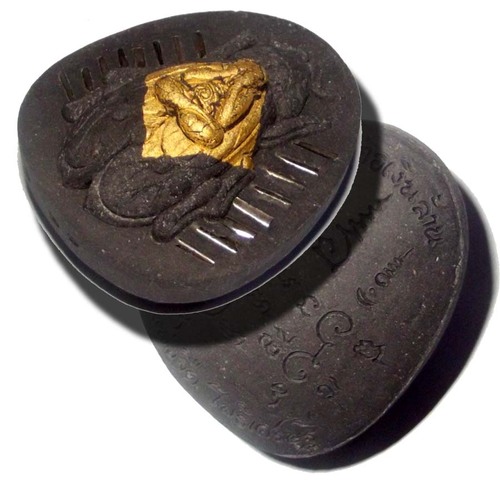 The sacred powder used for this Gammagarn version, is a concentrated rich mixture of the finest and most sacred herbal powders. The powders are also empowered with powdered blessed bees nest (a sorcerous ingredient which has the maha lap effect of increasing wealth treasures and lucky fortunes).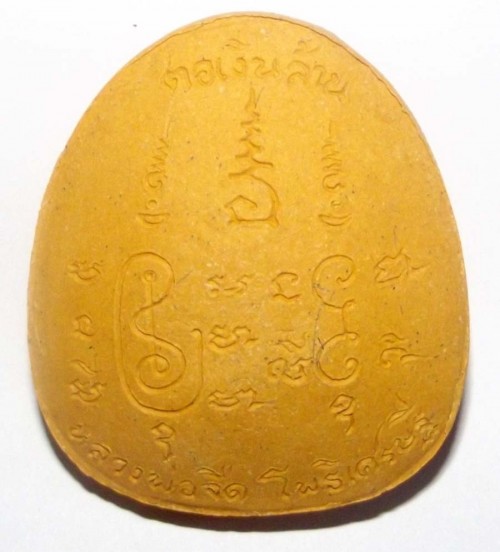 The rear face of both two versions of the Paya Dto Ngern Larn amulet features a series of sacred na maha lap, maha pokasap, and maha laluay and kata Pra Sivali ('Na Chaa Lii Dti'), to bring great wealth and prosperity, treasures and prosperous business. This series of amulets was released in 2555 BE in a large and very special edition of some of the finest amulets and bucha statues to grace our store. The edition included lockets, Pra Pid Ta amulets, and wua tanu/kwai tanu amulets and bucha statues.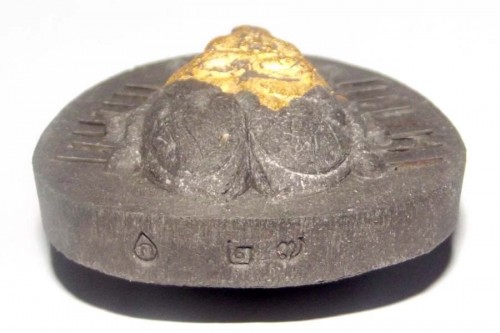 The two different pims of the Paya Dto Ngern Larn treasure bee amulet are a special ceremony distribution item, which do not exist in the rest of the series of amulets, except in the special top of range triple collector set, which featured some Pidta amulets in the same special herbal Puttakun powder. Pra Pid Ta is thus also an aspect of bucha when praying to this amulet, and increases the maha lap aspect of the magic, whereas the treasure bee increases the maha pokasap aspect.
Comes with original felt lined box from the temple. Can be encased if desired.
The purpose of this edition was to raise funds for the building of a taewa sathaan (deity shrine) with a large statue of Pra Pikanes (Ganesha) at the temple of Suan Badibat Tam Po Sethee sitting on a pair of gold and silver treasure bees as his throne, so as to instigate prosperous fortunes for the poor locals to improve their situation.
Read documentation and see all amulets in this edition:
'Serb San Dtamnan Luang Por Noi' edition amulets 2555 BE – Luang Por Jerd – Suan Badibat Tam Po Sethee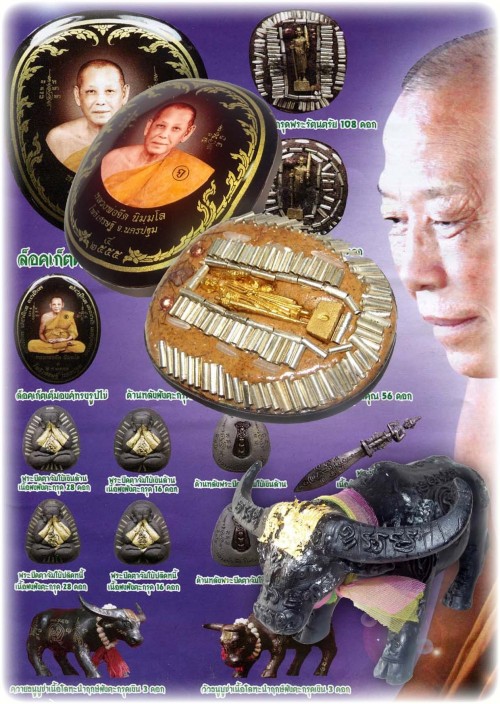 Luang Por Jerd is gaining headway in Thailand as one of the best practitioners of the Buddhist vinaya, and is entering the halls of fame of the high Arya Sangha. We can expect the history books to record Luang Por Jerd as one of Thailand's great Arya Sangha of this century. As is always the case, the true great monks of purity are usually famous after their passing more than during their lives, for they do not seek attention.
Despite the fact that Luang Por Jerd is a humble monk, his humility and diligent practice and merits have elevated him to become one of Thailand's Most respected monks on a national Scale, and one of the top 4 monks of the Nakorn Pathom Province (along with Luang Por Sanya Kong of Wat Klang Bang Gaew, Luang Phu Yaem of Wat Sam Ngam, and Luang Phu Ap, of Wat Tong Sai). We should perhaps say five great monks of Nakorn Pathom, as the abbot of Wat Pai Lorm, Luang Pi Nam Fon is producing fine Buddhist amulets in the wake of his mentor, Luang Por Poon.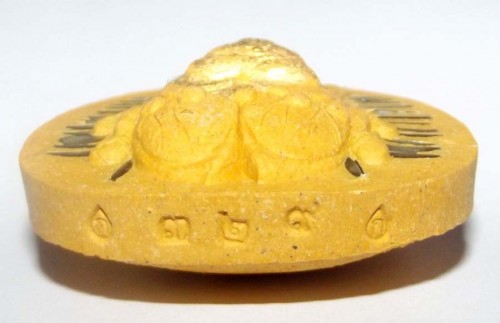 The base of amulet has code stamp and edition number code
Useful info for bucha:
For bucha, use Buddhist prayers to increase power, with any or all of the below kata.
All kata for amulets should begin with chanting of the Maha Namasakara ('Namo Tassa') 3 times first, before beginning any other incantations.
Maha Namasakara – How to Chant 'Namo Tassa'
Psalm to the Triple Gem    Kata 'Aaratanaa Pra Krueang'
Pratītyasamutpāda – Chant of 'Dependent Origination'
Chinabanchara Kata ('Chinabanchorn') of Somdej Dto Prohmrangsri (Wat Rakang Kositaram)
Kata Pra Putta Jao Haa Pra Ongk ('Na Mo Put Taa Ya')
Buddhist Morning Prayer Chanting
Buddhist Evening Prayer Chanting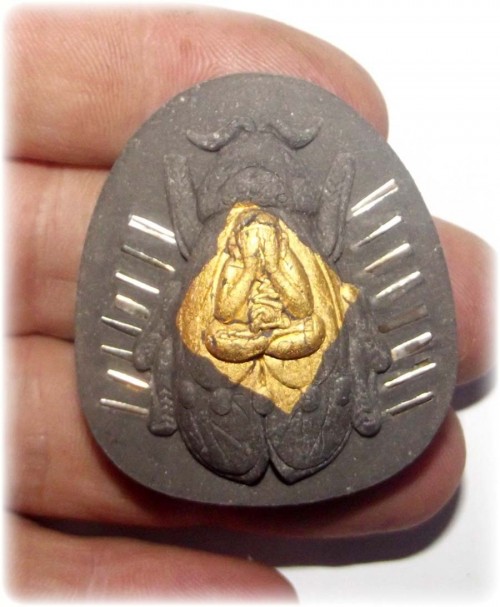 Maker: Luang Por Jerd , Suan Badibat Tam Po Sethee temple (Nakorn Pathom)
Magical Effects: Maha lap, siang choke, serm duang, klaew klaad, maha pokasap, kaa khaay
Material: Herbal Puttakun powders from blessed bees nests, gold leaf takrut
Recommended Uses: Rid oneself of debts and financial obstacles, gain economical headway, increase prosperity and well-being, gambling, treasured possessions, healthy commerce
Number of Amulets Made: Unknown (very few handed out at ceremony)
Edition: 'Serb San Dtamnan Luang Por Noi' 2555 BE