Prai Paya Lin Tong Sorng Chaek – Employment Seeker and Business Speech Charm Amulet from Lay Master Ajarn Apichai Decha.
The Prai Paya Lin Tong Sorng Chaek is a 'golden tongued speech charm spell' to make your speech both charming and hypnotically convincing. Immensely useful for charming the opposite sex into the bed, or charming your chosen employer into giving you the job. The ghost within the amulet also is prai grasip choke and will convince the gambling demons and ruling deities of the gamblers den to look in your favor.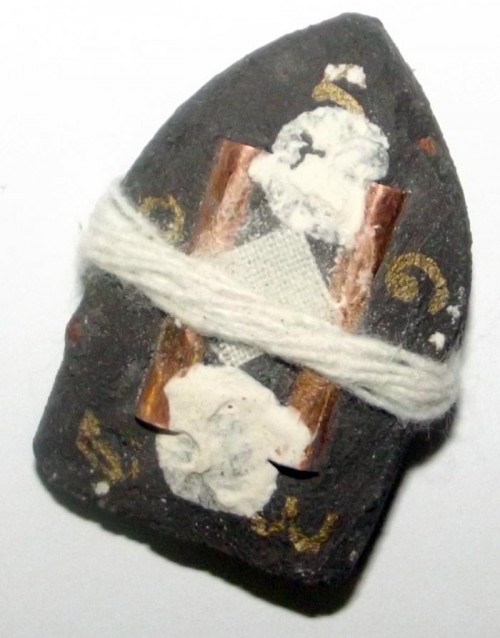 The amulet should influence all ones activities to increase success, popularity and influence of speech. Popularity should follow, status, promotion, employment, friendly reception, receive helpfulness and generosity from others. Softening the hearts of those enemies or those closed hearted people, and making them more responsive to be friendly.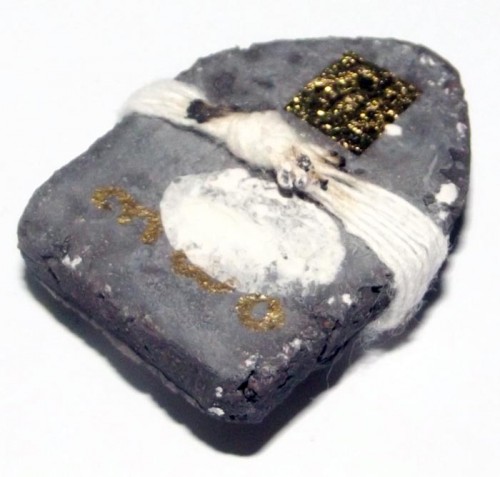 The amulet is empowered with takrut spells, containing sariga golden tongued celestial magpie wicha, enchanted 'daay akom' cord binding spell, to bind the hoeng prai spirit, inscriptions of Khmer spells and, some white prai powder paste blessing. All amulets have received individual inscription, empowerment and blessing, and are prai oil sprayed. A gold leaf blessing was given as final empowerment and to seal the wicha within the amulet.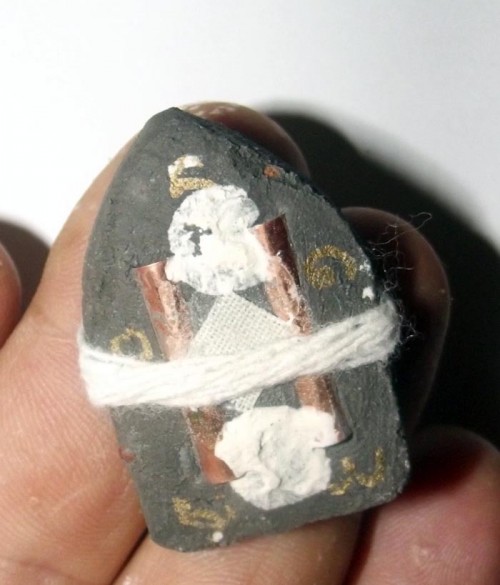 Prai necromancy at its most powerful requires not only knowledge and psychic power, but the necessary prai ingredients to successfully fulfill the equations of the formula. This is why true occult necromantic amulets in the Western world are more of a worthless souvenir than a powerful amulet, because the ancient magical formulas of the Western mage have been long since left out of the formula or prohibited for use. Luckily for us, Thailand is certainly one of the few countries in the world where you can still find true occult formulas, which will work as promised. Many people who try Western lucky charms do not know the difference between some empty trinket and a truly powerful magic charm that has been made using millennia old sorcery formulas, by masters who are in a lineage.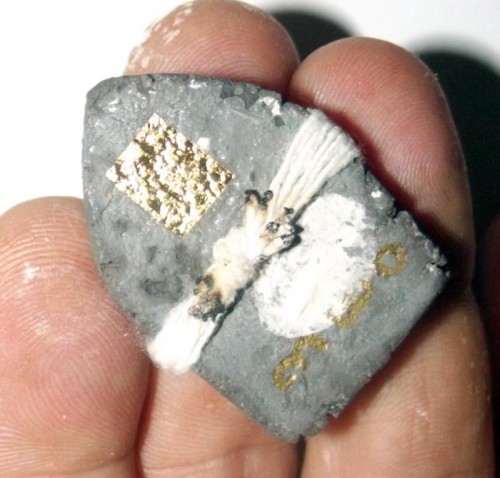 Ajarn Apichai is already now becoming extremely famous and in demand for his truly powerful Khmer necromancy amulets which utilize the most powerful and authentic prai powders from Cambodia, received from his lineage masters, and devotees of sorcery. This wicha which has a double sided spell within it, and no imagery whatsoever on the face of the amulet, is becoming typical of Ajarn Apichai's latest development on his trajectory, as he now is issuing some very shamanic looking charms and occult talismans which seem reminiscent of dreamcatcher type magic.
Made using the finest necromantic muan sarn powders and earths:
Din jet pha cha (7 cemeteries earths)
Pong plai dam (black prai earth used in all maha sanaeh charms and powder amulets, from the Khun Phaen to the Paetch Payatorn, one of the most important prai earths used in Thai occult)
Pong thao gao pha cha (ashes from 9 funerals in cemeteries)
Pong prai (bone powders from hoeng prai ghosts)
Wan roi paed (108 types of magical herbal powders and pollens)
There is no kata or incantation needed as Ajarn Apichai made this amulet for perfect ease of use (wear and nothing else)
But we do suggest the first arrival at home to perform the normal rituals for bringing prai amulets into the house, and also suggest that if you do like chanting and wish to use kata, to use the various kata for metta and maha sanaeh to empower your amulet with and also the 'Maha Namasakara' and the kata 'Aaratanaa Pra Kreuang' as a prequel would be advisable too, for increased happiness and blessings.
The method of bucha used for prai amulets and kumarn tong, is similar to that used for most other prai spirit devas and amulets, be it mae hong prai, hun payont, kumarn dood rok, look krok, mae takian, mae prai of all kinds;  mae tong soi, prai faed or similar. For this reason, and for a higher increased understanding of how to worship the kumarn and prai type amulets and bucha images, we recommend that you real all of the info contained in the below links. Correct understanding of how to bucha is the real reason for success with your amulet, and incorrect or lazy bucha, is also a reason why some people feel that their amulet is not working.
How to Pray to Mae Nang Prai, Hoeng Prai, Hun Payont & Mae Takian amulets
It is important to bucha properly, and correct performance of the bucha method will bring success with almost all amulets. For this reason we recommend that you read all of the below info pages (see links below), in order to inform yourself of the various methods of bucha, and increase your adepthood when performing ritual offerings.
Nang Prai – Phii Prai Thai Ghosts and Spirit Devas
Kata for Metta Mahaniyom and Maha Sanaeh Amulets, Charms and Oil
Ajarn Apichai is now disrobed after a period of intense practice and is fully fledged back into the creation of the most powerful no stings Khmer sorcery he can muster up to help his devotees and those of the Buddha, to avoid suffering and poverty. His status and trajectory is now fast on the rise, for which we advise collection of these editions til now fgor they will soon become very rare and in demand. The name of Ajarn Apichai is hitting the news, word is out, and it wont be much longer before his amulets are all snapped up by devotees before they even reach the door of the samnak.
Maker: Ajarn Apichai Decha
Magical Effects: Maha sanaeh, jerajaa, kaa khaay, siang choke, metta mahaniyom
Material: Prai powders, cemetery earths and ashes, prai oils, gold leaf, enchanted cords, takrut
Recommended Uses: Seductive speech, gambling, merciful treatment and helpfulness from others
Number of Amulets Made: 50+
Edition: Wai Kroo 2555 BE
View Prai Dam Paya Lin Tong Sorng Chaek (Khmer Necromantic Amulet) here