A most unusual Sacred Yant beladen amulet, based on the horses plough trowel, using oxen in olden days when ploughing the fields; the Rian Yant Pan Tai Sacred Plow Amulet of Luang Por Tong Glerng, of Wat Chedi Hoi (Temple of the Fossilized Seashell Stupa), in Patum Thani. The Rian Yant Pan Tai amulet, is intended for passing through dangerous situations easily, No Lack of Sustenance or Prosperity, and Maintain Fertility. The Plough is able to pass through hard earth and make a pathway through the field, for the planting of seeds, which brings us food and sustenance.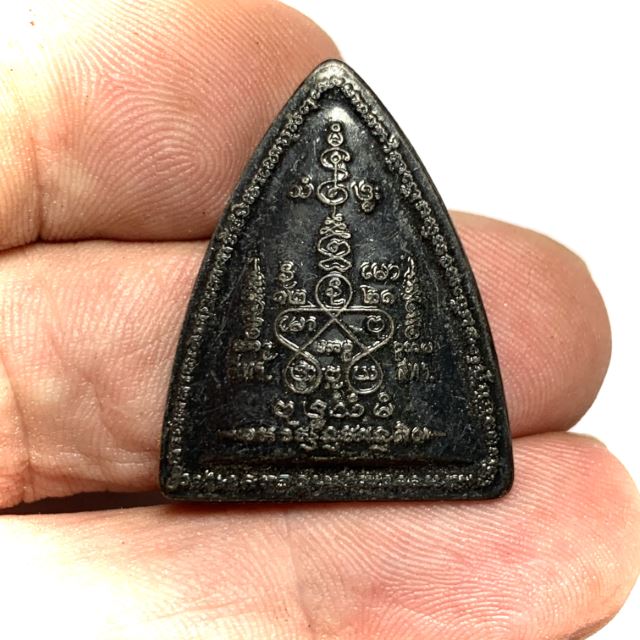 Because of the strength of the Pan Tai to pass through thick earth easily, it is seen by Ancient Thai Folk, to be a luck-bringer in court cases and disputes, or when you are accused of wrongdoing, or in a life threatening situation. The word 'Pan' means 'to pass through' or 'to pass the test', and this is related to why the plough trowel was called a 'Pan' in the first place, because it passes through the earth.
The amulet has a Sacred Yant Pra Putta Jao Ja Pra Ongk (also known as 'Yant Ha', 'Yant Grabong Khwai', and 'Yant Ongk Pra') on the front face, and is encrusted with Sacred Magical Khom Agkhara Sanskrit Spells around the border of the amulet.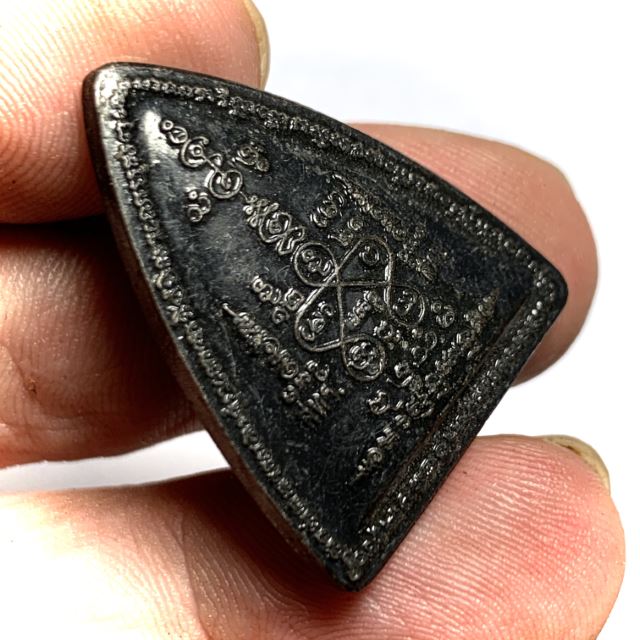 The Rear Face has a Sacred Yant Metta, a host of Khom Agkhara Spell inscriptions, and the name of LP Tong Glerng and the Temple of Wat Chedi Hoy embossed.

The amulet is made from a type of metallic alchemical alloy called 'Nuea Maekapat', which involves mixing different metals in the forge, and knowing the exact temperature at which the various metals with differing melting points will fuse and become one substance. The end result renders a slightly bluebottle metalllic effect, which shimmers when caught by the light. Nuea Maekapat is highly regarded for its Kong Grapan Chadtri, Klaew KLaad, Metta and Maha Pokasap Powers, and its Alchemical inherent magic within the metal, being believed to have powers of their own, even if not blessed by a monk.
https://www.youtube.com/watch?v=cRuzWU7-KNE[/embedyt
Luang Por Tong Gleung, is one of the very few masters who have ever made this kind of talismanic charm in coin form, and its design is highly original, and is a Wicha that has been passed down from master to master since well before the times of the Ayuttaya Era, as it is documented during that time, and was already considered an ancient Wicha.
---