Limited to only 2 amulets in Special Offer FREE with Orders exceeding 150$ – The Sacred Yoni Mae Nuea Horm Female Vulva Charm Amulet in Nuea Wan Dork Tong Golden Flower Herb, with Takrut Hua Jai Pran Insert, and Thai Lanna Agkhara Spell Inscriptions, from Pra Ajarn Gorp Chai, of Wat Mae Ya.
SPECIAL FREE OFFER WITH CASING INCLUDED FOR ORDERS OVER 150$ – TO GET THIS AMULET FOR FREE, SIMPLY ADD 150$ OF ITEMS FIRST, AND THEN ADD THIS ITEM TO THE SHOPPING CART AT THE END.
THEN USE THE FOLLOWING COUPON CODE AT CHECKOUT TO GET A REDUCTION OF 51$ (THE PRICE OF THIS AMULET WITH WATERPROOF CASING)
COUPON CODE = LOVEYONIDORKTONG
This Muan Sarn Sacred Powders amulet is an ancient Animist charm, which has been used by the Animist Folk of the Lanna Region. The Kata Akom for empowerment and reanimation of this Wicha derive from the annals of the archives of Sorcery Grimoires at Wat Mae Ya temple in Tak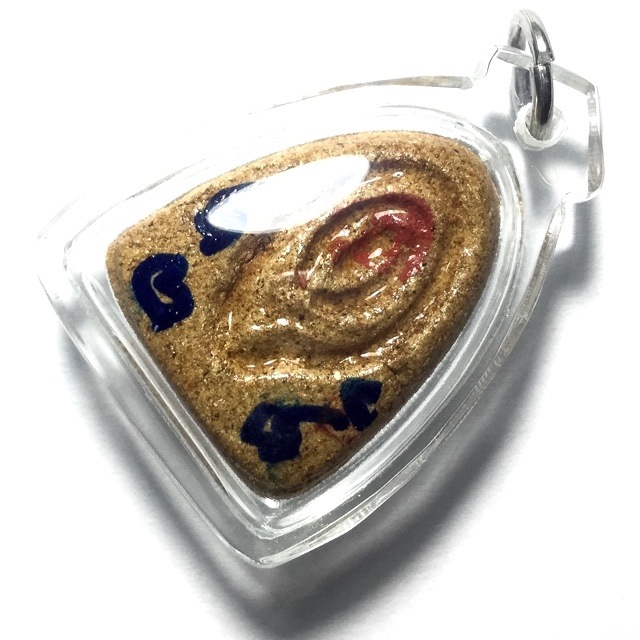 The Yoni Mae Nuea Horm is a powerful Aphrodisiac and Kama-Sutra Attraction Charm with ultra high Maha Sanaeh magic. The Yoni is a Dark Arts Occult Charm that does not require wearing above the waist, and can be worn close to the Private Parts, for increased effectiveness. It is, despite common belief, not only for Ladies to use, but can also be used by Men, just as well.
The Yoni uses the most ancient and primitive method of attraction and enchantment, that of mother nature, by working on the Libido, and also emanating the aura of 'Being in Heat'. You can ask for most wishes to attract and convince your intended lover, and should not find yourself doing without for any long periods of time with the Yoni. The Yoni is of course also the female symbolic counterpart of the male Phallic Lingam, which represent Shiva (Lingam) and Kali/Parvati (Yoni), The Yoni as an animist occult charm however, has existed outside of Hinduism and Buddhism too, as a Magical Charm of Purely Animist Nature. Pra Ajarn Gorp Chai has researched and mastered these Wicha, to bring us rare and half-forgotten ancient wicha of the Lanna Folk. Pra Ajarn Gorp Chai curates and develops the museum of sorcery grimoires of the temple, recovering lost tomes and recompiling them to preserve the secret spells within their encoded pages.
The Yoni charm is a truly rare item to find. It is even rarer to see modern day masters making by the hand pressed method, who usually prefer the modern method of machinery assisted pressing, or multiple mold press.
Pra Ajarn Gorp Chai has created the Yoni from a powerful admixture of Paya Wan Dork Tong Golden Flower Herb, which is highly renowned for its rare and powerful Maha Sanaeh properties, to attract good business, and induce mercy in the hearts of others. the Paya wan Dork Tong is a rare forest flower herb which renders only one single flower per year, per plant.
It is hence obvious and easy to deduce, that the Paya Wan Dork Tong Herb is very difficult to acquire in any quantity, due to the difficulty in finding it in the forest, as well as the fact that there are ot many flowers to harvest, with only one flower per year per plant.
Pra Ajarn Gorp Chai has added the necessary Prai Ingredients to complete the formula according to the formulas of Necromancy, to inscribe the amulet with Sacred Lanna Agkhara with a spell for attracting business and inflection of Mercy Charm, and Maha Sanaeh Seductive Influence.
You can carry the Amulet in your top pocket, or in your wallet or purse, or place in the cashtill, or above the entrance to your store, to attract lovers, customers, admirers, and to dissolve anger and hatred when encountering enemies.
Pra Ajarn Gorp Chai is`currently flourishing in his Magical Trajectory, and has presented his Devotees with a large range of new amulets of his own making, which preserve and publicise the existence of many rarely seen and in danger of becoming forgotten Wicha of the Ancient Folk of the Northern Lanna Regions of Thailand and surrounding Borders.
This Pha Yant is a 'Serp Dtamnan' item of historical and magical importance. The words 'Serp San Dtamnan', mean that this is an ancient amulet that is in danger of being lost to the modern era, Through its making and renewed explanation of its meanings, the Yoni is not only a Magical Amulet of Ancient Times and Great Power, but also, is an act of preservation of Ancient Thai Lanna Animist Occultism.
Pra Ajarn Gorp Chai has thus not only brought us an authentic Ancient Sorcery Spell, but has preserved the Wicha for many future Generations, by reviving true knowledge of its existence, uses and meanings, and methods of making, for the preservation of this truly inimitable spell of the Lanna Magical Arts.
Kata Bucha Yoni Mae Nuea Horm
Om Yoni Yona Leungka Idti Ileungka Yo Na Yee I Dti Bpi I-I
Chant 12 Times
There are many different ancient Kata in existence for the invocation of Metta / Maha Sanaeh in the Practice of Thai Buddha Magic. Incantation is one of the base elements of Magical Empowerment, and serves many purposes from calling upon Devas and Spirits to assist, up to invoking the strengths or qualities of a particular animal or element to assist in ones desired results.
You can use any or all of the below Kata for various purposes with the Yoni
Kata Maha Sanaeh
Janto Apagandtaro Bpidti Bpiyo Taewa Manussaanang Idthiyo Bpuriso Ma A U U Ma A Iswaasu Igawidti
Chant three times and blow into the Pha Yant,
Kata Jai Awn (Heart Softener Kata for Mercy)
Bpanjamang Sirasang Khaadtang Na Ot Jai Na Gaaro Hodti Sampawo Dtiiwaana Na Gaarang Bpanja Sampawang
Use this Kata when needing to Plead with your Debtors, or other similar situations where you need Mercy charm.
Kata Jao Nai Metta (mercy from your Boss)
Bpanjamang Sirasankhaadtang Naahaaya Na Gaaro Hodti Sampawo Iswaasu
You can chant this into holy water, face powder or perfume and use it before meeting with your Employer or Superiors, to make then feel favorably towards You.
Kata Metta Mahaniyom
Na Maedtaa Mo Garunaa Put Bpranii Taa Yin dee Ya Aen Duu Sappa Sittimang Biyang Ma Ma
Chant into your holy water, perfume, face powders and apply to your skin. Or Chant and blow into Yantra cloths or amulets.
Kata Samak Ngaan (Applying for getting a Job Spell)
Puttassaahang Niyaataemi Sariran Chiwidtan Jidtang Namo Midtaa Manussaa Ja Na Maedtaa Mo Garunaa
Kata Jerajaa (Discussion and Conference Enchantment)
Na Mo Puttaaya Ma A U Yataa Put Mo Na U A A Iswaasu Sappatassa A Sang Wi Su Lo Bu Sa Pu Pa
Use before going into discussion, conference or interviews, court cases etc.
Alternative Version for Merchants, Salesmen and Shop Owners
Puttang Pahuu Chanaanang Aehi Jidtang Aehi manussaanang Aehi Laapang Aehi Maedtaa Chompuu Tiibpae Manussaanang Idthiiyo Bpuriso Jidtang Pantang Aehi
The Yoni is empowered with insertion of the Takrut Hua Jai Pran Hunter Spell, for calling and catching customers, lovers, helpers or admirers. You can hence use the Kata Hua Jai Pran to invoke within the Yoni for additional entrapment power.
Kata Pran Bun
Om Namaa Mee Maa Na Nae Nu Ni Na Swaaha Swaahome
Chant the Kata three times, either out loud, or if you are out and about, can chant it silently within the heart and mind, when calling customers or admirers.
Kata Kaa Khaay Dee (Good Sales)
Om Idtiputtassa Suwannang Waarach-Chakang Waamanii Waawadt-Dtang Waa Pappayanla Aehi Kaakachwandti
Use to chant and blow over your wares, or chant into prayer water and sprinkle on your wares in the store.
Pra Ajarn Gorp Chai has put many hours of work into inscribing and spellbinding each single amulet with his own hand, with constant empowerment through incantation and willful meditative intent, These amulets are made with exactly the same hand made applied methods as used by the ancient Lanna Folk.
Pra Ajarn Gorp Chai is continuing the Wicha and Traditional Amulet making of the Great Kroo Ba Ajarn; Luang Phu Kroo Ba Ban, the ex Abbot of Wat Mae Ya temple. He is proficient in the Wicha of Lanna Amulet making and in addition, a Master of Kata Akom and Agkhara Lanna Magical Script, and Sak Yant Thai Temple Tattoos.
Pra Ajarn Gorp Chai is a lineage master of Wat Mae Ya, following in the tradition of his Kroo Ba Ajarn, Luang Phu Thin (Current Abbot) and the Great Luang Phu Kroo Ba Ban, Wat Mae Ya is the temple of the Late and Great Arya Sangha (said by his devotees to have attained Arahantship) 'Luang Phu Ban'.
He is continuing the Wicha and Traditional Amulet making of the Great Kroo Ba Ajarn; Luang Phu Kroo Ba Ban, the ex Abbot of Wat Mae Ya temple. He is proficient in the Wicha of Lanna Amulet making and in addition, a Master of Kata Akom and Agkhara Lanna Magical Script, and Sak Yant Thai Temple Tattoos.