Thailand Amulets Newsletter for April takes a look at the latest amulets added during March, and April 2013, with some news of the arrival of the Long Awaited Jao Sua Sethee Yai's arrival, after a long delayed wait.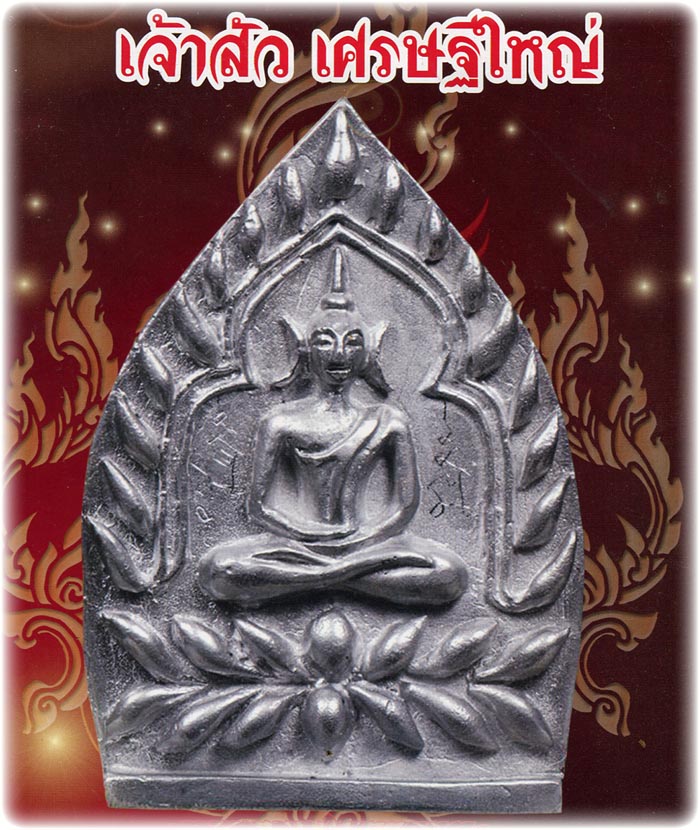 The new series of Master Class Amulets from Luang Por Jerd of Suan Badibat Tam Po Sethee in Nakorn Pathom is as impressive as the last edition of lockets, Taw Waes Suwan and Wua Tanu amulets, which also featured the amazing insertion of 108 Takrut, 56 Takrut, or 28 Takrut spells within a Muan Sarn base of Ya Wasana Jinda Manee paste.
Above; Pra Jao Sua Sethee Yai – Nuea Pong Wan Pasom Ya Wasana Jinda Manee with 28 solid silver Takrut Pra Putta Jao (28 syllables of the heart mantra of the 28 Buddhas). Three different 'Pim' (models) were issued in Sacred Powders, featuring 28 Takrut Pra Putta Jao, 56 Takrut pra Puttakun, or 108 Takrut Pra Radtana Dtrai. All 3 models have a Takrut Hua Jai Sethee Yai Millionaire spell inserted.
This edition from Luang Por Jerd follows this formula and presents us with the largest Jumbo size Jao Sua amulets we have ever seen. The 'Rian Jao Sua Sethee Yai' Ongk Kroo Jumbo Masterpiece amulets are made in a vast array of models in differing Sacred Metals Sacred Powders. The rear faces have a Pra Sethee Navagote Buddha as a Loi Ongk statuette holding a sacred rice grain inserted, and a mass of 108 Takrut inserted, along with other Sacred Muan Sarn ingredients.
Above; The Pra Sethee Navagote –  also released as a Loi Ongk Statuette Amulet in this same edition.
There were also some standard size 'Jao Sua Boran Baeb Mee Huang' ancient style amulets made without Ya Wasana Jinda Manee filling on rear face, and inscribed Yantra on the metal rear face instead, without Takrut inserts. These versions were made with the olden days style metal hoop ring attached to them.
The Jao Sua Sethee Yai Multimillionaire Edition is extra special in both its Sacred Powder versions and the Metallic versions, for their ingredients. The Sacred Powder models are made from the finest Ya Wasana Jinda Manee Powders from the lineage of Luang Phu Bun, Perm, Juea, and Sanya (Kong) of Wat Klang Bang Gaew, the best and most powerful Ya Wasana Jinda Manee in existence.  As for the Metallic versions, its Chanuan Muan Sarn content, for Luang Por Jerd has been keeping remnants of previous editions of Jao Sua amulets right back to the very first edition, and has used them in the making of the Sacred Alchemical Chanuan Muan Sarn Alloys to smelt the Jao Sua Amulets with. This is yet another Master Class series of amulets from Luang Por Jerd which we are proud to offer to our esteemed clients and friends.
We recommend this series in the same way that we recommended the Serp Dtamnan Luang Por Noi edition from this Great Master. It can be seen that the Thai Amulet community and the Buddhist devoteee in Thailand is recognizing the merits of Luang Por Jerd ever more, and his amulets are now amongst the most highly collected and fast depleting of all modern Buddhist Guru Monk amulets.  A great Master of diligent practice, quality made amulets, Sacred Chanuan Muan Sarn, and on the Ongk Kroo versions, Hand inscription during the ceremony by Luang Por Jerd, writing Khom Agkhara around the edges of the metal Jumbo Ongk Kroo Jao Sua Amulets.
The standard size models had no Sacred Powder filling or Takrut but had Inscriptions on the rear face, and an olden says style pendant hoop attached as one piece.
This edition is being written up and will be published in the coming days as we add all the amulets of this edition to the store.  Also now arrived in store are the 125th Anniversary edition Luang Phu To remembrance memorial nostalgia amulets from Wat Tham Singto Tong, and are a most eminent and high quality series of Master Class amulets made by the direct Lineage Looksit of LP To and using the original Sacred Muan Sarn of his original Pid Ta Amulets. Another extremely recommended edition for its small number edition series coins and pid ta, and the extremely fine quality build, and empowerment faithful to original method.
Pra Yord Tong 2554 BE 2nd Edition Amulets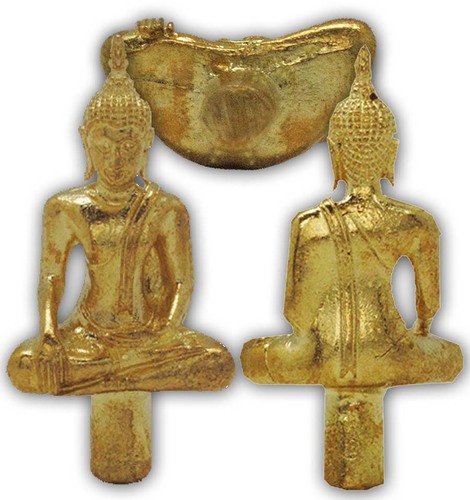 To complement this months new additions is the Pra Yord Tong 9 Blessings 2nd Edition Amulet series from the Temple of the Dawn, which was released in 2554 BE. The edition was called 'Gao Maha Mongkol', and is a classic edition which we were delighted to find some remaining examples of to provide and showcase to you in the store. Gao Mongkol' means 9 Auspicious Blessings.
In the The year 2554 the Temple of the Dawn released the Gao Maha Mongkol edition, with a long awaited continuation of the Dtamra Pra Somdej Kaiser. The Pra Somdej Kaiser is a Classic Somdej Amulet which has been famous ever since His Majesty King Rama 5 reputedly gave one to the Kaiser of Germany. The edition was spearheaded by this, the second ever issue of the Wat Arun Pra Yord Tong Loi Ongk Buddha Image statuettes, with a superb boxed 2-set of Pra Somdej amulets, as the official flying colors of the edition.
Above; Pra Somdej Gai Ser – Wat Arun 2554 BE – Classic Thai Buddhist Amulets from the Temple of the Dawn. The Somdej Gai Ser was issued in small, large and jumbo sizes.
In addition to these, there were also a series of 3 amulet box sets of Pra Nang Paya Sacred Powder Benjapakee amulets released, using powders from the Ancient Kru hiding chamber of the Pra Nang Paya Gru Gao in red, white, and black Sacred powders.
Sethee Nang Paya 2556 BE Edition Amulets – Wat Nang Paya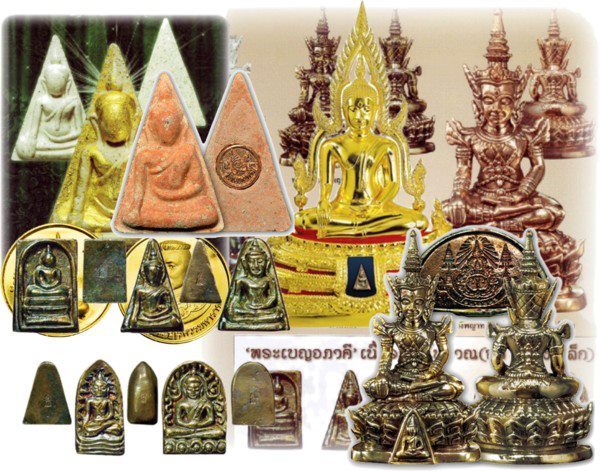 The month of April Thailand Amulets store has also been graced by  a most Classic, Impressive, and Ultra Sacred 2556 Historic Edition of Classic Benjapakee Amulet from Wat Nang Paya Temple – 2013's addition to the History Books, in the Dtamra Pra Nang Paya, and the History of the Benjapakee Family of Thai Sacred Amulets.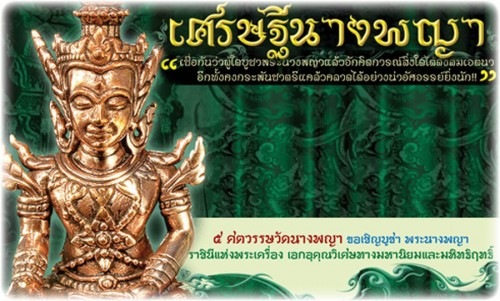 Sethee Nang Paya edition amulets – Wat Nang Paya
All amulets in this edition are now in store and available. Read full documentation of this edition here;
Sethee Yai Nang Paya 2556 BE edition Amulets – Wat Nang Paya
We have also now added a new FREE AMULETS section with special free offers for purchases of differing values, which are given out free to our customers, for you to be able to choose your special extra free gifts in addition to the usual freebies we always hand out with every order, which our customers have come to know as standard procedure. You can now also claim additional special amulets when buying to get the best bargains possible for your money, and have a choice in your free gifts. Some of this months free amulets on offer are;
Pra Somdej Suwattano – Wat Bovornives Voraviharn
Pra Kring Nang Paya Song Krueang Pim Yai (Large) 4 x 2.5 Cm – Nuea Pink Gold Gon Ngern – Sethee Nang Paya 2556 BE Edition – Wat Nang Paya – free with casing for orders over 1000$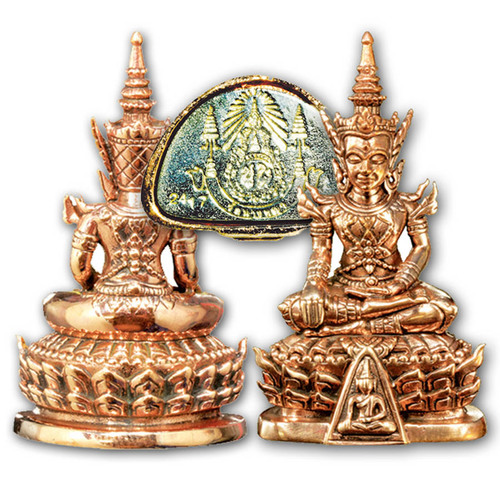 Pra Nang Paya Sethee Yai – Pim Khao Koeng – Free with casing for orders over $82.99 – Nuea Pong Nang Paya Gru Gao – Sethee Nang Paya 2556 BE Edition – Wat Nang Paya

In Koo Saep Som Montr Kamakun Maha Sanaeh – Love, Commerce and Mercy Charm for Ladies and Gay People – Luang Por Wichai Passaro – Free with Casing for any purchase over $120.
Apart from a long list of the vast array of Buddhist Laymaster, and Khmer Sorcery Charms for which you already know us for, but also has various new editions of Classic Thai Buddhist Amulets of high interest for collectors, and great Sacred value as Votive Images. We have now increased our stock of Classic Buddhist Amulets to match our now Immense Quantity of Occult Sorcery Charms. We have added and are about to add so many new amulets, making the store a Veritable treasure trove of the finest Buddhist Amulets & Occult Charms, which we believe is larger than any other online amulet store on the internet. This trend is not about to stop, rather, Thailand Amulets will continue to grow its wide ranging selection, and also keep its policy of trying to maintain as many items available in stock as we can, until the day that no more of each particular edition can be found.
For those who are new subscribers to the amulet blog newsletter, may we remind you that we have a new store with different stock and different Masters on https://buddhistamulet.net, and our classic amulet store which is slowly growing and beginning its life as an online store at www.ancientamulet.com. Please visit to browse our other new growing stores. We hope you enjoy and appreciate reading up on the latest additions. Thank you all for your support and readership.