The first edition of python takruts of Luang Phu In was released in 2552 BE, and due to the immense demand of his looksit (devotees), the first batch soon ran out of stock completely. Since this left many of Luang Phu In's followers empty handed, three years later a second edition of these extraodinary takruts was released in 2554 BE. Soon after the second edition was released, many stories of success were reported by people who had a takrut ngu hlueam of Luang Phu In in their possession. Thus, in 2555 BE, a third edition of the famous takrut ngu hlueam came out. The magical effects of the third edition seem highly similar to the previous two editions; the takruts turn out to be highly effective and very useful for gambling and lottery play, but just as well as for business purposes, and even as a love charm.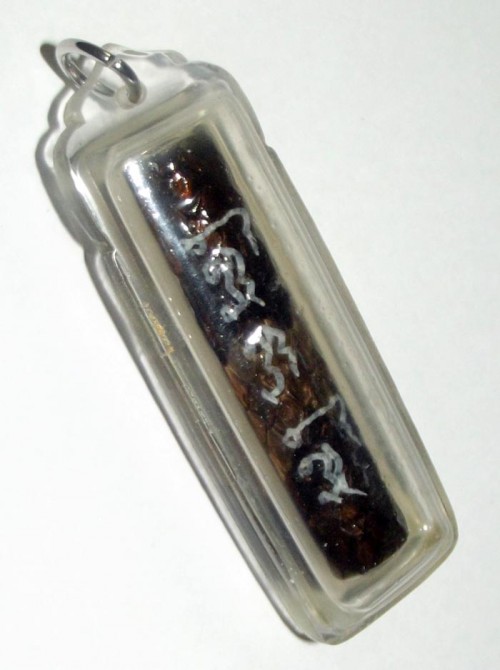 Just like the 2552 BE and 2554 BE editions, the 2555 BE edition python takrut has a double layered leaden scroll spell rolled up inside a piece of genuine python skin. This python skin is inscribed with Angkhara Khom characters resembling Khmer magical spells, and also contains incantations of the kata 'Akarn 32', and 'Taat 4' reanimator spell. And, of course, the takrut is immersed in a highly concentrated dose of prai oils, and then sealed in a plastic waterproof case. The mixture of prai oils used for this particular edition makes the takrut even more powerful due to the high concentration of hluem chae nam man prai, which functions as a potentially strong charm oil.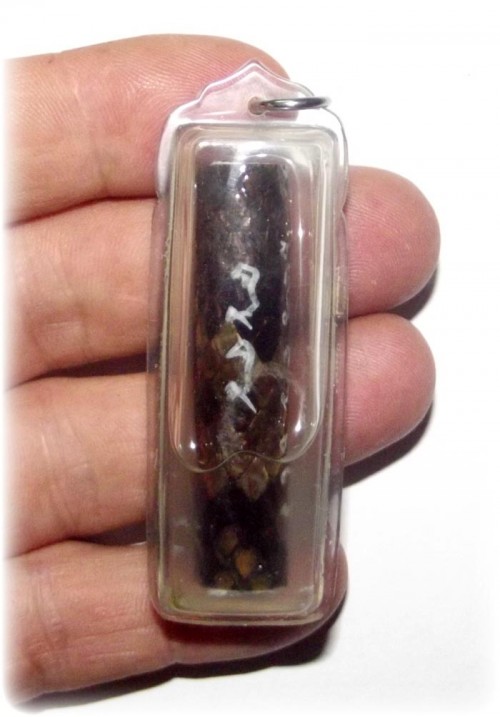 Hence, the takrut immersed in powerful prai oil, emanates positive vibrations of metta, which naturally give rise to people's interest in your presence. This also has to do with the natural magical qualities that are attributed to the python, for it is said that the skin of a python is endowed with aspects of metta mahaniyom and maha sanaeh magic. Yet it also includes klaew klaad evasion magic, since the slippery skin makes it hard for its opponent to keep hold of the python in a fight, whilst the python can also slip through the grip of its opponent, and can thus easily escape any counter attack. Furthermore, the snake's scales form an armoured element for a bulletproof and pierce proof skin, which thus demonstrates the qualities of kong grapan magic inherent within the python's skin. Moreover, the python skin wrapped around Luang Phu In's takrut protects the wearer from poisonous animals, insects, evil spirits, and black magic.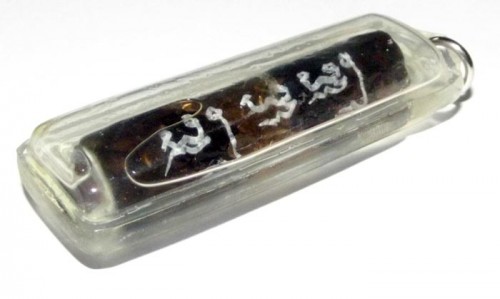 If one was to name which amulet Luang Phu In is most famous for, it would be rather difficult to choose between three or four different types of wicha Luang Phu In has mastered. Mainly because he has indeed proved himself to be a great master of many different wicha, including the paetch payatorn, khun phaen, palad khik hua chamot, hun payont, kumarn tong, and many other amulets. Though when talking about Luang Phu In's best amulets, one should not forget to mention his magical attraction oil, i.e. his famous prai oil. But it can perhaps be said that Luang Phu In's rarest and most sought after amulet is possibly the takrut ngu hlueam (python takrut). The main reason for this is probably the fact that this particular takrut is endowed with many different powers, and is also popular for its success with gamblers, love seekers, salesmen, and even with those who face danger and need protection, such as victims of black magic. However, the takrut ngu hlueam is most of all one of the preferred magical tools of the professional gambler.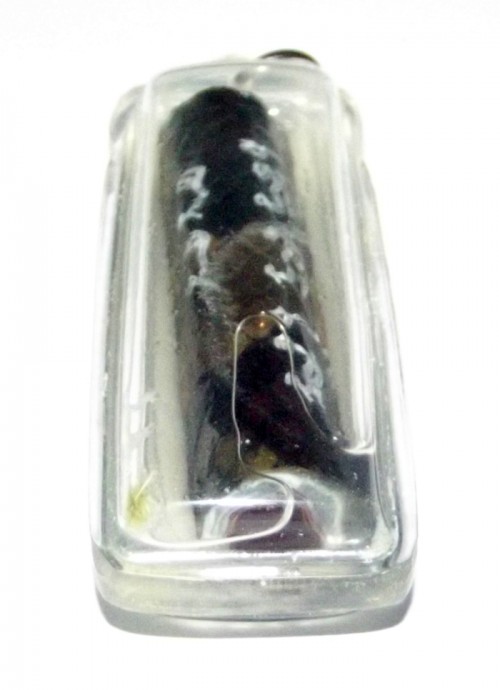 Each takrut differs slightly due to hand inscription.
Kata bucha 'Wattumongkol Nia Kajia Maha Sanaeh' (for all maha sanaeh amulets by Luang Phu In)
Om Nga Om Nga Aehi Bpiyang Ma Ma Maa Maa Chamaa Bpanja Wisu Maedtaa Chamaa Maa Chamaa Mihang Saeto Payaa Ngang Gan Ja.
Maker: Luang Phu In
Magical Effects: Metta mahaniyom, maha pokasap, siang choke, maha sanaeh
Material: Python skin wrapped around leaden yantra foil – immersed in prai oil
Recommended Uses: Gambling, commerce, mercy, attract romance
Number of Amulets Made: 999
Edition: 'Nia Kajia Maha Sanaeh' edition Dtraimas 2555 BE