Some interesting facts about Wat Juk Gacher, and ex abbot Luang Phu Rerm Baramo, as well the other Abbots, and a look at some attractive Pra Khun Phaen 1st edition limited series amulets with meritorious motive of restoring the temple Shrineroom.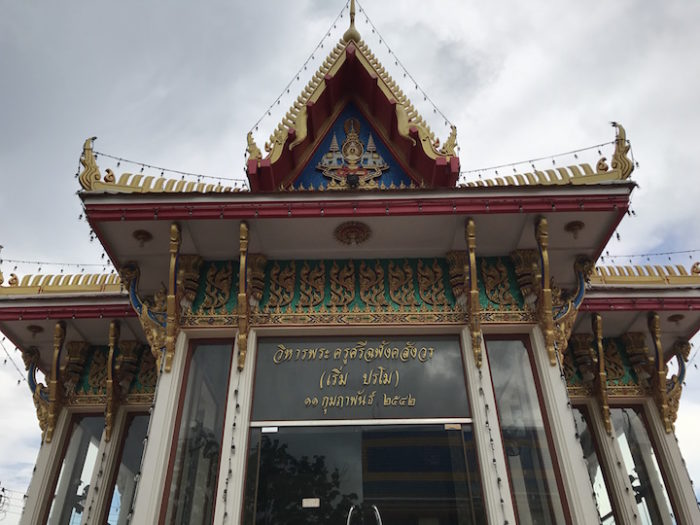 Thailand Amulets' owner Ajarn Spencer Littlewood recently paid a visit to the temple of Wat Juk gacher in Sri Racha, Chonburi Province, to pay reverence to the Great Luang Phu Rerm, deceased ex Abbot of the temple, whose amulets are famed and highly revered around the Nation, and to learn some more about this temple, and the lineage of Abbots up to the present day.
Of course the topic of amulets also came into focus, and Ajarn Spencer supported the temple by obtaining some of their amulets from the 2557 and 2558 BE editions, released by the current Abbot Pra Atigarn Jaleuk (Pra Ajarn Rung).
 Ajarn Spencer entered one of the shrinerooms which had three landscape miniature replicas of the temple of Wat Juk Gacher, documenting the growth and development projects of the temple over the time in which the last 5 abbots lived, including the present Abbot, Pra Atigarn Jaleuk.
Ajarn Spencer made a video of this, along with a spontaneous Narrative, to explain what the models represent, and posted it to his Vlog on Youtube. So here it is to enjoy.
The name of the temple of Wat Juk Gracher, is also the only temple with this name in the country. This is because of an olden days folklore of a place in the forest in what is now known as Bang Lamung (Chonburi), there was a place where woodcutters and hunters and other people who lived in the forests would have some huts, which was known as 'Juk Gacher'. The word 'Gacher' comes from ancient Khmer, and means 'Tree'.
There is something about the temple of Wat Juk Gacher, that is told by the faithful devotees of Luang Por Rerm, which is indicative of Luang Por Rerm's great purity of practice as a Monk, which recodrs that all of the abbots who stayed at Wat Juk Gacher before Luang Por Rerm, disrobed and left the Sangha.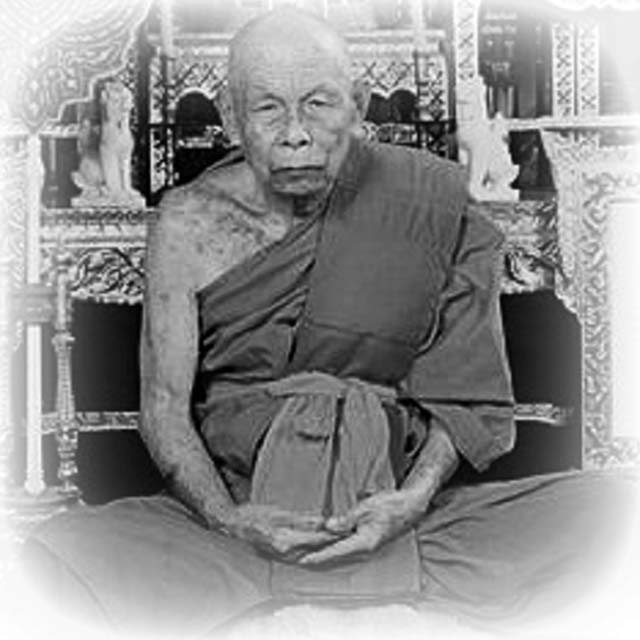 It is said by believers, that only Luang Por Tong the original developer of the temple, Luang Por Khan and LP Rerm did not disrobe. Only Luang Por Rerm and Luang Por Khan and the succeeding Abbots remained until their deaths at the temple, but none of the preceding Abbots. The reason is said to be that the temple was built in a very haunted and wild area of forest, and that only a monk who was able to keep a high practice of purity would be able to survive the temple without disrobing.

Apart from the above video, Ajarn Spencer also brought us a selection of the amulets he had obtained with a donation to the temple, which we will be adding to store in the next days, and also are currently handing some out as free gifts to customers with their regular orders, which is something existing customers know we do with all orders (send something for free).
Below; Pra Khun Phaen Metta Prai Kumarn First Edition Uposatha Restoration Fund Limited Series with Kring Bead insert and copper limited series code stamp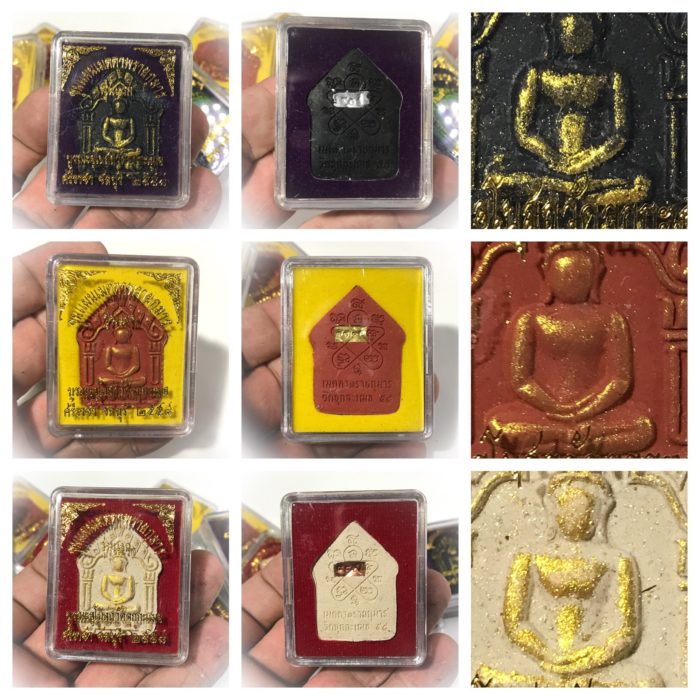 Here are some Pictures of some of the amulets we have received for distribution to you, which include Pra Khun Phaen Metta Prai Kumarn amulets made and blessed by Chonburi Gaeji Ajarn Master Monks of the Luang Phu Tim Lineage, some Lockets of Luang Por Rung, and some Monk Coins bearing the image of Luang Phu Tim, which are of high quality casting and continue the Dtamra of Luang Phu Rerm's amulet designs, which received excellent Blessing Ceremony, and National news Coverage.
Modern Collectors Classics for the Chonburi Province Amulet Pantheon Collector; Many aficionados collect by regional areas, Chonburi and Rayong Provinces being amongst the most preferred Regions for master-Class Amulets.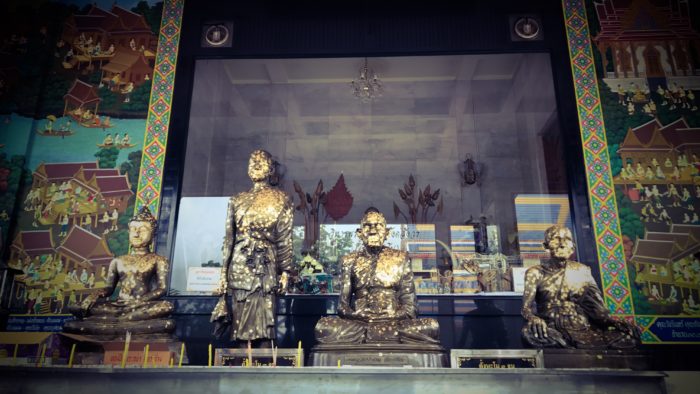 This is part of the reason we may notice that many of thje great All-Time Masters seem to come from Chonburi or Rayong, such as Luang Phu Rerm, Luang Por Niyom, Luang Phu Tim, Luang Phu Sin, Luang Por Sakorn, Luang Phu Gaew, Jao Khun Sri, Luang Por Ee.



Below; National News Coverage of the 'Run Metta' Edition amulets, to fund the restoration of Uposatha and other Shrinerooms at the temple of Wat Juk Gacher.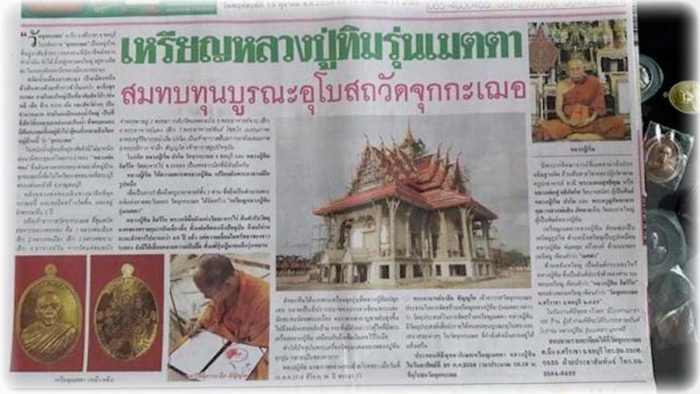 The edition consisted of the first ever edition of Rian Tan Gong Dtueang monk coins created to raise funds to repair and improve the Uposatha Shrineroom, according to the ongoing planned development project of this great temple, which has now spawned four Great Guru Masters as Abbot, for 4 consecutive Generations; Luang Por Khan, Luang Phu Rerm Baramo, Luang Por Sangiam, and Pra Ajarn Rung. Blessed on 7th July 2558 at 15:19 Hours at Wat Juk Gacher.
Pra Atigarn Jaleuk has received and preserved the continuation of the Wicha of Luang Phu Rerm, and is an eminent creator of many 'Pra Anuraks Luang Phu Tim', meaning, the documentary tradition of continuing the making of the image of Luang Phu Tim in the form of amulets which are faithful the the style and tradition of this Master Lineage. The coin amulets of this edition were commissioned to be designed in the image Chang Gong Dtueang, and were made by one of the top Artisans of the Amulet World, which makes them automatic Pra Niyom collector class category amulets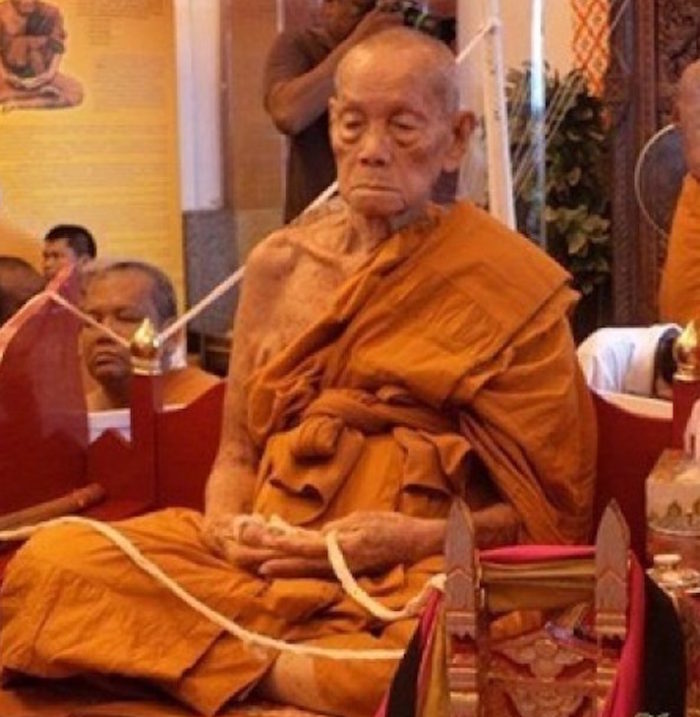 Gaeji Ajarn Present in the Buddha Abhiseka Ceremony were; 1. Tan Gong Dtuean Dtecha Banyo (Presiding Monk – Wat Klong Muang Koh Gong), 2.Luang Phu Khaek (Wat Suntora Pradit), 3. Luang Phu Jer (Wat Khao Ngo Udom Porn). 4. Luang Por Tong, (Wat Pra Puttabat Khao Yai Horm), 5. Luang Por Perm (Wat Bom Gaew), 6. Luang Por Poon (Wat Ban Paen), 7. Luang Por Chan (Wat Bang Bor), Luang Phu Sin (Wat Laharn Yai), and 8. Luang Por Foo (Wat Bang Samak).
Classic Amulets of High sacred Value with a Long Lifetime of ever increasing rarity and esteem. As time passes, they will enter the annals of great editions along with all the other amulets of the Tamniab Pra Niyom Say Chonburi.
Below; a further edition released the same year by Pra Atigarn Jaleuk, in commemoration of the two Great Chonburi Masters, Luang Phu Rerm Baramo (Wat Juk Gacher), and Luang Phu Tim Issarigo (Wat Laharn Rai)