Payont Pray Dtanii Yern Dton Day Kana Awk Plii with Kruea Thao Hlong in Nam Man Prai 'Bucha Kroo 2555' Master Day Blessing Edition – Pra Ajarn Oe Putto Raksa
Pra Ajarn Oe took the husk of a Dtanii Tree (A type of Banana Tree with a Prai Spirit Dwelling within it), that died whilst in flower.
He used the dried leaf and stem husks to make these effigies of Nang Prai Dtanii (the Lady Ghost of the Dtanii tree), and performed Incantations until the Effigies began to twitch and move all of their own accord.
The Effigy is thus a type of 'Payont', which can be asked to perform tasks and watch over things. The Incantations of this Female Prai Spirit are Powerful maha Sanaeh and Metta . The Payont is immersed in a Phial of 'Nam Man Aathan' (A Sacred Oil Empowered with Incantations), and has 'Kruea Thao Wan Hlong' (A Sacred Vine found only in the Deepest parts of the Rain Forest, that is believed to have the power to Enchant and make you forget your Way) – both 'Dtua Phuu' (Male) and 'Dtua Mia' (Female) Vines are immersed in the Prai Oil, making the amulet a powerful Unisex Maha Sanaeh Charm. The addition of both Genders of Sacred Vine also causes the Unified Energy to double or triple through their Consummation Rite within the Phial of Prai Oil. Kruea Thao Hlong is an absolutely rare Magical Plant whose Powers have been the Source of Legends in Thailand for Centuries, and which Thai Sorcerors have used for as long as Living History can Remember.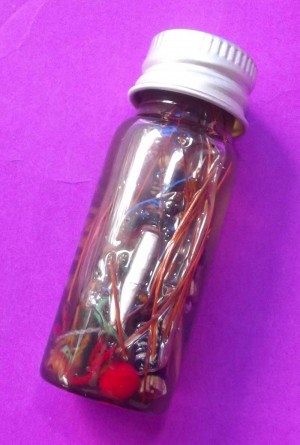 Kata Bucha Prai Dtanii
Om Jijeruni Jidti Jidt-Dtang Susrii Sussang Jidt-Dtang Nang Prai Nang Prai Dtanii Maa Ni Maa Naa Maa Haa Laapaa Mahaa Sanaeh Haa Bpiyang Ma Ma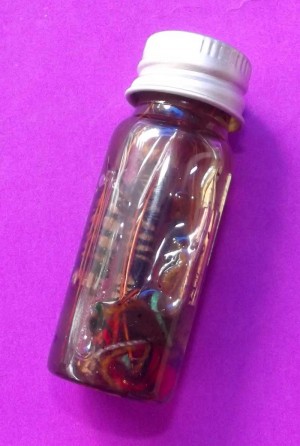 Released in the 2555 'Bucha Kroo' Master Day Edition of Amulets, along with a large array of other amulet, all made in very limited quantities.
Bucha Offerings;
Offer Perfume, Face Powder or Talcum, a Mirror, a Comb.
Make Merit with Alms Giving regularly and offer the Spirit of the Payont a Share of the Fruits of the Merits Made, for increased Effect and Success with your Prai Spirit Amulet.
How to Bucha
When you bring the Nang Prai Dtanii into the home, offer some whisky and light one incense stick, then awaken the Nang Prai Dtanii with the following Incantation;
U-U A-A Mahaa Phuudtaa Bpariphuudtae Phuudtiwae Sandti Ma Ma Maa Maa
chant it until it becomes a focused rythm, until you feel you have chanted enough to have awoken the Nang Prai Dtanii.
After the first time, one or three times is enough and make your wish.
Magical Properties of Payont Effigies;
Protect from danger and Guard your belongings
Helps to do business and sell, or get the work in the fields done easily and in time – if usually 5 people take 5 days to finish the job, the Hun Payont will reduce it for example first down to 5 people finished in 4 days, and then slowly improve on that on an exponential rate.
Sales persons will be helped by the Hun Payont to sell very well and in larger quantities, more often.
Karma Swopping – the Hun Payont can act as a Karmic Shield, and take the brint of the Unfortunate events which may befall us due to Astrol;ogical Influences or Karmic Activity.
You do not need to perform the Ritual of 'Pluk Hun Payont' yourself when adding it to your household membership as in the case of many Hun Payont amulets. Simply take the Hun Payont, and pray to it with flowers, one white candle, and 16 sticks of incense, and offer a little bit of money to the Deva inhabiting the Hun Payont (you can use the same money later to give to the Sangha, a temple or your preferred religious cause or way of making Merits, and offer those Merits to the Deva within the Hun Payont). However much money (to later donate alms to the Sangha with) you offer, is relative to how powerful and effective the Hun Payont will be. The Hun Payont can be used for Gambling too, to assist in winning hands and to stop cheaters from seeing or knowing your game.
Hun Payont as Magical Protection
The Hun Payont is a very powerful protection against black magic (as is the Wua Tanu, and Bia Gae), for it is constantly on Guard against invading Marauders, and that includes those of the Magical variety or those in the Spirit World. The Hun payont can be Hung in the House, Car, key-Ring, On the Altar, or even used in a group of four, eight or ten soldiersa to bury in the cardinal points of the ground on your home, or in the corners of your house.
Hun Payont as a Ritual Instrument
It can be used in Ritual Ceremony and Spell casting to make prayer water or assist in empowering various other objects. It is also a nice item to wrap up together with other amulets to make your own spell combinations to fit your needs, and carry with you or wirship on the altar to improve all conditions in Life.
Worshipping and Chants for Hun Payont.
The Hun payont is worshipped in a very similar fashion to the Mae Takian, Kumarn Tong, Hoeng Prai, In, and Rak Yom devas. All of these Devas are essentially Prai Spirits, and thus must be offered food and drink once in a while.
Kata and Bucha method for Hun Payont or Mae Takian Deities