Pra Somdej Nang Kwak-Nang Paya Ongk Kroo Masterpiece Version 4 Gold Takrut, Ploi Sek Maha Pokasap Precious Gemstones, Gaesa (hair of Kroo Ba Krissana Intawano), and of course, Kroo Ba Krissana Intawano's famous Pong Kammathana Muan Sarn Sacred Powders, The finest grade in highest concentration in this special, top of the range, masterpiece series model sacred amulet of excellence.
Three gold Takrut are visible on the outer surface (two on the front face, and one on the rear face), and as is the case with all sacred powder amulets from this Master, one further Takrut is hidden within the interior of the amulet.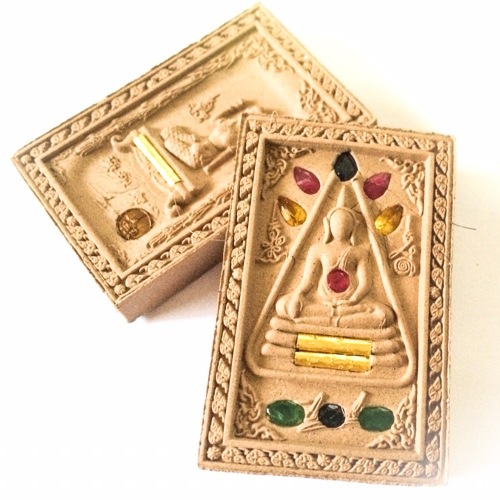 Once again from the adept master Kruba Krissana himself comes a well acclaimed and very easily recognizable superb edition of holy amulets in the year 2556 BE.
The objectives of Kruba Krissana Intawanoh's 2556 BE edition include using the funds received, to donate to the commemoration of religious holy places and temples in and around Buriram, and to produce interest and build practice, in the Buddha Dhamma.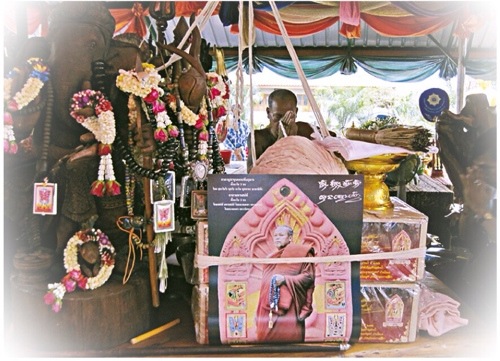 The sacred Muan Sarn powders, were amassed together for the great Puttapisek ceremony, and under masterful eyes to ensure that the ritual followed exactly as prescribed by ancient Dtamra of Sorcery, according to the Kroo Ba Ajarn and Lineage Masters of Kroo Ba Krissana Intawano.
A whole trimester (3 months) of daily empowerments were performed during the rainy retreat, and an additional six days of solid solitary meditative contemplation to empower the amulets with extra special powers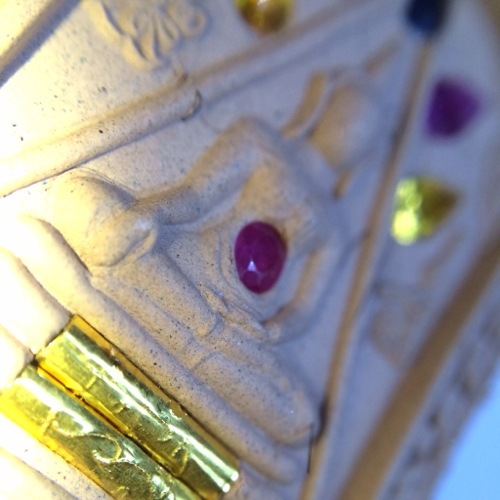 This Nang Kwak Pra Somdej combination is a most auspicious and powerful amulet created by Kruba Krissana for calling to millionaire riches as well as all general blessings of the most infamous Pra Somdej style amulet.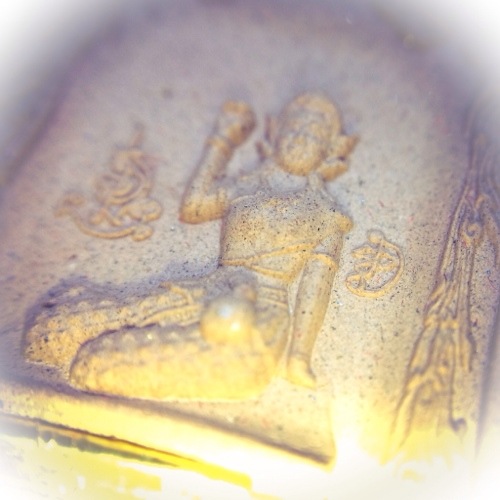 The amulet is entirely Kruba Krissana's sacred powder base with one side imprinted with the Nang Kwak deity surrounded by holy angelic yantra specific to Kruba Krissana's style and his imprinted signature rests in the base of the amulet. A sacred metal 'Rian' coin is inserted into the Muan Sarn base between Nang Kwak and a highly decorative Thai style floral border.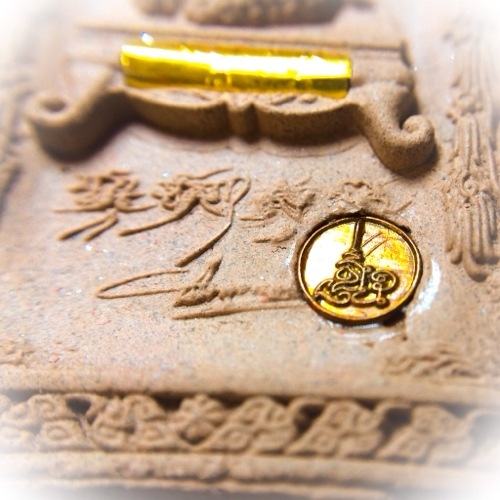 Nang Kwak is a benevolent spirit. She is deemed to bring luck, especially in the form of money, to the household. She is the patron Deity of all Merchants and Salesmen and can be seen in almost every business establishment in Thailand.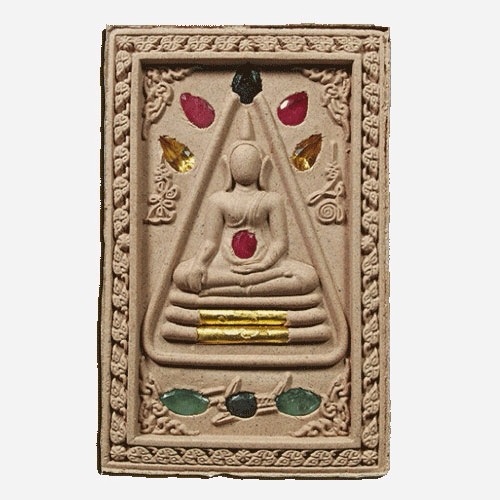 The Pra Somdej side displays the iconic image of the infamous Pra Somdej gilded in gold leaf with a silver takrut inserted into the Muan Sarn sacred powders along with 3 white Ploi Sek sacred enchanted gems sitting at the base of the Pra Somdej image.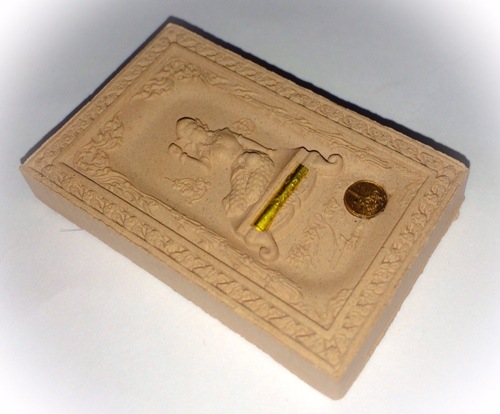 This side as well displays Kruba Krissana's signature and the amulet is surrounded again by a highly intricate Thai floral border.
The following amulets were released in the 2556 BE edition:
1. Sampao Takrut Ngern Koo Fang Ploi ( Sea fairing military ship with double silver Takrut and Blessed Gems)
2. See Pheung Khun Phaen Metta Mahinyom Kaa Kaai ( Holy balm of Khun Phaen of charm and compassion with great business and trades)
3. Taep Bin Takrut Ngern Koo Fang Ploi ( Thep Jamlang Angel with Silver Takrut and Blessed Ploi Sek gems)
4. Taep Faa Din paint See Daeng Lang Fang Rian Narai (Red Earth and Sky angel with Pra Narai Coin inbedded)
5. Taep Faa Din paint See Kieow Lang Fang Rian Narai ( Green Earth and Sky angel with Pra Narai Imbedded)
6. Sian Phu Lersi Fang Rae Sak Sit Neua Pong Pii Kun ( Head of the Lersi Ascetic Sage with sacred powders of Pikun and sacred gems imbedded)
7. Taep Bin Jiw miniature size King butterfly amulet with gemstone and Takrut inserts. This amulet is absolutely recommendable for ladies and children, due to its small size and delicate design features
8. Khun Phaen Kumarn Taep Fang Ploi Takrut (Khun Phaen's Golden Angel Child with Plio Sek Gems and Takrut)
9. Nang Kwak Kum Sap Maha Sethee Neua Pong Pikun (Nang Gwak calling to millionare riches in sacred powders)
10. Nang Kwak Paya Kum Sap Maha Sethee Neua Pong Itthi Jay See Kao (Nang Kwak calling to millionare riches with white Itthi Jay sacred powders)
11. Nang Kwak Paya Kum Sap Maha Sathee Neua Pong Mai Paya Ngiw Dam ( Nang Kwak Calling to Millionare riches made from the wood of the holy Ngiw Dam tree)
12. Nang Kwak Paya Kum Sap Maha Sethee Fang Rae Sak Sit Bpit Tong Naa Somdej (Nang Kwak callig to millionare riches in sacred powder, and gilted in gold leaf, with Pra Somdej on other face).
13. Nang Kwak Paya Kum Sap Maha Sethee Takrut Tong Kam (Nang Kwak calling to Millionare riches in sacred powders with golden takrut)
Pra Somdej Kwak Nang Paya Ongk Kroo Masterpiece Version 4 Gold Takrut from Thailand Amulets on Vimeo.
The practice of praying to Nang Kwak was adopted by the Thais as Buddhism and the Brahmin faith came to Thailand, and is as proliferant today as it ever was in ancient times! The Brahmins, who are practitioners of Kata in a very big way, brought the statues of Nang Kwak here with them, changing the posture of the statue from that of a lady sitting on a cart, to that of a lady sitting in a shop waving to beckon customers.
First of all before anybody, the Brahmins used it for their own business, but when they saw that people in Thailand believed in the powers of Nang Kwak, they began to make the statues here too, chanting and invoking the kata and blessing the statues to sell to other Thai Merchants for making Bucha.
Nang Supawadee then received her new and more commonly know name, due to her sitting and waving position in the new statue form "Nang Kwak" (waving lady – Kwak means to wave and beckon with the hand).
How to Revere Nang Gwak
To Bucha Nang Gwak, One should use 5 incense sticks and offer flowers (preferably jasmine), red syrup drink ('Nam Daeng'). Some water, and also some sweets and rice as offerings.
Light the incense, candles, and offer the flowers and drinks. Then Say "Namo Dtassa Pakawadto Arahadto Sammaa Samputtassa" 3 times, and bow three times to Buddha before you begin chanting Kata Nang Gwak.
Kata Nang Gwak
Om Sri Vichai Gangwian
Phu Jao Khao Khiaw Mii Luuk Kon Diaw Cheu Nang Gwak
Chai Hen Chai Rak Hying Hen Hying Tak
Tak Tuan Hnaa Puak Paanichaa Paa Guu Bpai Kaa Terng Mueang Maen
Guu Ja Bpai Kaa Hua Hwaen Gor Dai Wan La Saen Tanaan
Guu Ja Kaa Saarapadgarn Gor Dai Doey Klong
Guu Ja Kaa Tong Mua Rai, Gor Dai Dtem Haab Piang Wan Nii Bpen Rooy
Saam Haab Ma Ruean Saam Duean Bpen Sethee Saam Bpii Bpen Por Kaa Sampao
Pra Rasii Puu Bpen Jao Bprasit Hai Gae Luuk Kon Diaw Swaaha.
Use this Kata when you are going to sell things, or in your place of business in the morning. Here is a slow and clear pronunciation of the above text, exactly as it is written;