Jing Jok Sorng Hang (2 tailed Gecko) for good sales and improved love life – Pra Ajarn Bpum – Wat Sala Daeng (casing included)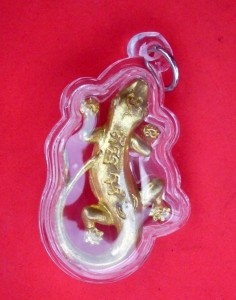 Click Here to view the amulet in the store >>>
Made using the Dtamra Luang Phu Hnay (Wat Ban Jaeng) – Sak Yant Grand Master of the foregoing Generation, and a Kroo Ba Ajarn of Ajarn Bpum. Luang Phu Hnay was famous for his Gecko amulets and sak yant tattoos (as is Ajarn Bpum too, his antecessor). Waterproof casing included in the price
The Geckos were made from Sacred Chanuan Muan Sarn (sacred metals and substances). Sacred metal Yant foils were made to smelt into the Geckos; Yant Choke Laap Kaa Khaay, Yant Sariga Lin Tong and other Yant for Metta Mahaniyom and Maha Sanaeh. The Jing Jok is a powerful attraction agent for love andd social climbing, and also one of the best amulets for merchants and shopkeepers.
Popular with Ladies, Salesmen and even stock market speculators. Increases powers of attraction for love and business, aids in getting promotion and improves your oratory skills in influencing others.
Watch Video of Ajarn Bpums Wai Kroo ceremony 2011.

View all of our Gecko amulets in the below section
---