Rian Chalu Pra Putta Sotorn (Luang Por Sotorn) Pim Yai – Nava + Pink Gold – Putta Pisek Blessing in the Uposadha of Wat Sotaworaram Worawiharn (Wat LP Sotorn) 5/5/2555 BE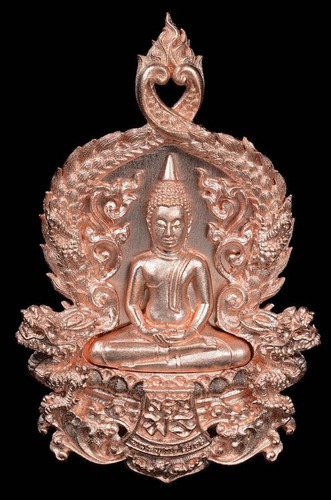 Rian Chalu Luang Por Sotorn – Wat Sotaworaram Worawiharn 999 Limited Edition Coins Made in Nava Loha and coated in Italian Pink Gold. Made from Nuea Nava Loha (Nine Sacred Metals smelted from sacred artifacts). Blessed in a Massive and Official Putta Pisek (Buddha Abhiseka) Ceremony at Wat Luang Por Sotorn, with a host of the Greatest Master Guru Monks present to assist in the empowerments. This special Pink Gold edition was sponsored and created by the Chom Rom Puttakun Siam. The amulets have been specifically empowered and blessed to reduce bad luck and increase prosperity for the Year of the Dragon. This Special Pim is made from Nava Loha (Nine Sacred Metals) base with a Luxurious Italian Pink Gold Covering, and is one of the Various Luxury versions of the Nava Loha type amulets of this Edition. In Nava Loha were also made with silver or gold Buddha Image. The Top of the whole Range was of course the Solid Gold, and the Silver/Gold and Silver Ya Rachawadee versions. The Coins were made in Pim Lek (small) and Pim Yai (large) – This is the large Pim Yai.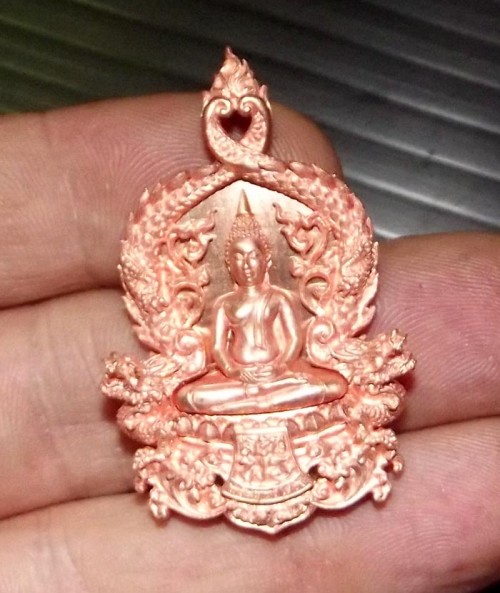 These coins were made in various Luxury Materials, all in extreme limited edition. Luang Por Sotorn Buddha amulets are always snapped up and sell out in a very small time period in Thailand and abroad.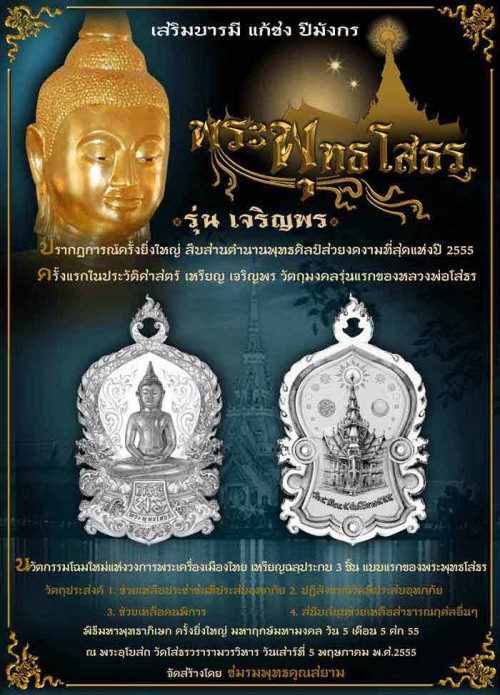 the Luang Por Sotorn Coin amulet is one of the most collected and revered Buddhist amulets of all Time, with its own inner circle of collectors and fan clubs. This 'Run Jaroen Porn' edition for 2555 BE is perhaps the most beautiful and intricately designed edition ever to be released, and has recieved immense interest to the point where this edition already became almost impossible to find any coins left on the market, a mere couple of months after the Putta Pisek empowerment blessing Ceremony.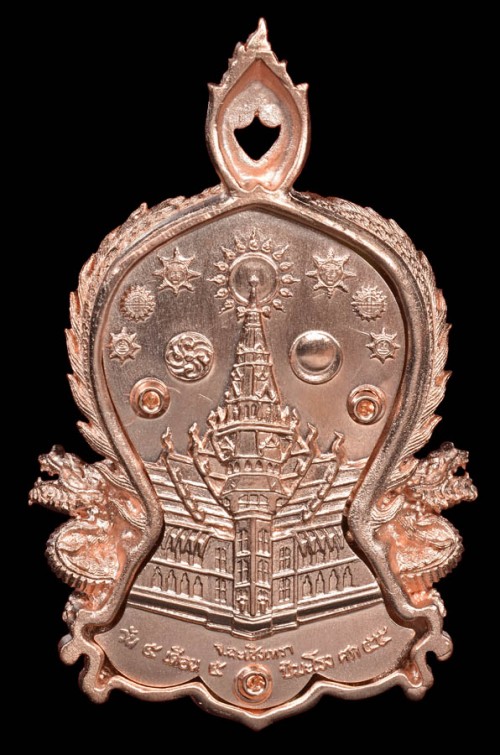 Chanuan Muan sarn (sacred Metals used for the smelting) also included;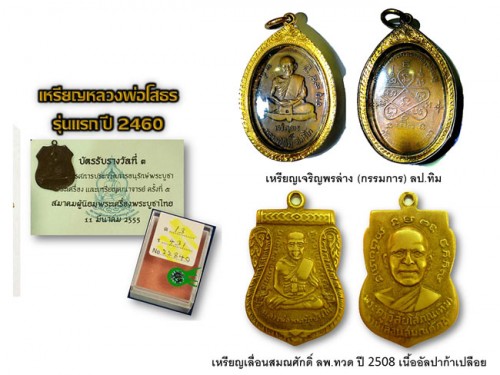 Rian Luang Por Sotorn Run Raek (2460 (first edition LP Sotorn coins from over 90 years ago)
Rian Jaroen Porn Luang Phu Tim (Wat Laharn Rai).
Rian Sema Luan Samonasak Luang Phu Tuad 2508
All Coins which had Ya Rachawadee Enamel had Belgian Diamond on the surface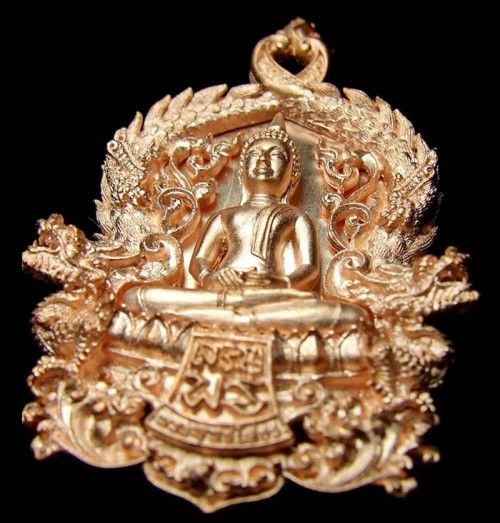 The Rian Chalu is a three pieces Luxury Coin Amulet which was originated from a ground breaking edition by Luang Por Koon some years ago. This edition was the first edition to use three separately engineered pieces and fuse them together into one single amulet. When Luang Por Koon released this new kind of modern and more intricately fashioned piece of Minature Buddhist Art in the form of a high quality extremely finely engineered Monk Coin, the Amulet Community in the Coin section was turned completely on its head.
Never before have collectors of Ancient Coin amulets been seen to show so much interest in a New Era amulet, and the prices of New Coin amulets finally overtook the prices of their older ancestors. This arose due to the fact that the new high levels of quality and crafstmanship, and the existence of new kinds of precious metals and other forms of luxury embellishment are more in the present day than they were in the olden times.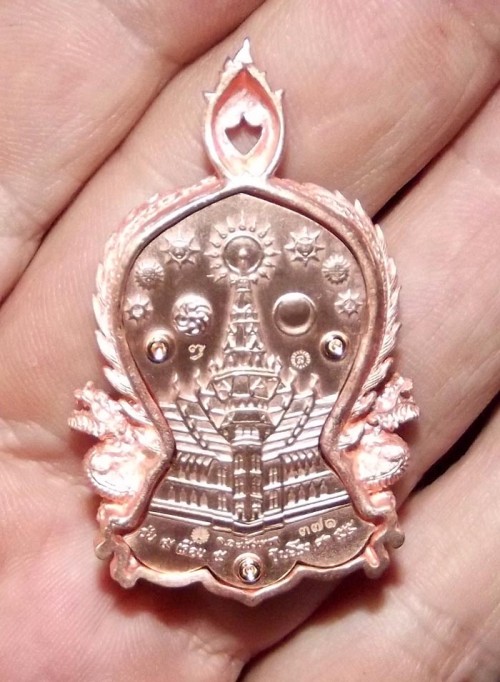 For the first time in amulet history, New Era coins have taken first place in popularity as far as high end luxury amulets and fine Miniature Buddhist Art collection goes. Of course, those who revere the old Masters will always find great value in the Ancient Coins, which although more simple and less visually attractive, have a different Spiritual and Collector scene value.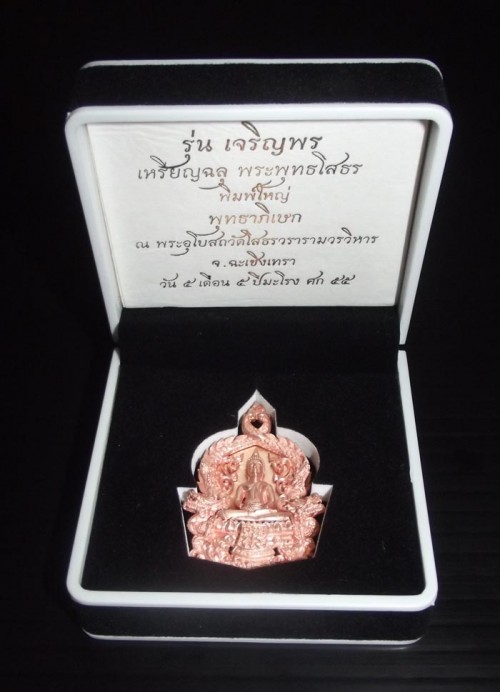 Comes in Original Box from the Temple.
For collectors of fine quality Buddhist Coin Amulets, The Devotee of Luang Por Sotorn, and those who see a Fine and Distinguished Buddha Image to wear that stands out in both design and Sacred Value, the Luang Por Sotorn Ba Chalu Run Jaroen Porn is definitely a most recommended choice. Its Sacred Miracle Power is Unquestioned by those who Believe in this Buddha, and miracle stories of lifesaving events and Miracle Riches have been plentiful over the last Century, making this one of the famous Miracle Sacred Buddhas of Thailand, and one of the most Famous Buddha Images of all time.
The Coins have trademarks of authenticity hidden in the design features to prevent easy forgery, which we can see in this Pink Gold version in the below picture.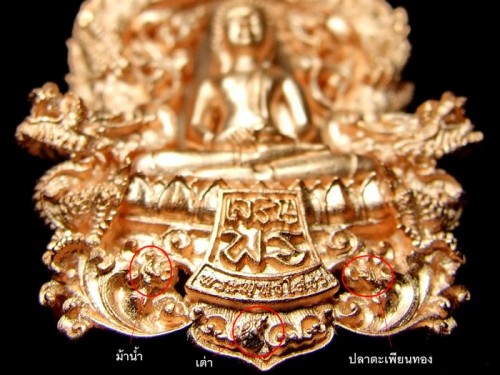 Bottom left; Sea Horse, center bottom; Turtle, bottom right; Gold Fish
The fine details of the Masterfully Crafted Design on the face of the amulet is absolutely Incredible. A True Masterpiece of Fine Miniature Buddhist Sacred Arts, and a True Collectors Piece which will only Increase in Value as time passes.