Ruesi Boroma Kroo Chiwok Gomarapaj (Jivaka) Healing Amulet Blessed by Luang Por Jaran (Wat Ampawan) – Nuea Ngern (Solid Silver) – Doctor Som Hmay – 2553 BE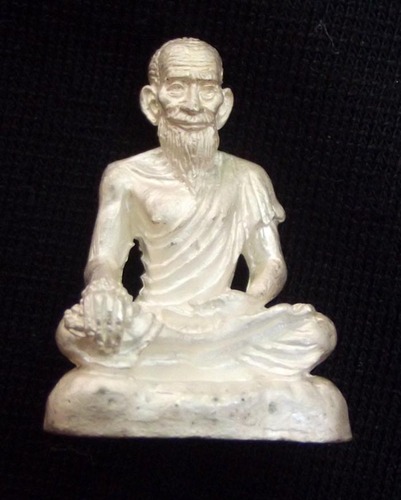 Hmor Chiwok Gomarapaj Healing Amulet, by Hmor Som Hmay Tong Prasert. Made from Solid Silver with Sacred Chanuan Muan Sarn. Ruesi Chiwok, or, Jivaka Rishi, was the Personal Physician of the Lord Buddha, and is the Yogic Guru of all Medicine, Massage and Healing Rishis, as well as the Kroo of the Medical Profession in Thailand. This Silver Version was made in only very small quantities, and is the Ongk Kroo Version.
This amulet is of an extremely small limited edition of Chiwok Ruesi healing amulets made, in commemoration of the creation of the largest Chiwok statue in the world, which was sponsored by Hmor Som Hmay. A rare chance to obtain what is surely to become a rare classic amulet. Healing amulets are less common to find, making this already a rarity by Category alone. This Solid Silver version was the Ongk Kroo, excepting the solid Gold version which sold out by Pre-Order before even the amulets were blessed and released.
Doctor Som Hmay, the Creator of the Amulet, was donated important and sacred Muan Sarn ingredients for the smelting of the statuettes from three of Thailands most important Amulet Collectors and Expert traders; 'Payap Kampant', 'Toy Mueang Nont', and 'Taep Gampaeng'.
The amulets were blessed single handedly by Luang Por Jaran at Wat Ampawan.
Stainless Steel or Waterproof Casing available at an extra cost – use the options at checkout to choose if you wish to include casing or not.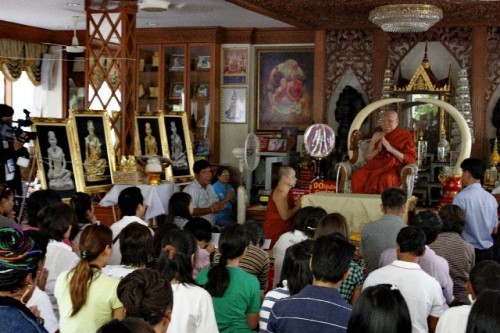 Doctor Som Hmay is a specialist medical Doctor and Spritual healer who opened his Clinic to heal Cancer in Singhburi, and has cured more than 100 patients successfully! This has caused him to become Legendary and recieve the name 'Hmor Tewada' (Angelic Doctor).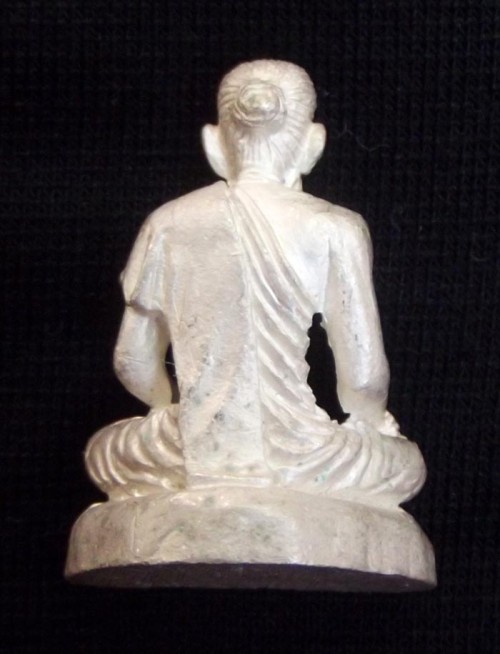 Hmor Som Hmay began experimenting with sacred and natural healing herbs (called 'Samun prai' in Thai) in 2512 BE and completed his testing and experiments in 2520 BE, and left the Civil Service to open his own clinic and began to treat patients with an amalgamation of samun prai natural medicines in conjunction with modern medicines.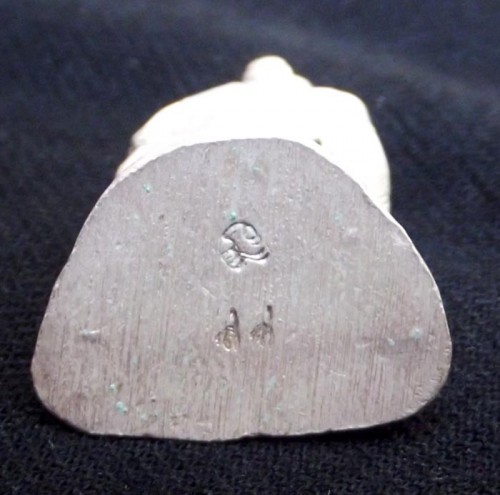 He studied in Julalongkorn University and at Sirirat Hospital, as well as running his own pharmacy until he Graduated in the year 2494 BE, where he entered the Profession in the Surgery Department of Sirirat Hospital.
Apart from studying official Scientific Medicine, he had also spent years studying and researching Samun Prai natral Medicines which may be useful in curing Cancer. This was due to the fact that there were already a host of cures or treatments for most other ailments, but there is still no common cure for Cancer.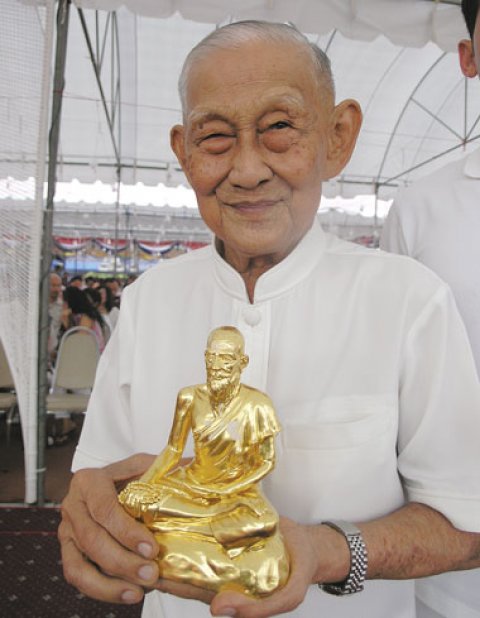 After he founded the blood bank at Sirirat Hospital, he moved to work at the Police Hospital, where he served, until moving back to his home town in Singhburi to help care for his aging Mother, and working at Singhburi Hospital. He also recieves people in his Private Clinic, where he administers a mix of natural and Scientific Medicines.
One of his latest patients comments that, before he came to Hmor Som Hmay, he was only able to eat soup and rice soups, but only shortly after meeting with Hmor Som Hmay, and taking a mixture of two glasses of herbal tea, and a few capsules a day, he is already able to eat again normally, despite his intestinal cancer. He has helped and cured so many people to this day, and what is even mor worthy of respect, is that he has never charged exorbitant prices despite the success of his treatments, and says that he has been a Doctor for over 40 years and has not gone hungry yet, and that the reward he feels from seeing someone helped or cured, remains in his heart as a priceless treasure, and that this is more than enough reward.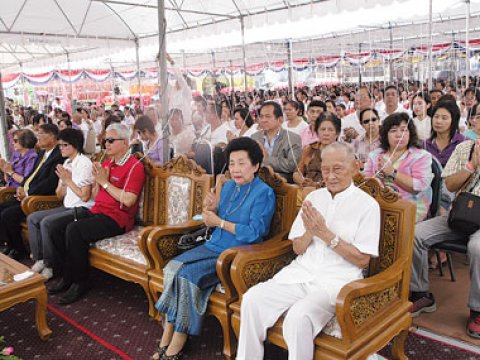 His effective herbal mixture has now been sent to Sirirat Hospital, for them to reproduce and give to their patients, so that his formula will not be lost with his passing. He says he will retire from the Profession at 90, but that he will always be available for Advisory services. "I do not want my Secret Medicine to die with me". He says.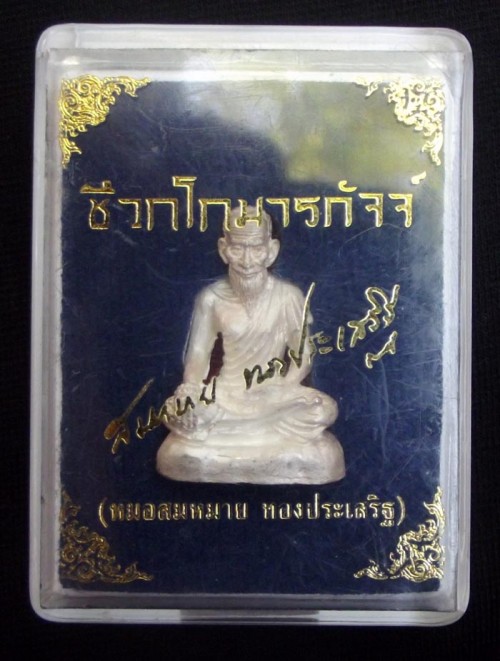 Puttapisek Blessing Ceremony
18th February 2554 (Maka Bucha Day)
09:09 am Taewa Noppakro with a Prahm (Brahman) Ceremony.
12:09 Lighting of the 'Tian Maha Chai' (Victory Candle) by Pra Prohmasutee (Vice Bishop of the 12th Province), from Wat Saket (Temple of the Golden Mount,Bangkok).
12:39 – 'Piti Te Tong' (pouring of the first casting), presided over by Pra Prohmaha Wetee, of Wat Traimit Wityaram (Bangkok).
Luang Por Jaran performs Psychic Empowerments.
16:09 – extinguishing of the Victory Candle, by Somdej Pra Racha Yan Muni, President and Chairman of the Maha Naera samakom, and Abbot of Wat Taep Sirintarawas.
Kata Gamgab (mantra for Chanting and Praying)
Adt Pa Thang Wa Mandt Dtaa Nang O sa Thang Ya Sap Pa Taa
อัต ภะ ถัง ทิพ พะ มนต์ ตา นัง โอ สะ ถัง วิ ยะ สัพ ภะ ทา
Watch scenes of the Blessing Ceremony at Wat Ampawan