Bua Bang Bai is a wicha which first became nationally heard of because of the famous Pha Yant Bua Bang Bai of Luang Por Sawai. Its magical Maha Sanaeh and Kaa Khaay effect has become known to be its greatest power, to attract and convince those who approach, or indeed who you approach, to become enchanted, and buy your story.
The front face of the amulet has the Bang Bua Bai deity enfolded in lotus leaves (bai bua means 'lotus leaf'). Enchantment spells are inscribed around the rim of the locket in ancient Khom Agkhara lettering.
Maker: Ajarn Khwan Chai Intra Paet
Magical Effects: Kaa Khay, Maha Sanaeh, Siang Choke, Metta Mahaniyom
Material: Prai and Herbal Powders, Gemstones, Shell Locket Face
Recommended Uses: Improve Commerce, Charm Others with Speech, Seduction, Gambling
Number of Amulets Made: Very few in each color
Edition: Wai Kroo 2555
Bua Bang Bai is composed of extremely rich and valuable rare ancient Muan Sarn sacred powders, and a large number of magical and sorcerous ingredients.
The rear face is stuffed full with powerful prai powders, which have received mixture with prai oils, and added 'Ploi Sek' (enchanted gemstone fragments), with some other secret ingredients of the most powerful Maha Sanaeh charm power (necromantic).
Sorcerous necromantic powders and fluids of the most ancient and powerful Khmer formulas were used to complete the correct empowerment of the Bua Bang Bai, using the correct herbs and prai powders that are designated and required in the ancient grimoires.
The wicha for making and invoking Bua Bang Bai is a master wicha of great rarity, which is the wicha of Luang Por Sawai's lineage. The wicha is a wicha use by Ajarn Pleng Bun Yern (famous laymaster of the previous generation), and which Ajarn Pleng always said to have been one of the most effective Maha Sanaeh charms.
Use for Commerce, Gambling, and Seduction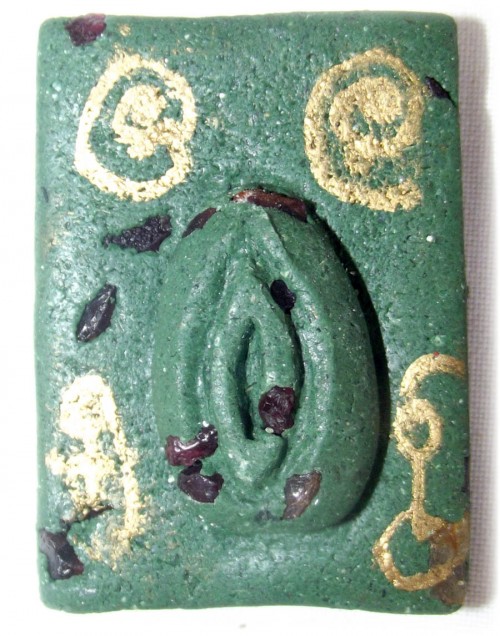 The rear face has a yoni (vulva) the feminine aspect and also the Kali Goddess, and empowered with ploi sek, and hand inscription. The lockets were made in 5 different colored front faces, with only a few numbers of each color being issued.
Kata Bucha Bua Bang Bai
O Dtinno So Taaya Wad-Dta Madt-Dta Ga Ma Ya
Su Su Na Na Raa Cha Dtang Waa Bpup-pPhang Waa Kandang Waa Raa Cha Gu Maa Rii Waa
Raa Cha Gu Maa Ro Waa Id-Thii Yo Waa Taa Ni Yo Waa Aehi Aehi Ka Wa Gam Sae Dti Bpi Su Su Na Na Ima Sa Ming Aa Raa Mae Kae Hae Taewadaa Sukhidtaa Ho Dtu
Kata Bua Bang Bai
Intajidt Dtangmaani (chant 9 times)
If using for increasing business sales, place the Bua Bang Bai in a glass of pure water. Then put some of the water on the palm of your hand, and use the rest of the water to spray on your wares.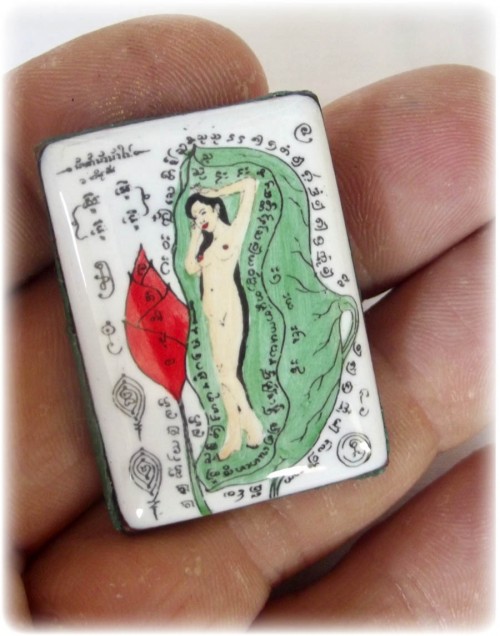 If using as a Maha Sanaeh charm, write the name of the person to be charmed on a 'Bai Rak' leaf (lotus petal also can use), and then stroke it against the surface of the Bua Bang Bai amulet. The person will be easily charmed and pleased.
Rear Face Yoni;
The yoni is an immensely potent sensual charm and romantic attractor, and is the passive feminine energy of the cosmos which entwines with the active phallic energy of the Shiva lingam. Yoni is of course symbolically the Parvati/Kali/Pra Uma/ Mae Yua Mueang deity in its primordial essence. The yoni functions in the same way and purposes as the Mae Yua Mueang, but has a stronger inclination to sexual aphrodisiac and romantic attraction to the famous Yab Yum deity of the Mae Yua Mueang which is so famed for it success with small, medium and large sized business owners.
Kata Pluk Yoni
Om Pawa Dtanhaanupaawaena Om Gaama Dtanhaanupaawaena Raaka Tosa Moha Gaama Gilaeso Gaama Lo Po Sotaaya Putta Sang Mi
Chant 7 times – you can use it for sanaeh and metta to attain your wishes and desires. If you use the yoni side of the amulet to make separate bucha, then once-yearly respect and reverence to the Ambubachi Mela is recommendable with bucha to this, or any yoni type amulets.
View Bua Bang Bai Love Locket here