Rian Sema Kreung Ongk Guru Monk coin amulet from Luang Por Uttama, from the Pat Yos edition, released in Buddha Abhiseka Ceremony in the year 2525 BE.
The amulet is cast from Nuea Tong Daeng Rom Dam, which is a Sacred copper alchemical alloy, with a black oily surface sheen. The coin is cast in traditional 'Rian Sema' medallion shape with decorative edges.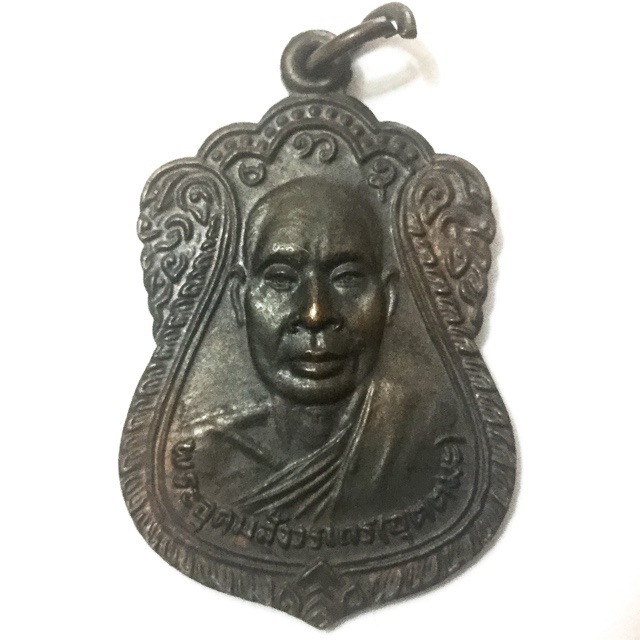 The front face of the amulet features a head and shoulders cameo ('Kreung Ongk'), of the great Luang Por Uttama, of Wat Wang Wiwekaram, in Kanjanaburi.
Luang Por Uttama (Pra Maha Uttama Rampo Bhikkhu) was one of the Mon hilltribe people's top Master Monks and is highly revered by both Mon, Burmese and Thai people on both sides of the Thai Burmese border. Wat Wangwiwekaram is popularly known by local people of the Kanjanaburi district as 'Wat Luang Por Uttama'.
The temple of Wat Wangwiwekaram was built by Luang Por Uttama himself in 2504, with the help of some devotees who were Gahriang (Karen), and Mon tribe people. The temple was completed in 6 months, and was at first only a 'samnak songk' (sangha office) because it was not yet officially recognized by the Buddhist Organism.
Once it had been officially categorized by the Buddhist Organism as a 'Wat' (temple) in 2505 BE, Luang Por gave the name of the temple by using the name of the old municipality (wiwangka) calling the temple 'Wat Wangwiwekaram'.
Honors Recieved by Luang Por Uttama
In 2513 BE, Luang Por began building the Uposadha (shrine room/chapel), baking and laying the bricks himself.
After this, in 2518, he built a chedi that was a replica of the Bodhgaya stupa in India, which he finished in 2519 BE.
In 2504 he began as the head abbot of Wat Wangwiwekaram
In 2505, he was also appointed Abbot of Wat Sri Suwannaram
in 2509 he was appointed the status of Pra Gamma Wajajarn (vice Upachaya)
In 2511 he was promoted to Upachaya status (only an Upachaya can ordain others as monks).
In 2512, he was given the name of 'Pra Kroo Udom Sit Ajarn – Jao Kana Tambon Chan To (vice head monk of the Municipality), by Royal Decree.
In 2516, he was appointed 'Jao Kana Tambon Chan Eak' (Head monk of the Municipality), by Royal Decree.
In 2524, he was appointed Pra Racha Kana by Royal Decree and recieved the honors from Pra Udom Sangworn Thaera (Pra Sangkharacha, the head monk of all Thailand and head monk of the Royal Palace).
In 2534 he was promoted to the even higher status of Pra Racha Udom Mongkol.
Luang Por Uttama was a highly revered monk of both the Mon Hilltribe and the Thai People, and was known for his extreme diligence in the practices of a renunciant mendicant monk, and for his great purity, and simplicity of living.
His devotees revere his amulets with the highest degree of faith. His amulets are varied ranging from sacred powder,, to monk coins, from Takrut and animist talismans, to his most famous blessed rosaries, and all are very rare to come across in any situation.
His mastery of the Wicha Tam Prakam Saksit Sacred Rosary Blessing and Empowerment is legendary, and it is perhaps his rosaries that are amongst the most well known of his amulets, and which serve not only to protect and increase good fortune, but are a practical tool for the devotee to use for Prayer, Chanting Sutras, and for Meditation Practice with Kata Chanting.
Luang Por Uttama was the Kroo Ba Ajarn of Luang Por Naen of Wat Salud, who is in his own right famous for the empowerment and blessing of sacred Buddhist Rosaries, who can be seen receiving Wicha and co-empowering a batch of Rosaries with Luang Por Uttama in the below picture.
Above; Luang Por Naen of Wat Salud recieving Wicha Tam Prakam from Luang Por Uttama, in the year 2526 BE