Yoni (Female Vulva) – Nuea Pong Bpatamang Lokee + Takrut Tong Parachik (Prai powders + 1 Precept Breaker Takrut + 1 Yantra Foil + Prai Oil) 'Ruay Sap Ruay Sanaeh' Edition – Pra Ajarn Oe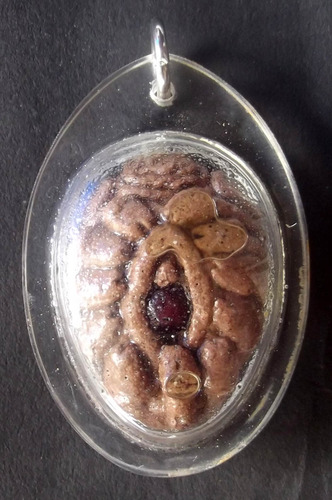 Yoni Vulva Attraction and Wealth Charm empowered and charged up with Maha Sanaeh Power in Prai Oil, and Boosted with a Gold Takrut Spell. Made by Pra Ajarn Oe Putto Raksa in the 'Ruay Sap Ruay Sanaeh' Edition of amulets (2554 BE).
Pra Ajarn Oe has made this very small number of Sacred Yoni(Mae Yua/Kali) amulets soaked in Prai Oils, with a Takrut Spell, and Yantra Foil Spell, for forcing certain successful influence in luck, fortune and attraction. The Yoni is a Prai Spirit as well as the Kali Principle, the amulet thus automatically protects against Black Magic as a secondary feature of its power.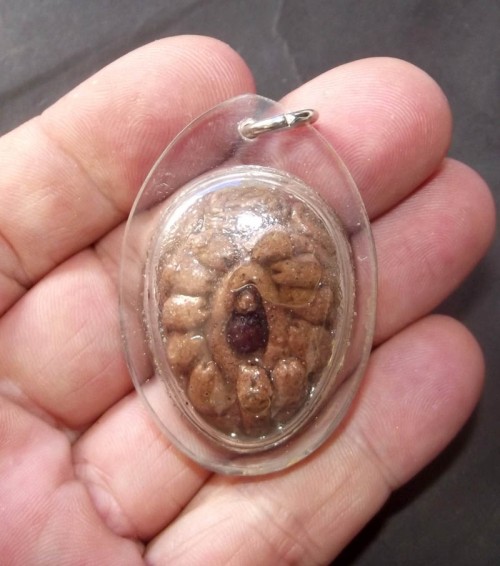 Little is known about the Secret Wicha of the Yoni, but much has been heard of the powerful effect it has upon the opposite sex, and of its ability to bring great prosperity to business owners, gamblers and those who work in social or public positions.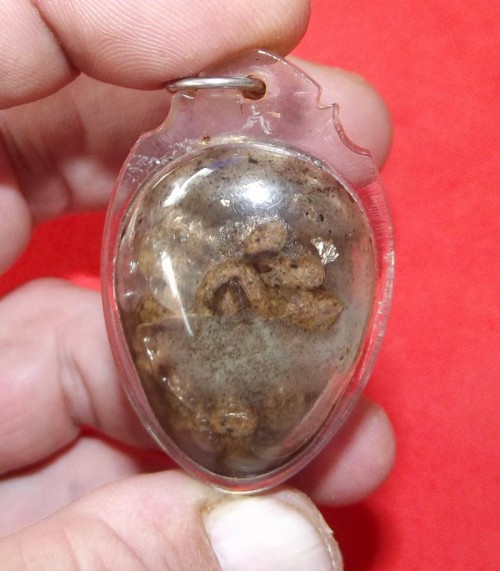 The Yoni is an immensely powerful love charm and sexual attractor, and is the passive feminine energy of the Cosmos which entwines with the active phallic energy of the Shiva Lingam. Yoni is of course Symbolically the Parvati/Kali/Pra Uma/ Mae Yua Mueang Deity in its Primordial Essence. The Yonif functions in the same way and purposes as the Mae Yua Mueang, but has a stronger inclination to sexual aphrodisiac and romantic attraction to the famous Yab Yum Deity of the Mae Yua Mueang which is so Famed for it success with small, medium and large sized Business owners. The rear face is filled with powerful prai ingredients, a Takrut spell wit Metta and Maha Sanaeh spells invoked.
The Rich Mass of Muan Sarn Prai powders are clearly visible within the Prai Oil. Potent Indeed. This amulet can be used by both sexes, is however a true favorite with both male and females in search of Lovers, and especially so with Gay females and Female Business owners and Sales Persons. The amulet attracts the other sex either way, or females to females, but not males to males.
The immense number of Potent Sacred Prai Powders, and Prai Oils combine to provide an 'engine room' of Prai Occult Sorcerous power for the Yoni Deva to Rule over and command at will. Bound to serve and protect, and accumulate riches and Metta for the wearer, the Yoni performs the primordial passive ritual of attraction and absorbtion (of wealth and admirers), through the power of the Yoni Female sexual organ. The amulet is oozing in concentrated Prai Oils.
Kata Pluk Yoni (Pra Ajarn Oe)
Om Pawa Dtanhaanupaawaena Om Gaama Dtanhaanupaawaena Raaka Tosa Moha Gaama Gilaeso Gaama Lo Po Sotaaya Putta Sang Mi
Chant 7 Times – You can use it for Sanaeh and Metta to attain your wishes and desires.
Kata Liang Yoni (for Feeding the Yoni)
Sa A Ni So Sa A Ni Sang Jidt Dti Jidt Dtang
(Thai) "Jidt Prai Jao Euy Jong Ma Rap Ao Krueang Sen Sangweuy" ("Mind of the Prai revered Deva, you should come and recieve these offerings" -if you prefer you can use this meaning in your language instead of the Thai part of the Kata for more understanding and communication when speaking with the Prai Spirit within the Yoni).
Pra Ajarn Oe, whilst still in his prime has now proved himself to be an adept of more Master Wicha than many Ajarns can Master in a whole lifetime. With still a long Future ahead of him, and considering the very small numbers made of his original ancient method hand made amulets, we can expect his Trajectory to become one of thos which become legendary, and that his amulets will be both revered and treasured for many Future Generations to come. Their value is expected to increase steadily and rapidly as each edition is released, is snatched up by his many Looksit, and disappear from the Marketplace.