Sak Grabeur Mai Rang Hmoo – 2.5 Inch Long Sacred Pestle with Khmer spell inscription – sales and business increase for shopkeepers – Luang Por Sri Mueang – Wat Kantod 2552 BE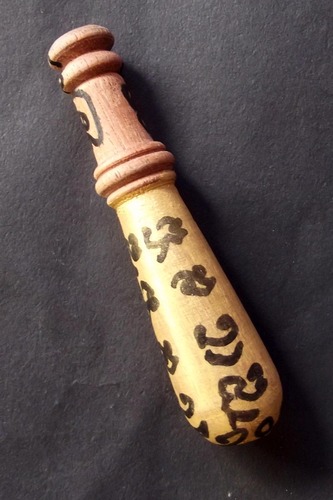 Only 99 of these Sacred Pestles (Chili Pounders) were made. The Sacred Chili Pounderfor improving customer and sales quota with sacred Khom spell inscriptions, to increment your attraction power to generate sales, attract customers and to enchant your wares with irresistible attraction power. You can use this in your shop or place of business to attract customers and also to thump your wares with to make them attractive to buyers, and speed up their sale.
Point at, or tap the items iin your store with the club, and ask for the club to turn fate around and make your wares sell well ever increasing and making you wealthy, happy and increased well being, through the power and merit of Luang Por Sri Mueang.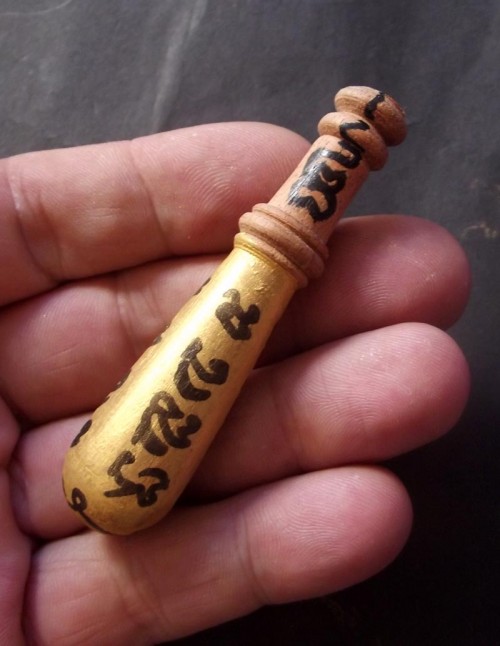 You can use the following Kata for chanting whilst tapping your wares, whilst asking for the above blessings in your heart. This instrument does not have an official Kata from Luang Por Sri Mueang. This one is a Kata composed by Ajarn Spencer for this amulet, using the reverence of Luang Por Sri Mueang to call upon the power of the Buddhas, Luang Por Sri Mueang, and Pra Sivali to enchant your wares. The Kata is a very effective and useful Kata for increasing riches and calling customers, as well as increasing profits. It is a wealthy merchant Kata which also increases your merits and good Karma, and brings good luck.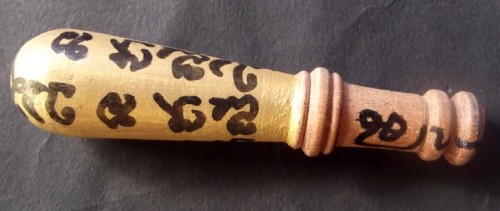 Mai Dtee Prik Khor Hai Plik Sin Kaa Nee Hai Kaa Khaay Dee Hai Mang Mee Jaroen Rung Rueang Duay Rit Daech Bun Baramee Khong Luang Por Sri Mueang – Aehi Aehi Jidtang Bpiyang Ma Ma Na Chaa Lee Dti Aehi Tanaa Aehi Maa Maa Aehi Pokaa Aehi Maa Maa Aehi Laapaa Aehi Maa Maa – Poo Kon Hlai Maa Khaw Khong Hlai Maa, Ngern Tong Hlai Maa – Na Chaa Lee Dti Na Ma Pa Ta – Na Mo Put Taa Ya – Ya Taa Put Mo Na Ja Pa Ga Sa Na Ma A U – U A Ma – I Sawaasu Su Sawaa I – Bpanja Puttaa Na Maa Mi Hang
Thai language;
ไม้ตีพริก ขอให้พลิกสินค้านี้ ให้ค้าขายดี ให้มั่งมีเจริญรุ่งเรือง ด้วยฤทธิ์เดชบุญบารมีของหลวงพ่อศรีเมือง – เอหิๆจิตตังปิยังมะมะ นะชาลิติ เอหิธนา เอหิมามา เอหิโภคาเอหิมามา เอหิลาภาเอหิมามา – ผู้คนไหลมา ข้าวของไหลมา เงินทองไหลมา นะชาลิติ นะมะพะทะ นะโมพุทธายะ จะภะกะสะ นะ มะ อะ อุ อุ อะ มะ อิสวาสุสุสวาอิ – ปัญจะพุทธานะมามิหัง