Many Thai Guru Monks have special Kata to chant, these are especially useful for those who wear lockets, have Bucha statues of Guru Monks, or Pha Yant and photos of their Guru Masters.
Here is a list of all Master Monk Mantras for Devotees to chant; Always chant to the Triple Gem first (Namo Dtassa Pakawadto Arahadto Sammaa Samputtassa) 3 times before chanting any other Kata.

Kata Luang Phu Mun Puratto

Bpanjamaarae Chino Naatho Badt-dto Sampotimudt-dtamang Jadtusajjang Bpagaa Saedti Tammajaggang Bpawadt-dtiyi Aedtena Sajjawach-Chaena Hodtu Mae (pronouced 'May') Chayamangkalang
Kata Bucha Luang Por Ngern Wat Bang Klan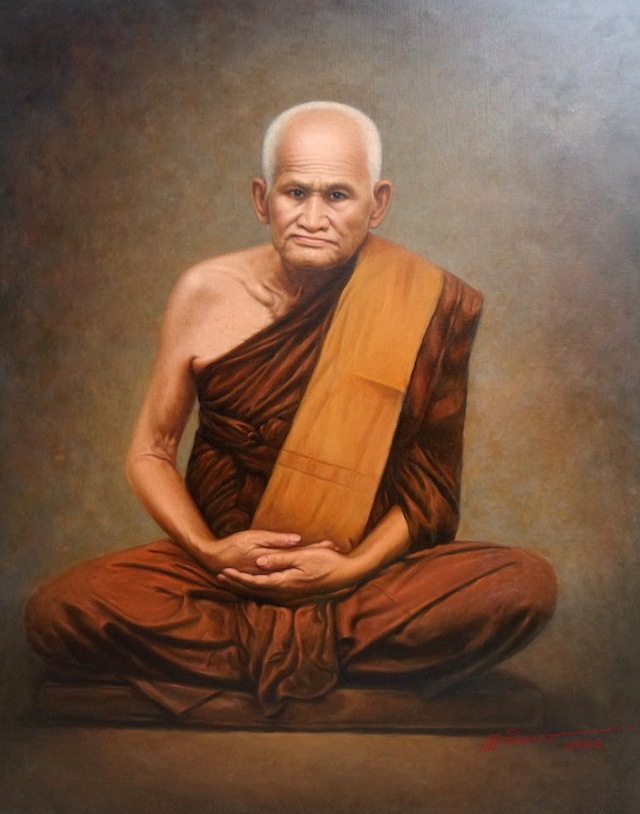 Kata Aaraatanaa Luang Por Ngern (Call His Presence)
Sitti Puttang Gijjang Ma Ma Phuu Kon Hlai Maa Na Chaa Lii Dti
Sitti Tammang Gijjang Ma Ma Khaw Khong Hlai Maa Na Chaa Lii Dti
Sitti Sangkang Gijjang Ma Ma Ngern Tong Hlai Maa Na Chaa Lii Dti
Perform Bucha to Luang Por Ngern on Tuesdays, Thursdays and Fridays. Offer Lotus or Jasmine flowers (9 flowers), three rolls of Areca Nut with Betel leaf – place on a tray along with 9 Incense sticks, one pair of candles. Place them in front of Luang Por Ngern, and Pray for the Protection and Help of Luang Por Ngern, to Prevent enemies from Harming, Avoid Accidents, and to Increase Good Business and Wealthy Fortunes.
The Magical Effect of Wealth Increase is one of the Famous Aspects of the Many Blessings that come from Revering Luang Por Ngern of Wat Bang Klan, the Miraculous Image that has been the source of many stories of Miraculous Events, that have happened with a great many different editions of Luang Por Ngern amulets from a number of Masters.
The special Magic of Luang Por Ngern makes the effects work regardless of the Temple or Master who creates the amulet, for it is believed, that the Image of Luang Por Ngern has Special Magic in itself.
Kata Bucha Luang Por Ngern
A Ga A Ti A Ga Ti A Ga A
Wantaami Aajaariyanja Hiranja Naamagan Thitang Sitti Tandtang Mahaa Dtaechang Itti Mandtang Wasaatarang Sitti Puttang Gijjang Ma Ma Phuu Kon Hlai Maa Na Chaa Li Dti Sitti Tammang Jidt-Dtang Ma Ma Khaw Khong Hlai Maa Na Chaa Li Dti Sitti Sangkang Jidt-Dtang Ma Ma Ngern Tong Hlai Maa Na Chaa Li Dti Chimplii Ja Mahaa Laapang Pawandtumae
Kata Kong Grapan Luang Por Ngern
Pra Puttang Pra Jao Kong Hnang
Pra Tammang Pra Jao Kong Nuea
Pra Sangkang Pra Jao Kong Graduuk
Om Paetch Kong Kaa Dtrii Paetch Swaaha
Kata Metta / Kata Soop Buhrii Luang Por Ngern
To ask for Metta – Can use when smoking a cigarette to Enchant the Smoke with the Kata 
Makkayaa Taewang
The world of amulets has various forms of worshipping, some being purely interested in 'Puttanussadti' (exclusively images of the Buddha)
Some are interested in 'Krueang Rang' (Buddhist, Brahman, Animist and Occult charms)
Others are interested in 'Guru Bhavana' – the practice of worshiping a Guru Master and following his teachings and his example in his practice. This is a very useful practice both for reducing ones own ego, and because, for many people, they do not know clearly how the Buddha and other Arahants practiced in those days, but by connecting with a living Guru Monk, or one in Living History whose practice is faithfully recorded and documented even with the modern media we have today, then it is easier to see the practice, and to take example from the Master Guru.
Thailand amulets recommends Lockets as an all round powerful amulet for Hnun Duang (increase good horoscope) Choke Laap (Luck and Fortune) Maha Sanaeh Matta Mahaniyom (Charm, Attraction and preferential treatment from others). If a Guru locket is revered properly, it can transform your life with great blessings from the Merits of the Guru Monk whose locket is revered. Many lockets will have sacred relics and other holy substances added, to increase the Merit contained within the amulet, and radiate more Metta.
---