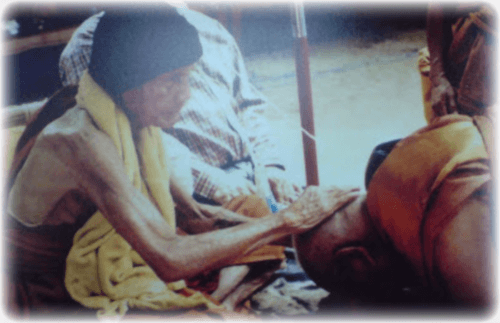 Kata Bucha Luang Pu Moon Tithasilo
Kam Ārātanā Buchā LP Moon Tithasīlō
Namō Dtassa Pakawadtō Arahadtō Sammā Samputtassa Namō Dtassa Pakawadtō Arahadtō Sammā Samputtassa Namō Dtassa Pakawadtō Arahadtō Sammā Samputtassa
Luang Pu Moon Tithasīlō Ma A U Luang Pu Moon Tithasīlō U A Ma
Kata Bucha Sakkara Luang Pu Moon
Dtua Gū Lūk Pra Putta Ongk Krū Sit Tudong Ong Āj Mai Bpramāt Krū Pob Roi Gom Dū Jer Krū Grāb Hwai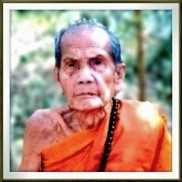 The word 'Moon' means to turn and increase (revolve). Luang Pu Moon (also called 'Luang Phu Hmun Tidtasilo', which is the more proper spelling), always foretold that those who Bucha his amulets, would turn their luck and fortunes around, and increase their Business Success. He also foretold that those who Bucha his amulets will be protected from 'Dtaay Hoeng (premature deadly accidents), and that the Devas will Protect the wearer of his amulets.
Luang Phu Hmun was a Maha Thaera Guru Monk of great age and who recieved Great reverence and Respect from the people of Tambon Jan for his Diligence and Purity in practicing the Vinaya as a Buddhist Monk. His predictions and instructions for ceremonial empowerment of amulets after his physical death, have been followed to the letter since his passing, for he gave special instructions to inform as to when and how he would return with his spiritual presence to empower amulets posthumously. His Miracle Powers are Legendary, with so many stories of Miraculous events related to this Monk, who has seen the Reign of Five Kings in his Lifetime. Luang Phu Hmun's amulets are now very hard to come across.
Luang Pu Moon is renowned for having stated some Mysterious things;
Dtua Gū Bpen 1 Bor Bpen 2 Nai Phaen Din Nī (there is only one of me in this land)
Dtua Gū Bpen Hlek (i am made of iron)
Dtab Gū Bpen Tong Daeng (my liver is made of copper)
Phao Dtua Gū Bor Mī Hmai (in cremation, my body will not burn)
Bucha to Luang Pu Moon should be performed on a Thursday, and should include offerings of; 16 Incense stick, 2 candles (lit), white flowers, or one puang malai garland. Hmak Plū Betel-Areca Nut with chewing paste (5 or 16 portions), a glass of sweet drink such as fizzy drinks, one roasted catfish, some rice or sticky rice, or fermented rice, or even steamed rice pudding.