Pra Rahu Asura Deva, the God of Lunar Eclipse, is technically or advisably ,back in the limelight, because right now there are very heavy astrological influences upon the whole planet which are reducing peoples cash flow and ability to function properly, and manage their finances with flexibility. The heavens, advise strongly to increase Bucha to the God Pra Rahu or his equivalent, in order to clear away Karmic Residues amd the Heavy Influence of the Darker Astrological and Planetary Cosmic Forces upon Humans on Earth.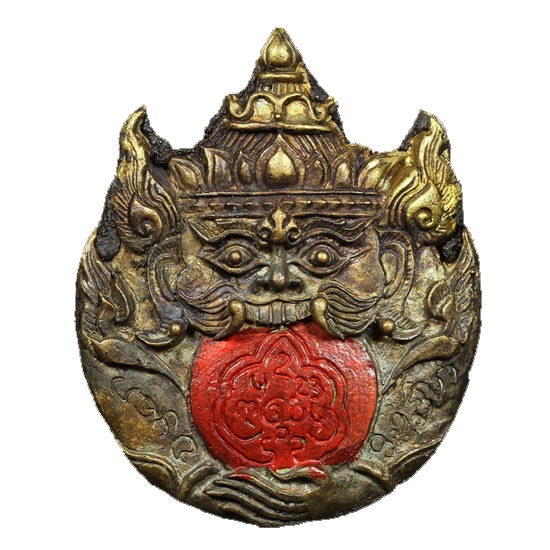 If there are any lunar eclipses occurring during this year of 2557 Buddhist era, these occasions should be used, to perform ritual Bucha to Pra Rahu. This is because, these occasions of the most powerful moments aligned to successful Sorcery and communication with the Asura Deva Pra Rahu.
If you feel that your Fate and Horoscope is not Auspicious, then it could be that Pra Rahu is interfering. You can solve this problem by making Bucha offerings to Pra Rahu every Wednesday;
Light 10 black incense sticks ('Toop' in Thai), and five types of black offerings (e.g. black sticky rice, black jelly grass drink, black semolina or sago pudding and the like).
Kata Pra Rahu
Idtipiso Pakawaa Pra Rahuu Sataewaa Samaa Winyaana Idtipiso Pakawaa Putta Sangmi
Kata Surya Buppaa (Kata to be chanted in the Day
Gusaedto Ma Ma Gusaedto-dto Laalaa Ma Ma Dtolaamo Tolaamo Ma Ma Tolaamo Ma Ma Tolaamodtang Haegudti Ma Ma Haegudti
Kathaa Jantrabupbhaa (Kata to be chanted in the night time)
Yadt-thadtang Ma Ma Dtangthaya Dtawadtang Mamadtang Wadtidtang Saegaa Ma Ma Gaasaegang Gaadtiyang Ma Ma.Gaadtiyang Ma Ma Yadtigaa