Pra Khun Phaen Klueab Hlang Taep Sariga Pim Yai – Glazed Green Ceramic with Hand Painted Magpies – 'Wai Kroo 2555' Edition – Luang Por Chor Suchiwo – Wat Nong Saeng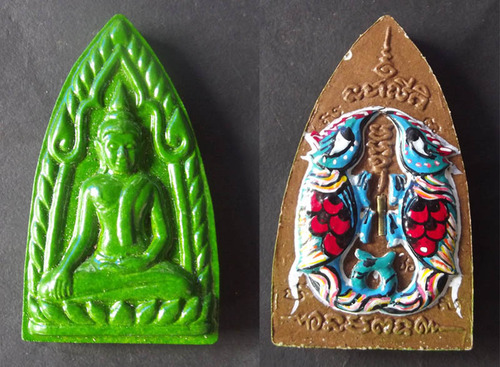 This Pra Khun Phaen/Sariga from Luang Por Chor is a most Inimitable, Sacred Buddhist Amulet offering two different Wicha for Increasing Maha Sanaeh and Choke Lap (Attraction, Luck and Fortunes Increase). This edition of Hand Painted Masterpieces of Miniature Buddhist Art and Sacred Objects of reverence, was made using the finest aromatic Sacred Powders of rare and magical herbal origins of an instantly noticeable richness and high quality grade. The Hand Painted Artwork is individually performed on each single amulet, resulting in no two amulets ever being exactly the same. The amulets were released and given final blessing and empowerments after a three month rainy retreat empowerment process, on the Wai Kroo (Master Day) Ceremony at Wat Nong Saeng.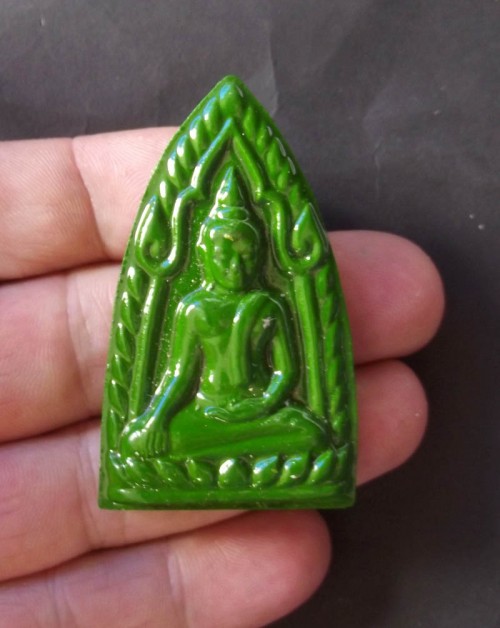 Size; 5.5 x 3.4 Centimeters
In this 'Wai Kroo 55' Edition of Immensely attractive, Faith inspiring and collectable Hand Painted Amulets, include a range of Taep Sariga Golden Tongued Magpies (Taep Sariga), Khun Phaen Klueab (Ceramic Glazed Sacred Powder Khun Phaen) , Pae Maha Lap Chae Nam man Aathan (hand carved Lucky Goat in magic charm oil), Dork Monta Tip (Celestial Divine Jampa Flower) in Sacred Metals or in Hand Carved Sacred Wood, Takrut Taep Sariga (large and small versions), See Pherng Sariga, Palad Khik Choo Chok and some Bia Gae shell charms were also released.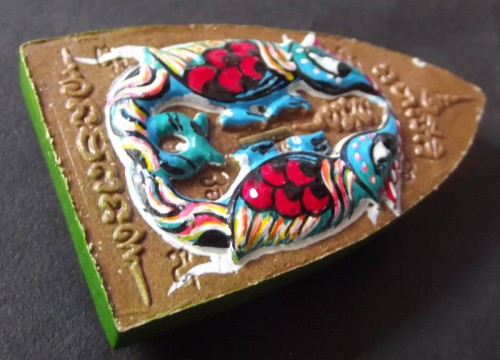 Luang Por Chor of Wat Nong Saeng has an ever increasing number of Disciples, which is demonstrated by this large range of amulet which were sponsored and comissioned through the Society of Disciples of Luang Por Chor, in order to assist in fund raising for Luang Por Chors Projects for the Temple, The amulets were given a Traimas Empowerment and a final Blessing in the Wai Kroo 2555 Ceremony, and distributed to the Looksit to recieve Luang Por's blessings and wear his amulets as a reminder of their teacher, and a protector and Wealth Improver to reduce physical and mental suffering and stress of his Devotees and other Buddhists around the World.