Gaew Dta Nang Hnun Duang Chadtaa Sampat Pised – Divine Maiden's Eye – Charm and Good Fortune – Ajarn Wirataep Yan Kroo Prasit
The Gaew Dta Nang is a Top Secret Ancient Wicha which has only landed into the hands of few masters and has been jealously guarded for centuries. Its Potent Maha Sanaeh and Kaa Khaay Magic is indeed so well known that it is the stuff of Legend. The Eye watches over the Lines of Fate and Destiny, protecting auspicious Astrological Causes and preventing Inauspicious Astorlogical Causes from Arising.
It is the Third Eye which protects and gives advantage to its Wearer. Made from Muan Sarn Aathan (Sorcerous Magical Ingredients) composed of a large number of powerful Magical Plants and Powder Potions; Gaew Dta Aathan, Pong Wan Dork Tong, Wan Saw Hlong, Pong Maha Sanaeh, Pong Na Ok Dtaek, Pong Bpatamang Lokee, Pong Maha Sanaeh Rak Sorn, Pong Sawat, Pong Tao Nang Play Dtaay Wan Sao Phao Wan Angkarn (powerful for Love and Passion Enchantment), Pong Maha Phuudt, Wan Ploeng, Pong Graduk Play Dtaay Aathan, Pong Wan Naedtra Tip (Powdered Divine Eye wood).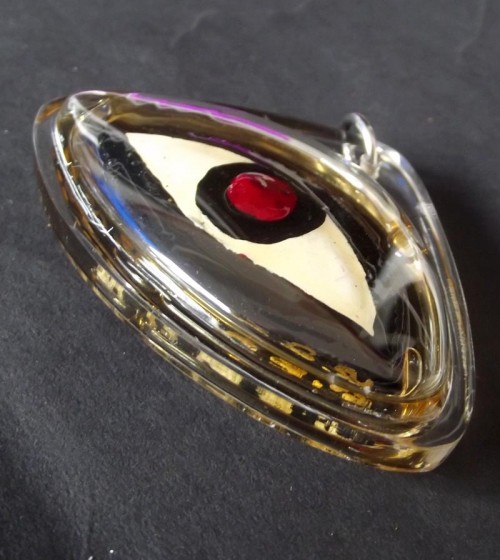 The Potions and Powders were individually empowered with Incantations and Invocations of their respective Devas. The amulets themselves were then given a long period of Meditative Empowerment and Chanting of Invocations. Seven Separate Empowerment Sessions were given in full.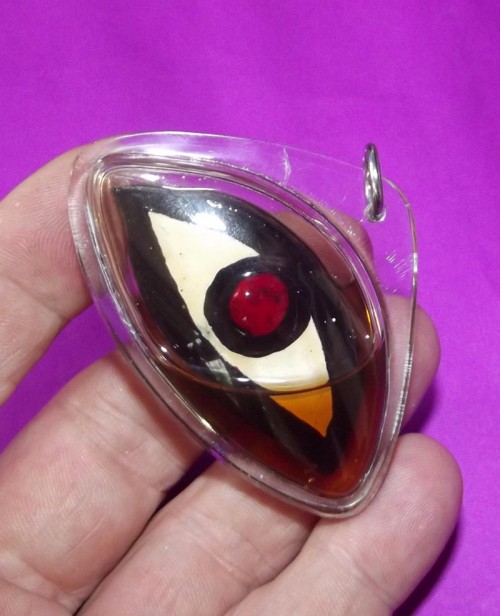 The Divine Eye improves Karma, Increases Wealth and Attractive Charm, protects from Evil and Black Magic. The Inscription of the Sacred 'Ma A U' (A + U + M = Aum = Om),which means for Buddhists 'Sangha Buddha Dhamma' and for Brahman/Hindus 'Siva Vishnu Brahma'. The Divine Eye is soaking in Sacred Oils of the Prai, Metta Mahaniyom and Maha Sanaeh Variety
You can carry the Gaew Dta Nang on your person in the pocket, or hang it where it can be seen visibly for the best results in attracting the opposite sex, customers and admirers.