Taep Bin Takrut Ngern Koo (2 Solid Silver Takrut), Fang Ploi Sek Maha Pokasap (with enchanted precious gems inserted). Pim Yai Ongk Kroo Masterpiece Version large size special sacred powder amulets from the master of pristine thai buddhist miniature arts; Kroo Ba Krissana Intawano. Only 108 of these amulets were made in all.
The Taep Jamlaeng Butterfly King Amulet is internationally famous for it is incredibly subtle but powerful Metta Mahaniyom, Maha Lap, Maha Sanaeh, & Maha Pokasap Magic. Once again from the adept master Kruba Krissana himself comes a well acclaimed and very easily recognisable superb edition of holy amulets in the year 2556 BE.
Almost every single series of amulets that have come from this master and this temple have become essential rarities and ultimately, impossible to find on any market anywhere. Although he has made larger numbers as editions have progressed, and each edition has still sold out, there is no stopping The inevitable sellout frenzy that always depletes every single edition to zero, leaving absolutely no remaining amulets at the temple.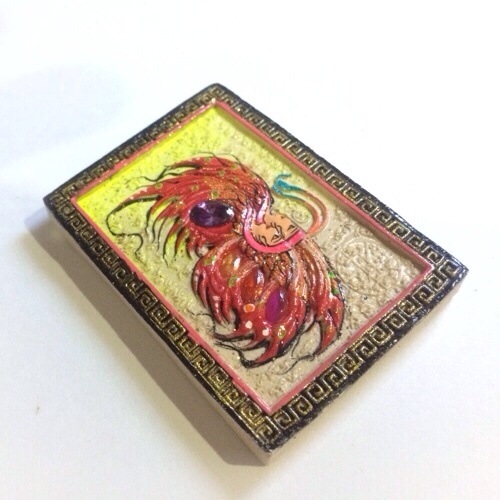 The objectives of Kruba Krissana Intawano's 2556 BE edition amulets, include the building of a new Buddhist statue at the temple, and using the funds received to donate to the commemoration of religious holy places and temples in and around Buriram and to produce interest and build practice in the Buddha Dhamma.
Precious gems and solid silver yantra foil Takrut spells, are embedded within the rear face of the Butterfly King amulet. The sacred Muan Sarn Earthen powders, were amassed together for the great Putta Pisek (Buddha Abhisekha) ceremony and under masterful eyes to ensure that the ritual followed exactly as prescribed by ancient Wicha knowledge.
The Butterfly King Ongk Kroo Masterpiece Version is a jumbo sized amulet, made on them from the finest Muan Sarn Sacred Powders.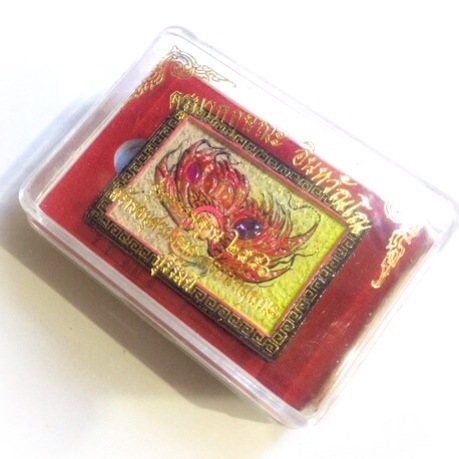 The following amulets were released in the 2556 BE edition:
1. Sampao Takrut Ngern Koo Fang Ploi ( Sea fairing military ship with double silver Takrut and Blessed Gems)
2. See Pheung Khun Phaen Metta Maha Niyom Kaa Khaay ( Holy balm of Khun Phaen of charm and compassion with great business and trades)
3. Taep Bin Takrut Ngern Koo Fang Ploi ( Taep Jamlang Angel with Silver Takrut and Blessed Ploi Sek gems)
4. Taep Faa Din paint See Daeng Lang Fang Rian Narai (Red Earth and Sky angel with Pra Narai Coin inbedded)
5. Taep Faa Din paint See Kieow Lang Fang Rian Narai ( Green Earth and Sky angel with Pra Narai Imbedded)
6. Sian Bpoo Lersi Fang Rae Sak Sit Neua Pong Pikul ( Head of the Lersi Ascetic Sage with sacred powders of Pikun and sacred gems imbedded)
7. Taep Jiw paint Daeng
8. Khun Phaen Kumarn Taep Fang Ploi Takrut (Khun Phaen's Golden Angel Child with Ploi Sek Gems and Takrut)
9. Nang Kwak Kum Sap Maha Sethee Neua Pong Pikul (Nang Gwak calling to millionare riches in sacred powders)
10. Nang Kwak Paya Kum Sap Maha Sethee Neua Pong Itthi Jay See Kao (Nang Kwak calling to millionare riches with white Itthi Jay sacred powders)
11. Nang Kwak Paya Kum Sap Maha Sathee Neua Pong Mai Paya Ngiw Dam ( Nang Kwak Calling to Millionare riches made from the wood of the holy Ngiw Dam tree)
12. Nang Kwak Paya Kum Sap Maha Sethee Fang Rae Sak Sit Bpit Tong Naa Somdej (Nang Kwak callig to millionare riches in sacerd powder guilded in gold leaf with Pra Somdej rear face)
13. Nang Kwak Paya Kum Sap Maha Sethee Takrut Tong Kam (Nang Kwak calling to Millionare riches in sacred powders with golden takrut)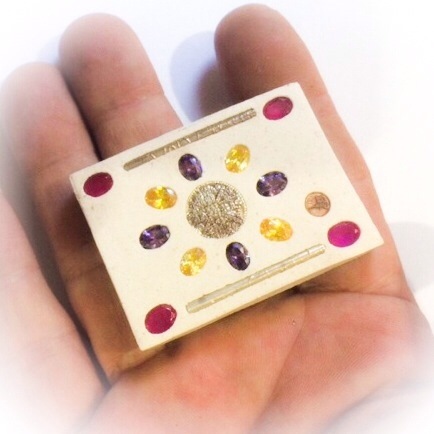 Kroo Ba Krissana Intawano has become synonymous with the name of the Taep Jamlaeng Butterfly King amulet, The Chinese merchant boat/junk, and is famous and revered, by hundreds of thousands of devotees around the world.
The collection of his Butterfly King and other sacred powder amulets are considered miniature works of find buddhist arts, as well as being considered extremely powerful for their high concentrate and are almost impossible to find comparably rich mixtures in other Amulets, from the guru Masters in the present or past.
It has become a very cult, niche scene where high end collectors of Sacred powder amulets and miniature Buddhist arts of high beauty have gathered to make Kroo Ba Krissana Intawano's amulets the most collected, rarest, luxurious, and perhaps expensive in this present era.
This Pim Yai model, was one of only 108 amulets made in this special jumbo size Ongk Kroo Masterpiece Version.