Luang Por An Apibalo, Wat Tamma Kosok (Wat Rong Koh) Utay Thani, is a top Gaeji Ajarn Guru Master Monk who is a local of Utay Thani. He is lovingly known as "Pra Jee Gong' or 'Luang Por An Taewada', or 'Taewada Dta Tip'. He used to be a Police officer, who U once worked together with the famous Rang Song Brahman Master of Jatukam Ramathep fame 'Khun Pantaraks Rachadej', who was also a Police Officer who hunted down the most wanted Outlaws.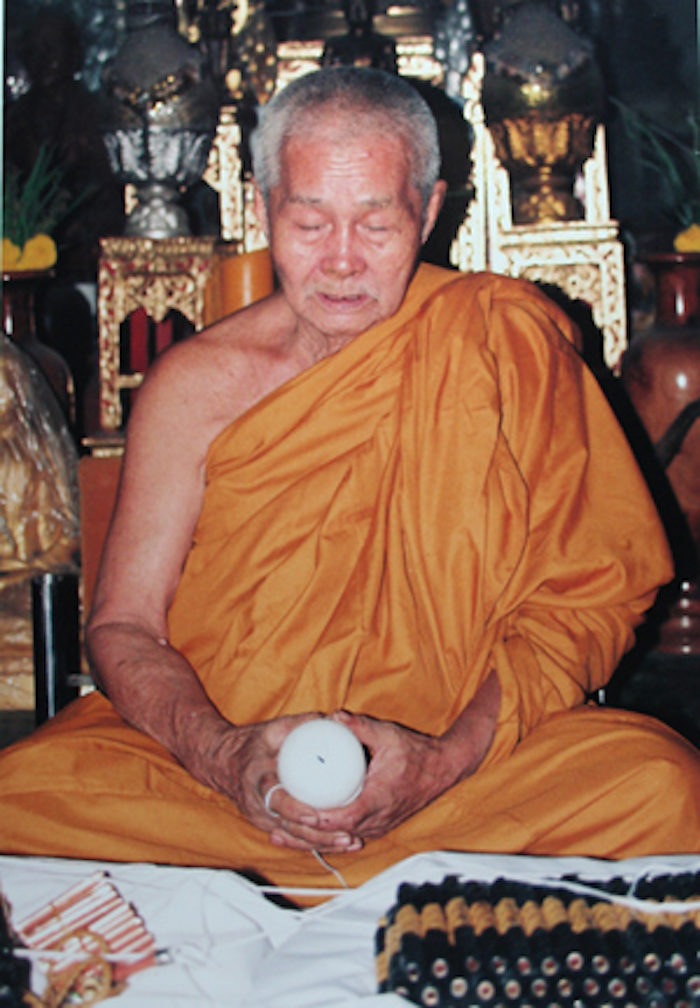 He spent his last years as a Layman wroking on the team with Khun Pantaraks Rachadej chasing down the Countries most elusive and dangerous outlaws, until becoming bored with the ways of the World, and Ordaining as a Bhikkhu in the Buddha Sasana.
Luang Por An is an Adept of the Wicha of  all four elemental Kasinas (Din = earth – nam = water – Fai = fire – Lom = air). He learned the Wicha in the lineage of Luang Phu Sukh of Wat Pak Klong Makam Tao. LP An also once practiced in the North, and was the assistant and caretaker of Kroo Ba Srivichais Kuti. He spent a long time of his youth following Kroo Ba Srivichai on Tudong forest wandering through the Northern regions of Thailand.
He inherited the Wicha of Pirun Gambang and Taep Ramjuan from the Luang Phu Sukh lineage Master in control of the passing on of the Wicha; 'Tan Jao Khun Put' (Pra Racha Utay Gwee), of Chiang Mai. He also increased his magical prowess with many other Wicha from other Master Lineages, such as Kroo Ba Srivichai, Luang Por Derm (Wat Nong Po), Luang Por Janta, Luang Phu Ploy (Wat Huay Kha Nang), who was incredibly skilled in the use of elements, minerals and crystals, and powerful Tagrud, Luang Por Kane (Wat Dong Sethee) who was adept in Wichas for Metta Mahaniyom, and amulets of the 'Jakkapat' variety (i.e. Tagrud Jakkapat Narai), Luang Phu Klueab, Wat Hnong Gradee, Luang Por Poon (Wat Nong Ta Ngu), who was amazingly empowered with great knowledge of the use of rare herbs to cure illnesses miraculously. Luang Por An is also a close friend of Luang Por Dtee, ex abbot of Wat Luang, the creator of the Suea Akom Sayob Look Pern Wicha (Tiger magic for invincibility against guns), which is famous all over Thailand.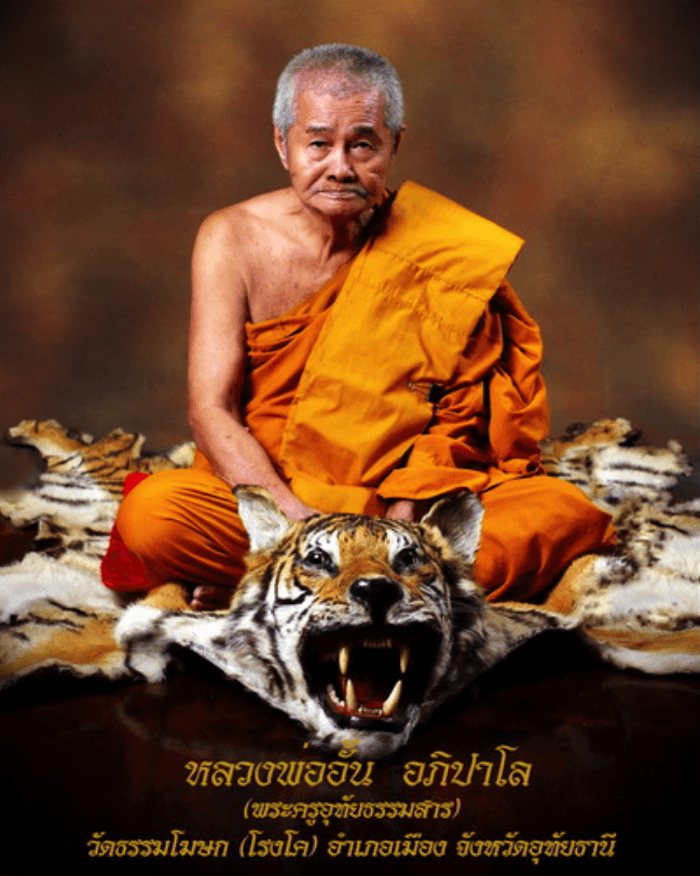 Luang Por An is very diligent and strict with his own practice of the Buddha sasana as an ordained Bhikkhu, and has much Metta, Compassion and Loving Kindness. He is accepted as a True Master by all factions, be it his Thai or International devotees, those who collect and Bucha his amulets, and even the 'Wongarn Nak Niyom' collectors of fine antique amulets accept this Master as a true continuation of a genuine and ancient lineage of authentic practitioners with real Wicha.
He is currently the Abbot of Wat Tamma Kosok (Wat Rong Koh) in Utay Thani.
Luang Por An was born on the 10th January 2476 BE in Ban Don Chanuan, Ta Chanuan, Amper Manorom, Chainat province. His Father was called Mr. Chorn and Mrs. Grathin (Surname;Po Pitaks). His family were farmers. Luang Por managed to learn until the third class of primary school at Rong Rien Ta Ruea school in Ayuttaya. Then, in 2492 his Uncle, Police Seargant Dtu, took him to recruit as a Policeman. He served 4 years service in the Vice and severe Crime squad, and he was so good at his job that he was promoted to Police Captain. At the age of 20 he left the Police service and was called up for Military service in Nakorn Sawan at the Jiraprawat Barracks. He did a total of one and a half years service. When he left the Military, he became very bored with the ways of the World, and Ordained as a Bhikkhu on the 10th May 2498 BE at the Putta Sima of Wat Hua Mueang, in Nong Chang, Utay Thani. His Upachaya (Ordaining Officer) was Pra Kroo Upakaragowit (Luang Por Aew), with Pra Samu Orm as his Gamma Wajajarn and Pra Samu Fern Thanawuto as his Pra Anusawanajarn. He was given the Chaya (name) of 'Apibalo', which means 'Great Protector and healer'. In the time he stayed at Wat Jaeng in Nong Chang, he studied Dhamma Theory very diligently, and was able to complete all three University stages of Merit up to his Doctorate Degree.
In 2506 BE, he was appointed Kroo (head Professor) of Dhamma of Wat Nong KHun Chat in Nong Chang Municipality. In 2508, he moved to Wat Tamma Kosok, and was once more appointed Kroo of Dhamma teachings of Wat Tamma Kosok., and was also a member of the Examination Comittee of the Province of Utay Thani.
Luang Por An noticed that every Region of Thailand has its own natural and Traditional medicines and healing methods, and has opened a Samnak within the temple where massage and Natural Healing methods are practiced in the style of Wat Po.
In 2520, he was appointed Abbot of Wat Tamma Kosok, and Pra Gamawajajarn. He also was the chief inspector of Dhamma teacing facilities in the Municipality.
2533 BE he was appointed as the Bishop of the Municipality of Nam Seum in Ta Sung, Utay Thani.
2523 was appointed escort to 'Bai Diga Thanugrom Pra Kroo Utidt Tammasarn'
2524 – 2531, he was constantly promoted and apponted higher positions from Bachelor Abbot to Full degree Abbot to Doctorate Abbot.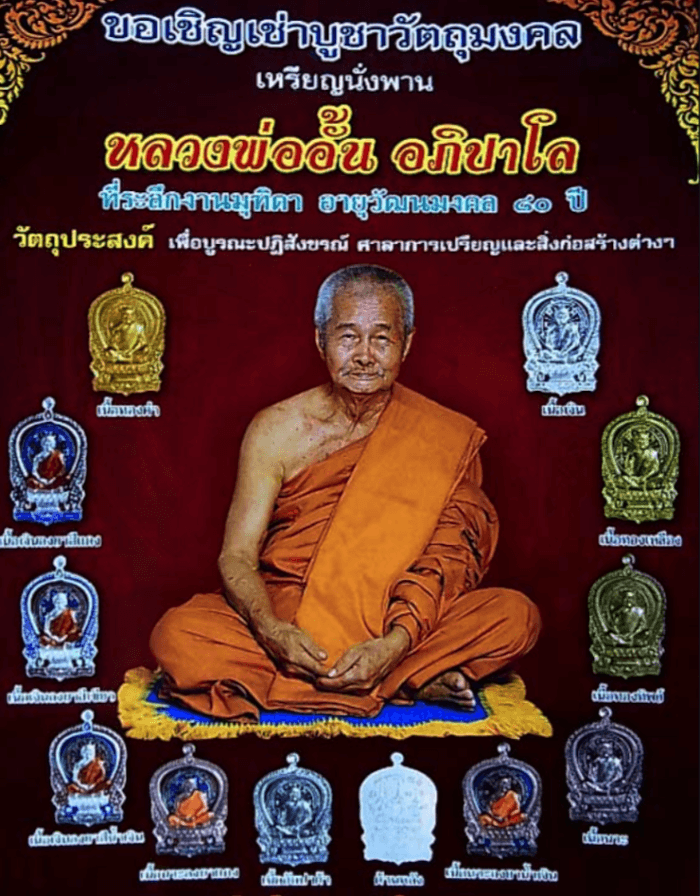 Luang Por An is very strict about the practice in his temple, and all Bhikkhus must chant morning and evening prayers without fail, except for those who are ill or physically disabled. The Patimokkha is chanted regularly according to the 2500 year old tradition that has been practiced since the times of Lord Buddha.
He has already built many facilities to improve conditions at the temple such as toilets, kitchen areas and facilities, a 2 storey building for Monks to reside in, improve the floor areas around the prayer rooms, a Bell tower, and also built the study classroom at Wat Weluwan Aram in Ta Sung, and another one too at Wat Klong Takian, as well as restoring the shrine room (Uposadha), the study hall, and the temple pond, and even a new entrance arch.
LP An also learned a lot of Wicha as a young Bhikkhu from wandering the forest with Kroo Ba Srivichai (one of Thailands greatest Guru Masters), and also from The Somdej Pra Sangkarach Sagon Maha Sangka Barinayok of Wat Saket himself, and in addition, learned astrology with Hmom Luang Khab Gunchorn (Lay Master).
---
Thailand Amulets – Sacred Thai Amulets for Wealth, Health, Protection, Love and Happiness